On this trip, we were invited guests of Disneyland. The Disneyland Resort paid for the cost of our air tickets, hotel, activities, and some meals. They did not require that I express a particular point of view.
When we visit Disneyland, I spend as much time reliving the past as I do experiencing the present. It's just not possible for me to walk through the park without remembering my own childhood experiences. With very young kids, I got to set the agenda, and previous trips have focused mostly on reliving my memories through my kids. But the kids are getting older, and on this trip the balance of power started to shift. On this trip, Everest and Darya had their own memory-driven agendas for the first time.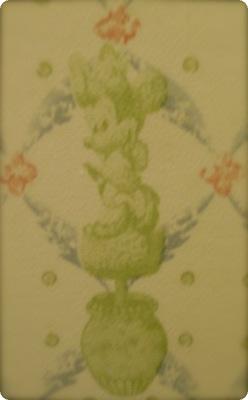 It started before we even stepped on board a plane, when I announced that Disney would be hosting us at the Disneyland hotel. Darya's eyes went wide. "Oooooooh," she said "Mommy, they have wallpaper with Mickey mouse on it." We last stayed at the hotel when she was two, and I was absolutely blown away by her clear memory of something that must have seemed so important and special to her two years ago. The Disneyland hotel is in undergoing a major renovation, and normally I would have been angling to get one of those newly renovated rooms, but this time, I was comforted and happy to be in one of the older rooms so that we could say goodbye to that Mickey wallpaper that figured so large in Darya's memory (the hotel will be fully renovated in 2012)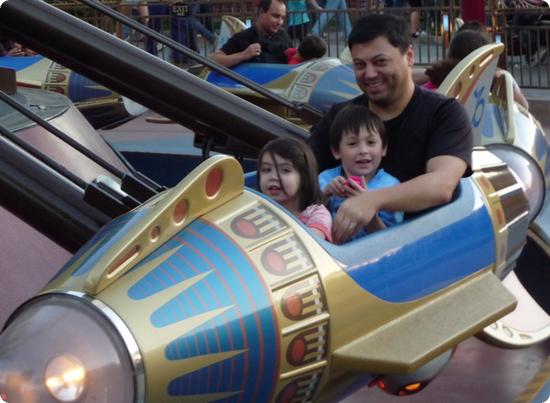 Our first stop? A ride on the Astro Orbiter. The Astro Orbiter was the first ride Darya ever rode (she tried it long before her brother would) and she rushes to it on every trip. Everest is still hesitant, he hasn't quite overcome his fear of spinning off in space, but he joined Darya and my husband for a spin around the solar system. Too young to ride, Eilan waited at ground level, pointing and screeching as the rocket ships rose up into the air and began to orbit. Concerned that his family might get away from him, he pretty quickly started signing "all-done" and seemed relieved when the rockets finally landed. He'll be ready for his own first ride by our next visit to Disneyland.
And then the tug-of-war began. The kids were desperate to get to Mickey's house in Toon Town. Meeting Mickey is the highlight of every trip for them, and the part that they talk about once they've returned home. But as the mom, I get to be both pragmatic and nostagic. In between the Astro Orbiter and Mickey's house is my favorite childhood memory, "it's a small world", and there's no chance I'm going to pass it by. Darya is willing to play along, but Everest is livid. I can't make him. He won't go. I want to tell him "Every child loves this ride," but secretly I wonder - in a word of sophisticated animatronics and iPad videos, will the cute puppets and repetitive signing be as captivating for him as they were for me when I was five?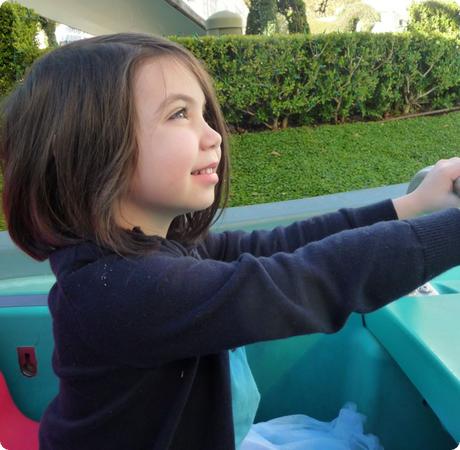 Finally we reach a compromise, I load the kids onto one of the boats and we settle in. Small World is decorated for the holidays, and it seems more glamorous than ever. After a moment of fear about entering the clocktower, Everest's eyes go wide, and I feel his body relax. It's beautiful mommy. We cuddle up, and enjoy the ride. Getting stuck for a while in the middle turns out to be a treat. The kids are concerned at first, but then they decide it's funny to have boats piling up behind us. They just can't get enough, and when the boat finally docks, Everest turns to me and says "Mommy, can we ride on Small World again next time we come to Disneyland?" Now the circle is complete, my special memories are his too.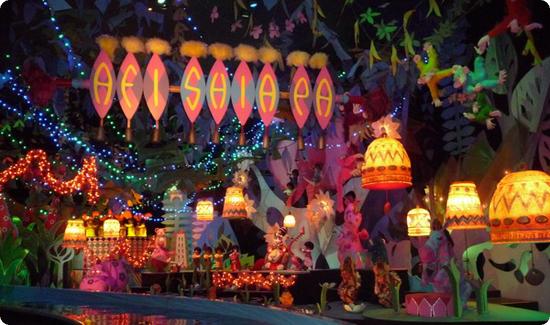 At the end of the day, after the Holiday fireworks show, and a dusting of "snow" on mainstreet that would feel nostalgic even if you'd never experienced snow before, we take advantage of the short lines for one final, ride on Autopia. This was my first "car driving" experience thirty-odd years ago, and it's my son's first one too. It was probaby the first "behind the wheel" experience for a lot of people as Autopia is one of the few remaining attractions that opened with the park in 1955.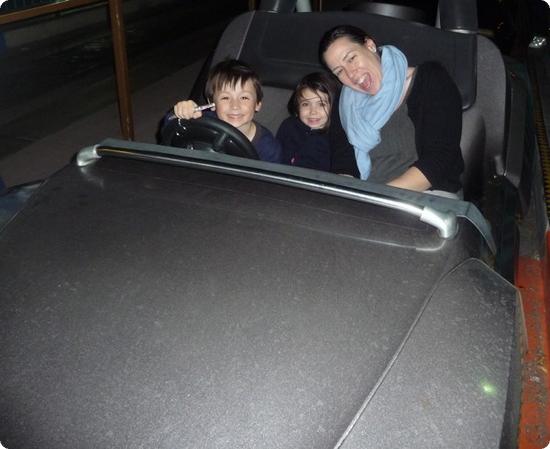 I press on the gas pedal, Everest steers, and Darya comes along for the ride. With Everest wildly turning the wheel, it's a bumpy ride, but a fun one, and it's neat to hear the put-put-put of these classic vehicles as we ride our way around the track.
5 comments | Posted on December 6, 2010 |

Save to del.icio.us



Subscribe to our feed