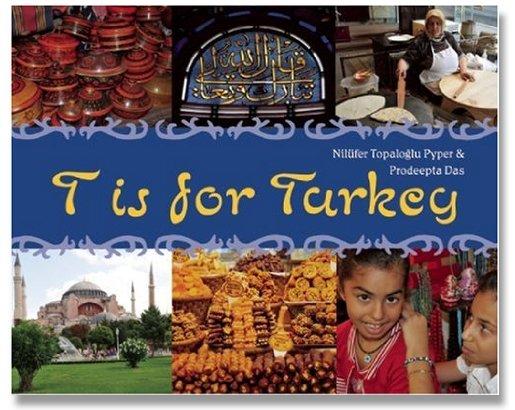 Finding great children's books to help set the stage for this trip to Turkey was tricky business. Most of the books I found were research books, geared towards older kids. E and D are willing to look at a few pictures but they lost interest quickly when I tried to read the words or make up my own descriptions.
Somehow in my searches, I came across T Is for Turkey (World Alphabets)
and, since it won't be available in the US until August, I contacted the publisher for an advance copy to review.
Each page of T is for Turkey features a letter of the alphabet, colorful picture of some aspect of Turkish life, and a short description. D, for example, is for Dolmuls (pronounced dolmoosh) a minibus whose name means "stuffed." G is for grandparents, who are an important part of Turkish life.
The letter-by-letter approach, and the large scale pictures turned out to be a great fit for my 3 and 5 year old kids, and each of them was able to find something they were looking forward to seeing. What surprised me was how much I enjoyed learning about Turkish culture this way (instead of from a dry guide book). Still, it took a few sittings for us to get through the entire alphabet.
Several other destinations, including Africa, Brazil, China, India, Korea, Mexico and Poland are featured in the World Alphabets
series, and I imagine that we'll buy more of them over time.
Related Links:
Buy on Amazon:
T Is for Turkey (World Alphabets)
My Favorite Books About Turkey
3 comments | Posted on July 7, 2010 |

Save to del.icio.us



Subscribe to our feed