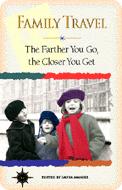 I share my favorite family travel-related (or destination related) books every other week. Most books are from my personal collection, or checked out from the library, but whenever I do accept a book for review from a publisher, I will always let you know. If you buy the book using the Amazon link at the end of the post, I earn a small commission, and that income helps me keep the site going.
Reading books from the Travelers' Tales collection is one of the ways I prepare for a trip to a new destination. Each is filled with short stories about real trips to the destination (or according to some other theme), and I think they're a great way to get a flavor of your destination without cracking a dry history book or cultural analysis.
I just finished reading Family Travel: The Farther You Go, the Closer You Get (Travelers' Tales Guides)
and I thought it was fabulous. There were personal stories of every possible type of trip - from an Italian vacation with kids and an ex-husband, to trips with parents, to river rafting with kids. The stories are well written, engaging, and fun to read. If you are in need of inspiration or confidence, "The Farther You Go, The Closer You Get" is a great place to find it.
Related Links:
Buy on Amazon:
Family Travel: The Farther You Go, the Closer You Get (Travelers' Tales Guides)
Favorite Books About Traveling With Kids
0 comments | Posted on June 24, 2010 |

Save to del.icio.us



Subscribe to our feed