This is a guest post by my friend Robin. Her three kids and mine are all almost exactly the same ages, and you should totally check out her blog to read more of her excellent adventures in Seattle and beyond. Plus, she's funnier than me!
It wasn't my idea for my parents to take our whole family, 15 people in all, on a two-night vacation to Great Wolf Lodge in Grand Mound, WA. I wanted to go on a cruise to Mexico (to be read in a whiney voice similar to the way Veruca Salt said "Daddy, I want an Oompa Loompa"). Great Wolf Lodge is a waterslide park/hotel and only an hour and a half south of Seattle. And I have to admit, it makes for a great vacation destination with kids.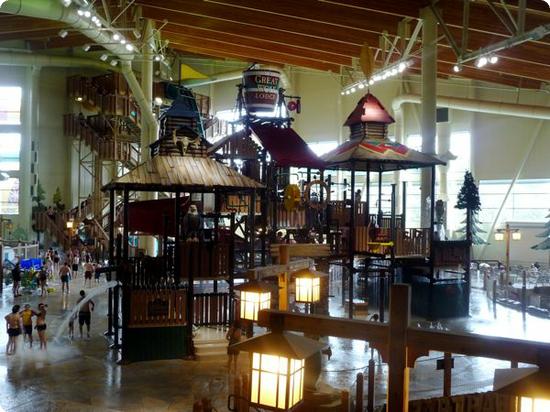 Although at 5:45 a.m. on our first morning there, it isn't seeming so great when our alarm clock (otherwise know as, our five-year-old son, George) goes off yelling, "Mommy and Daddy, I have to go potty!" I quickly jump out of bed thinking if I race him into the bathroom and close the door he'll let his siblings, ages 1 and 3, sleep at least until 6 a.m. Just as I'm helping George down from the top bunk I hear Goldie, the 3 year old, roll over and ask if it is morning time.
Two out of three are now awake for good. I grab both kids and rush them down the elevator and into the lobby thinking at least my husband and the baby can sleep a few more minutes.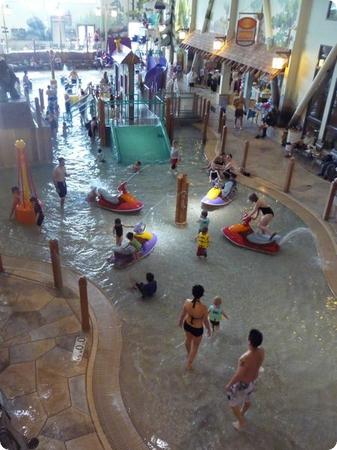 It seems that every other guest in the entire hotel is still asleep. Even the Starbuck's in the lobby is sleeping. It doesn't open until 6:30. I ask myself again, why are they awake? More importantly, why am I awake at 5:45 a.m.?
Remember when vacations truly were vacations? My husband and I would sleep late and after a leisurely breakfast retreat back to our hotel for a nap before the day would officially begin. But that was then… back to now.
Since having breakfast and climbing back into bed isn't an option, we check out games from the front desk.
After 8 rounds of Candy Land, 5 games of checkers, a latte, two cocoas and some croissants, things are looking up. More kids are showing up in the lobby, also in jammies, and my kids are happy.
At 9 a.m. we hear the wolf howl that signals the official opening of the indoor water park and watch from the big picture windows in the hotel lobby as the water starts to flow and splash and drench and spray and the ecstatic kids pour into the park. George and Goldie are practically salivating to get back to the water.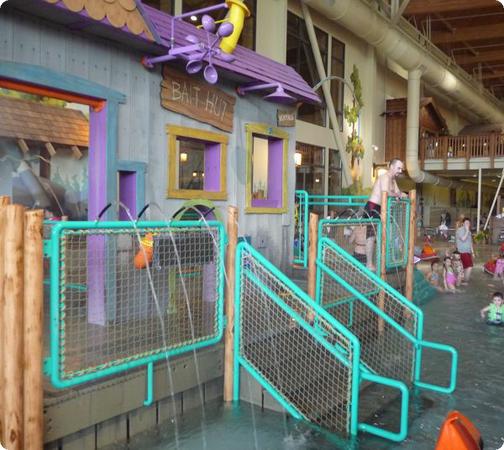 Great Wolf has multiple locations mostly in podunk towns where I suspect land is cheap. It is a great concept: a water park inside a hotel. Their website boasts that inside the resort's huge, 56,000 square-foot indoor waterpark it is always 84 degress. They have six waterslides, three pools and a four-story interactive treehouse water fort that dumps a Volkswagen sized bucket of water approximately every four minutes and drenches everything and all.
When we first arrived, my brother tricked my dad into standing under it while wearing his street clothes. Seems like a dumb thing to do to the person who is paying for your vacation. But that's just me. After about a day I noticed there's a bell that rings before the water dumps. Good info to have.
The water park appeals to all ages and I do mean all. The youngest member of our party was one and the oldest 72. And they both had a great time. The most popular attraction with my kids was Bear Track Landing, a tricked out wading pool complete with a mini water fort, little slides and stationary jet skis that spray water. For the older kids, the River Canyon Run with a 6-story drop in the giant funnel you can see from I-5, is the raison d'être. I hear it's pretty thrilling and the rafts you ride in can hold 5 people at once. Fortunately for me, our kids aren't quite big enough yet to venture into that one.
Without kids, this would not be at the top of my list of destinations. But with a one-, three- and five-year-old, a hotel with waterslides, games at the front desk and gummy worms on the breakfast buffet is pretty tough to beat. Happy kids make for happy parents and there's a whole lot of happiness flowing through Great Wolf – even at 5:45 in the morning.
Related Links
Great Wolf Lodge & Environs, Grand Mound WA
2 comments | Posted on November 1, 2010 |

Save to del.icio.us



Subscribe to our feed