We were invited guests of the Embassy Suites Waikiki Beach Walk on this trip. The hotel did not require that I express a particular point of view, and I always strive to present a fair and balanced review regardless of who is paying the bill.
When I heard that we'd be staying at the Embassy Suites in Waikiki, I wasn't quite sure what to expect. Afterall, the classic Embassy suites, a tower built around an interior courtyard pool, doesn't make a lot of sense in Hawaii.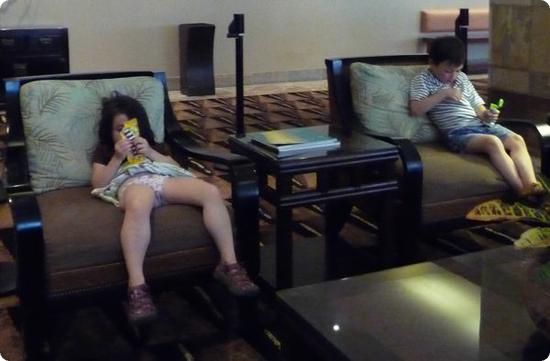 From the moment you drive up and enter the indoor-outdoor lobby, you know that this Embassy Suites property has been reinterpreted to work in Waikiki. Two tall towers are connected by a huge patio with an outdoor pool, a dining area, and a lanai.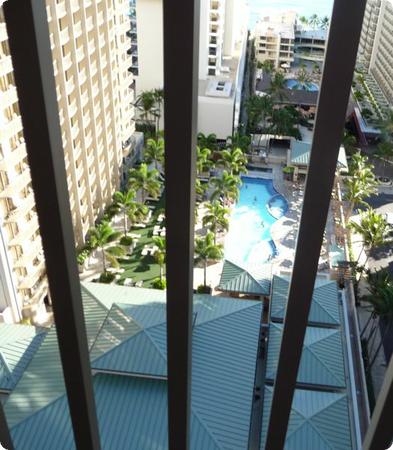 One and two bedroom suites are available (there are no "studio" rooms). We like to stay in suites hotels when we travel, the extra room lets us either split up kids who are preventing one another from going to sleep and gives us a place to work or read in the evenings after the kids are asleep. In the morning, early risers can play in the living room while late sleepers doze in the bedroom. A good suites property gives you the benefit of two separate hotel rooms without the expense.
Breakfast is included in the room rate, just as it is at every Embassy Suites property, and this one includes fresh fruit, made to order omelets, Japanese items like miso soup and fish, pastry, and of course POG juice (pineapple-orange-guava).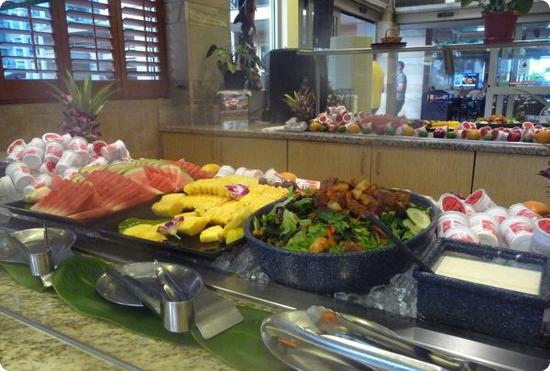 One of our favorite tricks is to bring the earliest riser down for breakfast so that he or she doesn't wake up the other kids, and the Embassy Suites outdoor Lanai worked especially nicely because there was so much space to run after breakfast was finished!
I don't have to tell you what the kids favorite thing was, though, do I? This pool isn't the sprawling affair that you would find in more remote parts of the island, but the kids loved the shallow splash pool and the not-too-deep main pool. There's enough shade in the late afternoon to swim here without being overly obsessive about sunscreen.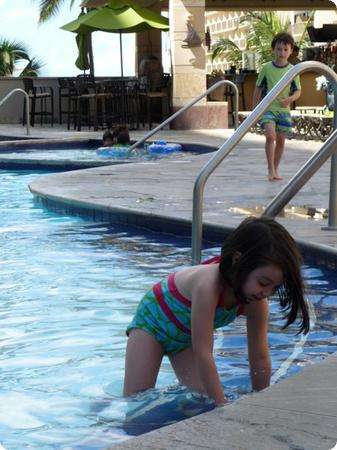 In the early evening, we walked the block to the beach and played in the sand as the sun set.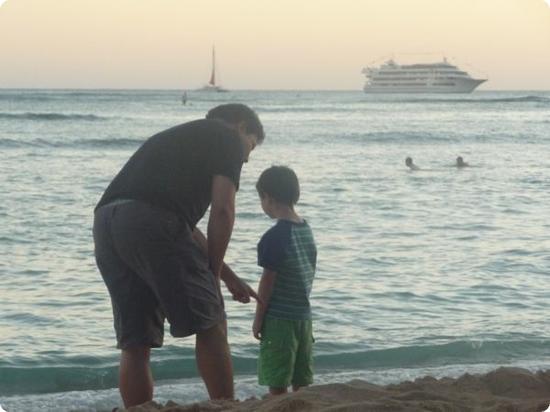 Our room was decorated in a light, airy style, and everything was very clean and modern feeling. The bedroom fit our two queen beds and had it's own small lanai. The living room had plenty of space for a sofa, a dining table (which doubled as a desk), a wetbar. There was plenty of space for the kids to spread out their toys and play in the mornings or as we wound down for bed.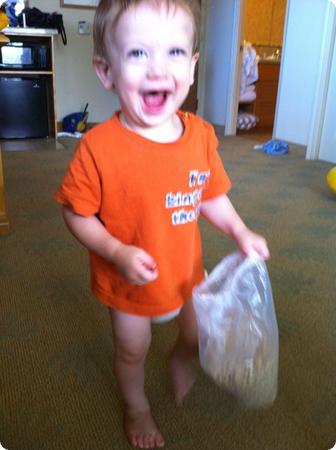 What You Should Know
Free Wi-Fi included
Breakfast included (high chairs available)
Poolside meals and room service available
ABC market across the street sells everything from sunscreen and aloha shirts to snacks and drinks
Wetbar, refrigerator, microwave, coffee maker in every room
Cribs at no additional cost
Bellhops have pool/beach toys to lend
No children's program
Evening manager's reception
Avoid 4th floor rooms which have lots of foot traffic to breakfast and the pool
Central location close to Royal Hawaiian Center, lots of restaurants
One and two bedroom suites available
One block to beach
This area is bustling at night and feels very safe to walk around. Related Links
City Guide: Honolulu, Oahu with Kids


4 comments | Posted on October 5, 2010 | Save to del.icio.us



Subscribe to our feed