Disclosure: I received Gypsy Mama Water Wrap sling from Gypsy Mama for review. I received no compensation, and Gypsy Mama did not require that I express a particular point of view. My review policy does not allow me to keep products valued over $40, and I will send this carrier back to the manufacturer. I do not receive a commission if readers purchase this item.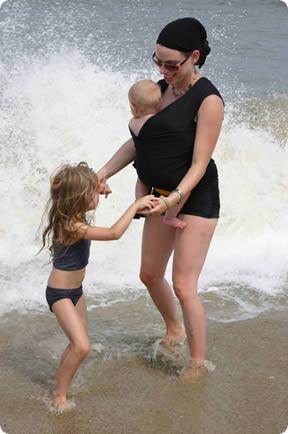 Several months ago I reviewed the SportsBaby Carrier a sling for use in the water that didn't quite live up to its promise of comfort. One of my readers suggested I check out the Gypsy Mama Water Wrap, and the company generously agreed to send me a carrier in exchange for a review. I took the wrap with me to Hawaii and tried it out in our hotel pools.
Overall Recommendation
This wraparound baby sling is similar to the Moby Wrap I owned when my babies were very little. Instead of being made out cotton, it's made of a very lightweight synthetic fabric. The sling is supportive and comfortable for both mom and baby. For young babies, this sling would offer enough support to keep them safe in the water. With an older (and more squirmy) baby like Eilan, you'll need to keep a hand on your child so that he doesn't wiggle his way out. If you need a water sling, I would recommend the Gypsey Mama Water Wrap.
Fit
It takes a careful read of the instructions, and a few tries to get used to wrapping the sling around you and inserting baby, but once you get the hang of it, it's not difficult. You'll need to have someplace safe to set the baby while you get yourself all set up.
The sling is supportive and comfortable. The stretchy fabric is not quite as restrictive of baby's movements as cotton would be, and I found myself keeping a hand on 15 month old Eilan as he stretched, squirmed, and splashed in the water. For a young baby, there's no reason you couldn't wear this sling throughout the day (as long as you planned to have another alternative once it got wet). Baby can be worn on the front or the hip (I tested only the front position).
Usefulness
I loved being able to get right in the water with E and D without worrying about Eilan squirming out of my arms while I helped them with something or pulled them around on a kickboard.
Expect to stay in relatively shallow water with this carrier, and don't wear baby on your back. You do need to be aware of where baby's head is with respect to the water at all times.
The manufacturer guarantees a UPF (UV Protection Factor) of 45 to help prevent sunburn/minimize sunscreen use, and the fabric can be arranged to cover baby's head (though they'll probably only let you do that if they are sleeping).
Weight Limits
According to the manufacturer, this sling is appropriate for newborns and toddlers up to about 25pounds. Some people may still find it comfortable, when used in the water (because the water helps support the weight of the child) with a child over 25 pounds.
Convenience
The Water Wrap is made of a quick drying fabric. If you can stretch the 5 years of material over your shower curtain rod overnight, the wrap would be dry by morning (or sooner)
Price
The Gypsy Mama Water Wrap Carrier is available online at Gypsy Mama website and retails for $56.00
Related Links
Favorite Gear for Traveling With Kids
4 comments | Posted on October 12, 2010 |

Save to del.icio.us



Subscribe to our feed