This trip was sponsored by the Hawaii Convention and Visitor's Bureau who generously paid many of our expenses on this trip
Every parent knows the feeling. You've been on vacation with the kids for a few days, and you are desperately in need of an evening that feels a little more "grown-up." You'd like the kind of food, service and atmosphere that comes along with a meal at a nice restaurant, but you're worried that the kids will bother everyone else, or force you to make an early exit. That's exactly where my husband and I found ourselves after a few days in Waikiki. After all, this is Hawaii, we should be sitting under an umbrella with fruity drinks and watching the sunset.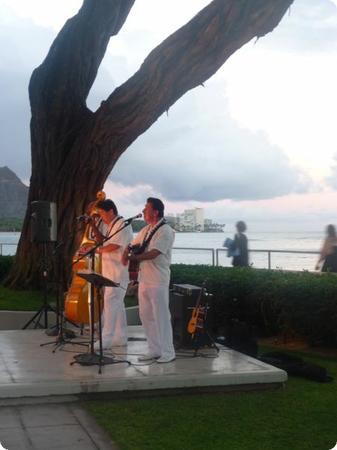 Somewhere in my planning, I'd seen a review of House Without a Key, a beachfront restaurant with live music just a block from our hotel. The pictures looked lovely, and outdoor restaurants often work well with the kids. It seemed like exactly the sort of place we'd want to unwind after a full day. Still, this was an upscale restaurant, and I didn't want to be so busy keeping the kids quiet that I wouldn't be able to enjoy it. I gave the restaurant a call, and got a pleasant "we consider ourselves to be a family restaurant, come on down," so armed with stickers and crayons we walked over.
When we got there, I relaxed almost immediately. Yes, this is a very nice place, but the staff brought over a high chair for Eilan and kids menus. Milk in plastic cups showed up almost immediately. The music was relaxing, the sun was getting ready to go down, and the kid were happy with their meal choices.
But here's the ace in the hole, there's a lawn adjacent to to the seating area. While we waited for our coconut shrimp, the kids turned somersaults.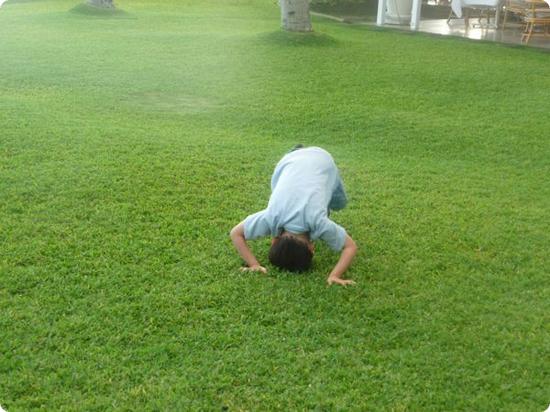 While I feasted on the fish of the day, the kids played duck duck goose with their new friends.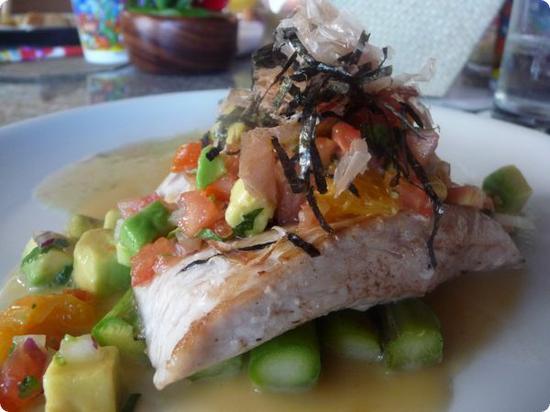 And while I polished off my second fruity drink and watched Kanoe Miller dance hula (she's been dancing at House Without a Key for over 30 years and is exceedingly lovely) the kids practiced their own hula moves.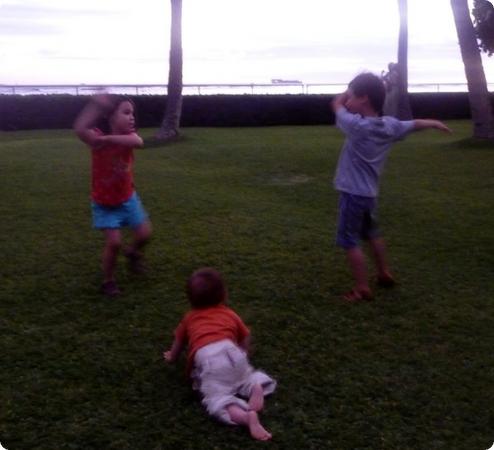 And while my husband settled the bill, I played on the lawn with the kids.
It can be so difficult to truly unwind when you have kids to watch, but this was a relaxed evening for all of us, kids and adults. This is what we came to the islands for, but rarely find a way to do, a chance to breathe. Now that I have the perspective of a month back home, this relaxed time on the lawn is one of my favorite memories. It's funny how these little found moments can turn out to be better than any of the activities I carefully plan before we go!
0 comments | Posted on October 18, 2010 |

Save to del.icio.us



Subscribe to our feed