This trip was sponsored by the Hawaii Convention and Visitor's Bureau who generously covered our accommodations, a portion of our transportation, and some meals.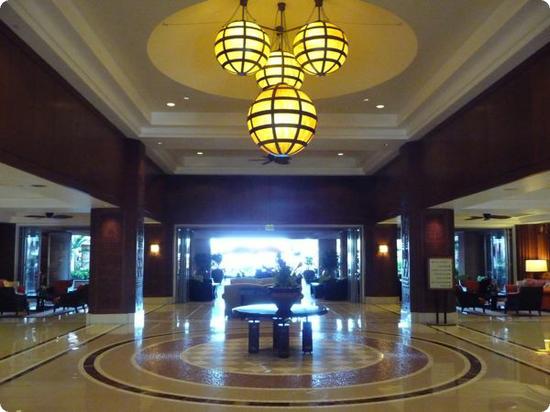 Can I tell you a secret? We're not big resort-goers. If you've been reading DeliciousBaby for a while, you've probably figured that out on your own. Sure, we've tried the odd resort here and there, even I need to slow down once and a while. And the resort-condo? The seeming favorite type of accommodation for families visiting Hawaii? We've never even tried it.
So believe me, nobody is more surprised than I am to find out how much I enjoyed our stay at the Honua Kai resort in Maui. Perhaps I've changed - with kids, we just need more downtime, or perhaps there was something about this spot that just resonated with me. I can tell you, though, that on the night we arrived, I just really fell in love with these expansive lawns.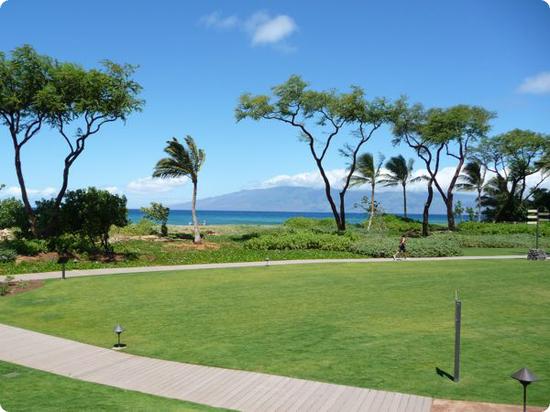 It was evening, the sun was setting, and families were out on the lawn running, playing, and grilling up dinner on the Barbecues that are available to all guests. Somehow it just made sense, and I laid back on the lawn as the kids ran off the energy they'd built up on the flight from Oahu to Maui.
The suites themselves made a lot of sense too. We had a two bedroom room suite big enough that our family of five could really spread out. There was a full living room, a huge covered lanai, two bedrooms a full kitchen, a washer and dryer and two en-suite bathrooms. The kids slept in one room and we slept in the other. I wheeled Eilan's crib between the living room and our bedroom depending on which space seemed quieter at the moment. Everything from the carpet to the sheets and light fixtures, but it was the amount of space that made the suite truly luxurious for our family.
Bedroom(s)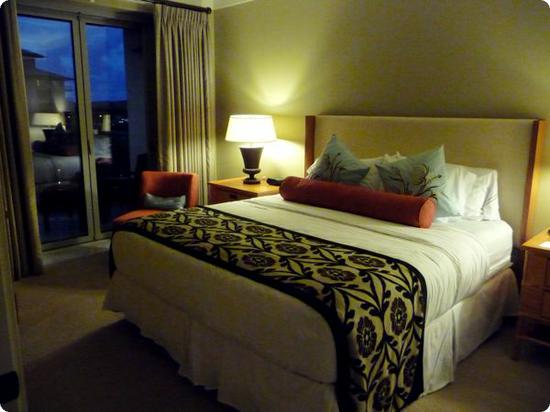 Each of the two bedrooms had a king sized bed with the soft sheets and cozy pillows you'd expect. Each had its own bathroom. One had a standard tub and the other had a HUGE tub that the kids just loved.
Living Area
I'm not sure my pictures show how big the living room area was. There was a full sized dining table and plenty of comfy seating. The kids had space to spread out, and we left the huge glass wall open virtually around the clock to let the fresh air and the sound of the ocean in.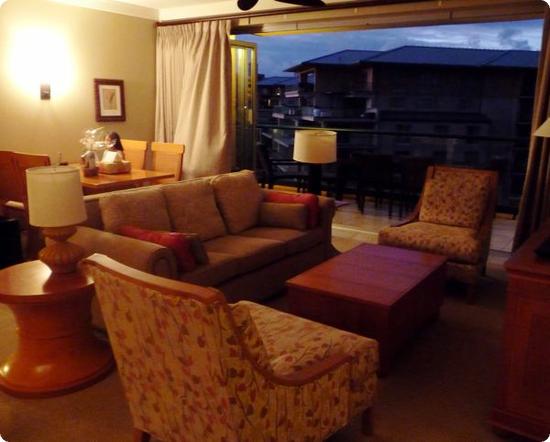 Kitchen
This was is a kitchen I'd be happy to have in my own home. A gas stove, stainless steel appliances, and cabinets stocked with pots, pans, and all the utensils you need to cook up a meal. This is a vacation, so I certainly didn't cook every meal, but it was fun to head to the market across the street for macadamia-nut & chocolate chip pancakes and cook them up for the kids in the morning.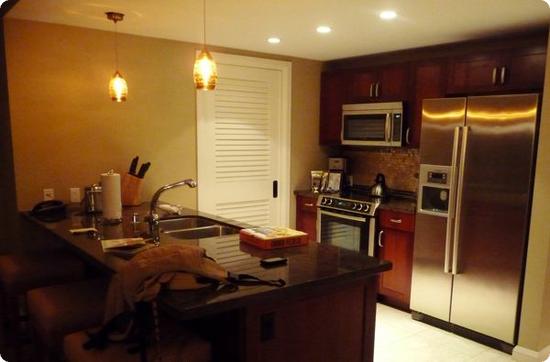 Kids Club
The kids club here is small but clean and with plenty of toys and crafts. Kids can drop in for a full day, half day, or even for just an hour and pricing is reasonable. This is one of the few resorts where the kids club begins at age three, making it a good option for families with young children. Still, the small space would make me hesitant to leave the kids here for too many hours.
Pool
The pool area had lots to choose from for kids of different ages. There was a quiet, traditional pool that would appeal mostly to lap swimmers, and of course a waterslide (you must know how to swim and cannot ride on an adult lap). We spent virtually all our time in a shady grotto area designed for younger kids. It included a small pop fountain, a sandy bottom zero-depth-entry pool, and a shallow pool complete with caves and a waterfall to explore. We ordered dinner poolside from Duke's Beach House (the hotel restaurant) and that made for a fun and easy afternoon.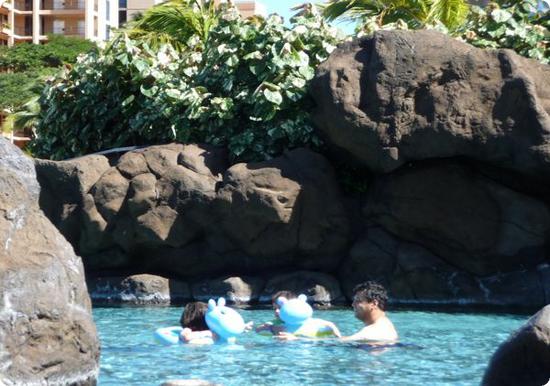 Beach
To get to the resort's beach, you'll wind along walkways and down some stairs. Shoes are required (our kids wore thick soled sandals) because of the corals on this part of the beach. Hotel staff can point you to the nearby "baby beach," a short car ride away, where a cove protects young swimmers from big waves.
Location
The Honua Kai Resort, Maui is located in a resort-heavy area of Kaanapali Beach. There's a full-fledged supermarket across the street, but not much else to drive too. The charming town of Lahina is a short drive, and has lots of low-key restaurants, a great luau, and the show Ulalena.
Related Links
Things to do in Maui with Kids

1 comment | Posted on October 20, 2010 |

Save to del.icio.us



Subscribe to our feed