We were invited guests of the San Juan Marriott Resort & Stellaris Casino. The hotel paid for the cost of our air tickets, hotel, activities, and most meals. They did not require that I express a particular point of view.
Sunshine! Finally! Lots of it! Of course Everest, the poor sweet boy who I dragged across the ocean to an uncharacteristically rainy Puerto Rico wouldn't know. He's sleeping in.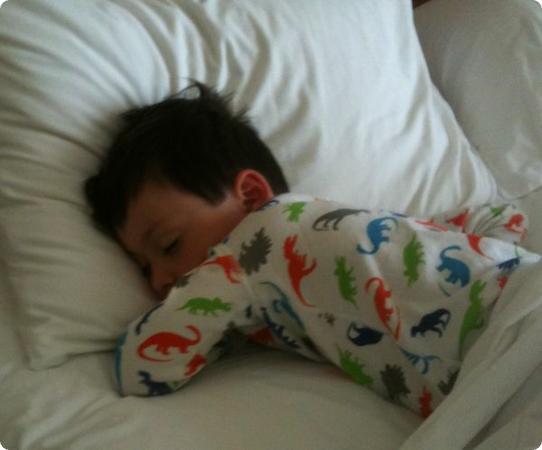 By the time he wakes up, I'm in a rush. I want him to experience the beach and the pool, and I need him to eat breakfast. We're headed to Old San Juan for lunch today, so we don't have unlimited time. I hustle him into a swimming suit and we race out to the beach. I search for, and find, a server who will bring us breakfast by the pool.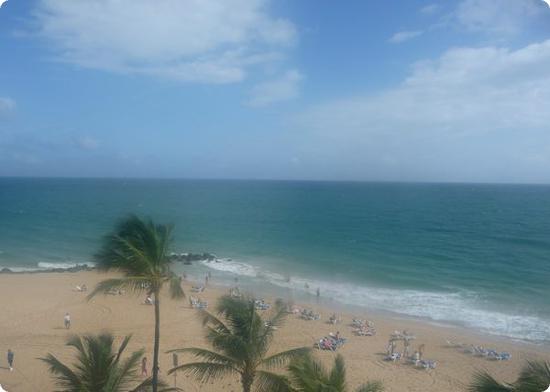 Everest cannot get enough of the beach - and he thinks that standing with his feet in the ocean as the waves rush in is the funniest, giggliest thing that can happen to you. (we live by a lake, so he sees lots of shoreline, but almost never experiences surf) I wish I had pictures, or video of this, but believe me, standing in the ocean with a squiggly 15 month old in your arms and a precariously balanced 5 year old by the wrist is quite enough for me to manage.
Is the beach supposed to be relaxing? Perhaps if my husband were here, or if the kids were a bit older, it would be. Still, we're having fun, and that's enough.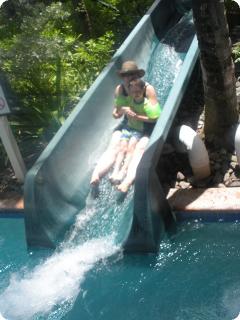 But never mind, there's a pool to check out, and a water slide. Everest is normally super cautious, and when I saw the slide, I imagined that he'd never go on it. After watching the other kids splash down the slide a few times, he wants to try it too. Yay for being on a trip with other kids! He slides down with Colleen of TravelMamas the first time, and then someone convinces me to hand off baby Eilan and slide down with him myself. We have a few precious moments alone together, and I'm so surprised that I slide down with my hat on and forget to hold Everest up in the air on impact. Water rushing up his nose isn't his favorite sensation, and it might be a while before he agrees to go on a water slide again.
But then we're off again. It's time to head to lunch. We're the last ones out of the pool, and I have three bodies to dry off, dress, and bring downstairs to the lobby. Still, we're somehow the first ones out by the bus - perhaps that's the advantage of having boys, or perhaps it's the lack of fussiness that comes with being a sleep-deprived mom of three kids.
Our lunch is in Old San Juan at a restaurant called Raices. Raices is a casual place with servers in old fashioned Puerto Rican dress. It's been around forever, and it's a favorite with both locals and servers. The menu is huge, and includes lots of fried items (yum) and many varieties of Mofongo (meat with plantains). I'm delighted, but for Everest, even the kids menu is challenging.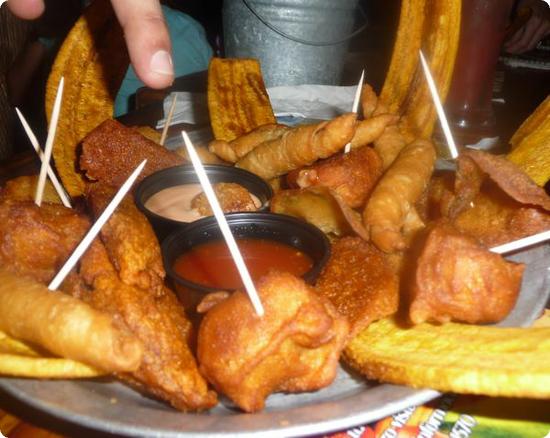 I have to admit, dealing with picky eating always stresses me out somewhat, but it's somehow heightened in this situation with several other moms and kids. Somehow (even though there's no competition expressed or implied) I want, more than ever, for poor Everest to be the perfect traveler - always ready for new experiences and new foods. We compromise on cod fritters (which I sell as fish sticks) and then he tries (and loves) the slightly sweet deep fried corn fritters. Whew, at least I didn't have to break out my peanut butter packets
After lunch, we wander around Old San Juan. We're both hot, and I'm sweating under the weight of a sleeping baby Eilan. I wonder if this area might be best seen on one of the free trolleys that run circuits around the tourist areas. I love the architecture, but most of the businesses cater to tourists, not locals. If you're not shopping for souvenirs, there's not much need to look inside the buildings.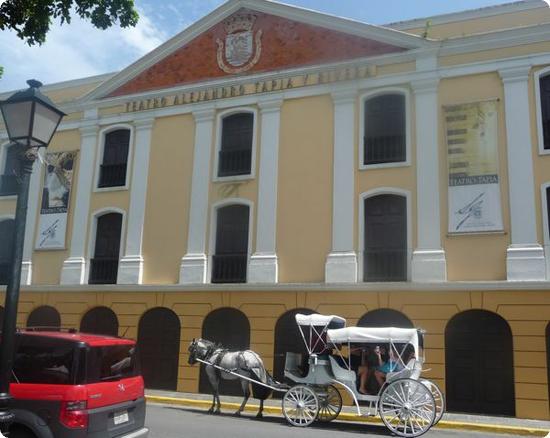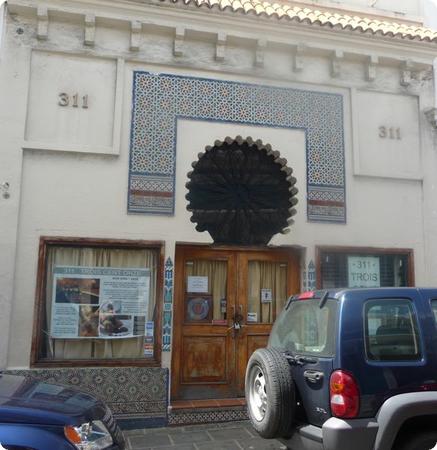 Our next stop is Castillo San Felipe Del Morro. We're going to explore the old Spanish fort (which dates from the 1500's) and then fly kites on the huge lawn. Everest is more excited about the kids than the fort, but somehow I cajole him through the entry, and we race down stairways, into turrets, and through what seem to him like secret passage ways. The views are spectacular, and though there aren't any relics here beyond the building itself, a child with a vivid imagination would find material for days of storytelling. Everest isn't that child, though, he's interested in how the whole thing is engineered - the stairways, the gutters and the 6 meter thick walls.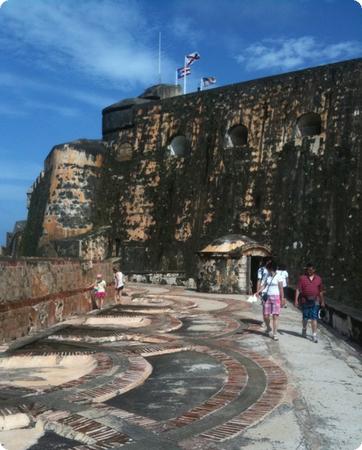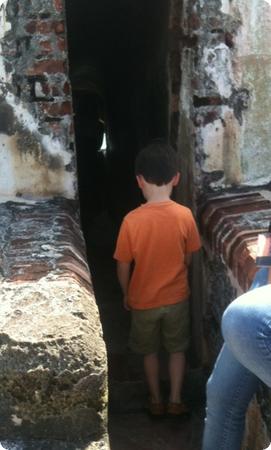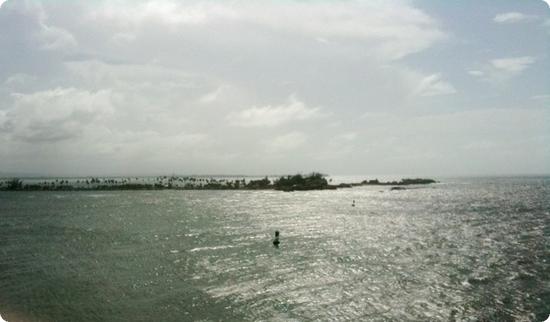 And then finally, he times out. We slather on sunscreen and head to the front of the fort to fly kites. This feels like the most fun we've had together in ages. We're running, giggling, and laughing. With the heavy winds, our kite is hard to control, and I've got the baby, the kite, Everest, and of course I'm on twitter posting pics as we go.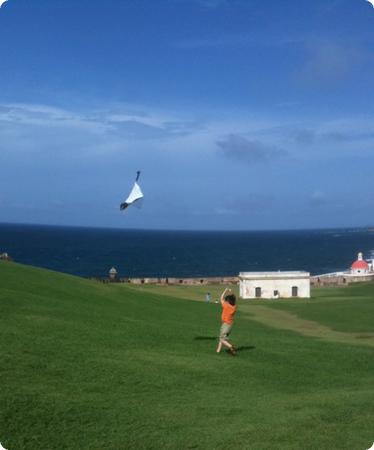 Eventually, the wind is just too much, and the kite gets away from us. Everest and I get burns from the string in the process of trying to rescue it, and Everest is just inconsolable. Everyone tries to calm him down, but he's tired, he hasn't had a great lunch, and he's heartbroken about the loss of the kite.
But Kara, our tireless host, knows just what to do - we'll march back to the street and buy shave ice (Piragua in Spanish) from a cart! Within moments, Everest's eyes are dry, and he's smiling again.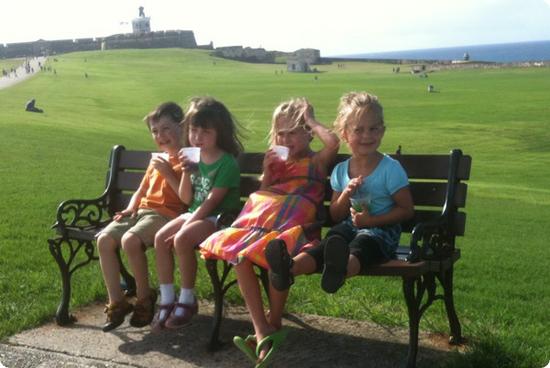 Just look at those kids - as far as they're concerned, there's not a thing wrong in the world.
Eventually we make our way back to the hotel, and we have a "mom's night out" at Ristorante Tuscany, the Marriott's upscale Italian restaurant while the kids watch a movie with a sitter. The food, and wine are lovely and by the time we're done everyone is ready to get into bed. With our trip complete, I'll pack us up in the morning and we'll fly back to Seattle.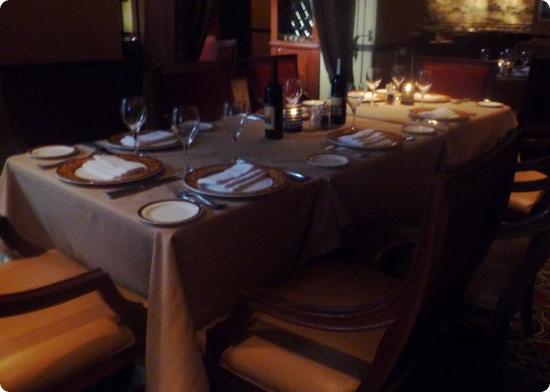 Related Links:
City Guide: San Juan Puerto Rico With Kids
4 comments | Posted on September 9, 2010 |

Save to del.icio.us



Subscribe to our feed