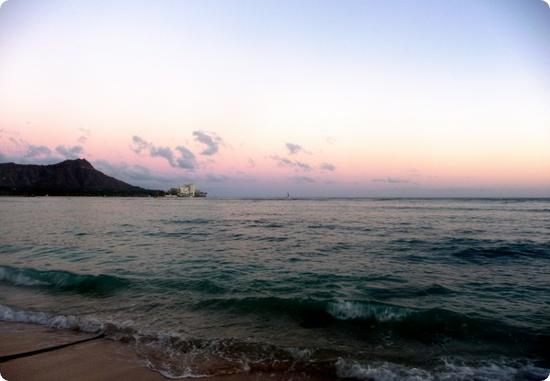 Hawaii is sort of a fantasy world. That's especially true here in Seattle where fall can last from September until July. I don't need to tell you what the fantasy is about, do I? It's about long lazy days on the beach, tropical drinks, and smiling happy little faces that don't stop grinning from the time they slide their swim suites on in the morning until they lie their sleepy heads down at night. It's the dream of a better, more healthy balance between work and self, and a stronger connection with the things that truly fuel you.
We haven't been to Hawaii in a long time. Not since before the kids were born. It's not that I don't enjoy the islands, it's just that I'm so terrible at forcing myself to slow down. There are a thousand things I want to do, and a thousand places I want to be. But (and perhaps I shouldn't say this in such a public forum) it's been too much lately. I have three kids, a blog that's starting to feel more like a (much loved) job than a hobby, a new iPhone app, a bigger and better Passports With Purpose plus the thousands of small details that every mom juggles. I love everything I am doing, but I need a recharge, desperately. I'm frazzled beyond measure.
When Nathan Kam of the Hawaii Convention and Visitors Bureau (who would be a lovely man even if he weren't offering me a trip to Hawaii) mentions a trip just before the school year starts, I can't hit the "reply" button on my email fast enough. He offers to fly out me plus one of the kids, and to have the visitors bureau set up hotels and activities. I whip out my credit card to buy airfares for the rest of the family. After a summer that never really got started in Seattle, some warmth and time outside are just what the doctor ordered.
I'll be writing about the details of the trip over the next week or two. Looking back at my notes, I'm surprised at how much we packed in to a short week. There was tons to do, more than I realized, and in my mind, none of it was "skippable." I still have a long list of places I wish we'd worked in, and I'm sure I'll be pestering friends and family to visit them for me. Plus we split our time between two very different islands, Oahu (where we stayed in bustling Waikiki) and Maui (which was more relaxed). I just had to get out and explore. We dug in the sand, went to Luaus, kissed Dolphins, played on the beach, devoured shave ice, watched one of the most graceful Hula dancers on the planet, fed goats and more. I can't stop looking at the pictures, and I've been posting a few of them up on my DeliciousBaby Facebook Page as I go - so if you want a sneak peak, head over there.
When we landed back in Seattle, it was drizzling and dark. That felt, all at once, like both a rude awakening and a validation of our decision to take this trip together before we hunker down for winter. Maybe the bustle of my Hawaiian vacation is not exactly the classic Hawaiian dream, but it is a reflection of the way I am wired. Even in paradise, my drive to explore is stronger than my desire to sit still and be in the moment. I did come home feeling simultaneously exhausted (physically instead of emotionally for once) and refreshed. Being outdoors was a partial "cure" in itself. I'm ready to face the school year, and I have some wonderfully calming pictures and a relaxing slack key guitar CD that I swear are going to help me BREATHE.
14 comments | Posted on September 13, 2010 |

Save to del.icio.us



Subscribe to our feed