Whenever I arrive in a new place, I Iike to get the "lay of the land," so we spent the bulk of our first day in Hawaii exploring Waikiki. I've never been here before, and though I had a vague image of skyscrapers, high end shopping, aloha shirts and the beach, I wasn't quite sure how all those things would work together. We explored Waikiki in three different ways today, each time seeing a different aspect of the area around our hotel.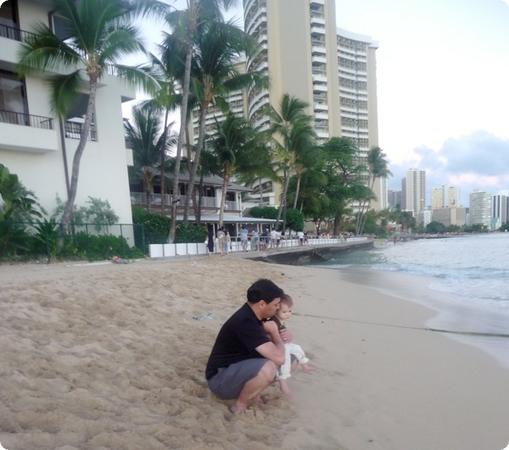 The sprawling city and huge resorts seem a little overwhelming at first. I'm not sure exactly which way to go, so we start by walking the block around the hotel, and when I realize that we're just across the street from the Royal Hawaiian Shopping Center, we head in. The Royal Hawaiian is sort of like Rodeo Drive jammed in an indoor-outdoor mall. It's a pleasant environment, and the windows are full of eye candy, all of which sounds like a disaster when you're exploring with three kids under 6. But here's the secret, the center runs free cultural activities throughout the day. You can get the schedule online or just show up and wander.
First we grabbed some snacks, and sat down to watch the Ukulele lessons. The kids thought it was funny to see grownups strumming such tiny instruments!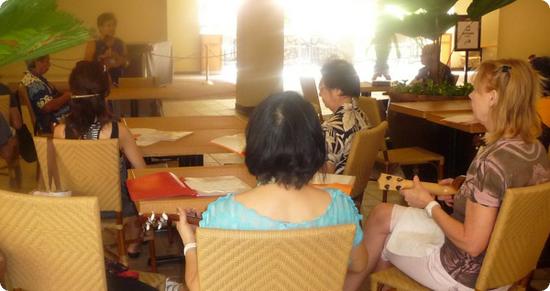 Everest, my little engineer, was fascinated by this lighting. It's suspended from rebar in an open courtyard, and he begged to be brought back at night so that he could see it all lit up.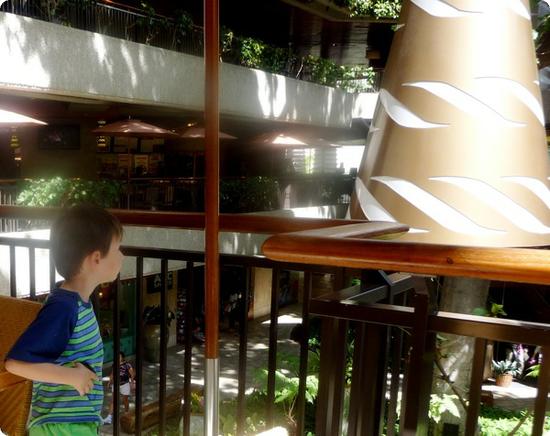 When that got old, we found a Japanese pastry shop called Panya in the center, and the kids got more snacks! These must be the prettiest cookies in all Hawaii.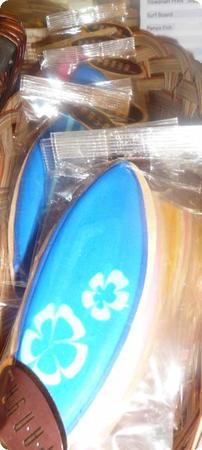 And then more snacks, this time in the Royal Grove (a pretty outdoor pond and grove), accompanied by Hula dancing.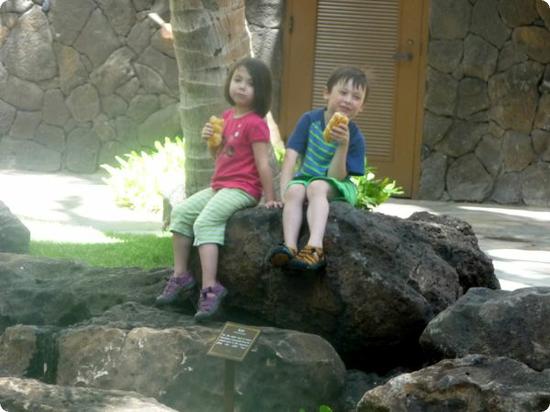 I've been surprised at how many small, locally owned businesses there are in amongst the big chains that dominate the area. Somehow these places find a way to compete, even with what must be very high land prices. Not surprisingly, many of them cater to the Japanese tourists who flock to Waikiki, and it's a little funny to be walking down the street and see a teppanyaki place that looks just like it would in Japan (as opposed to how it would look in mainland USA).
The kids love Japanese food. Our whole family does. For us, it's easier to get the kids to eat well at a Japanese restaurant than a burger place. The Japanese restaurants scattered around Waikiki are a gift for us. And I had been worried that we'd have to get in the car and drive out of the tourist area to get a non-chain restaraunt meal! It's a delight to find these secret little places within walking distance of our hotel.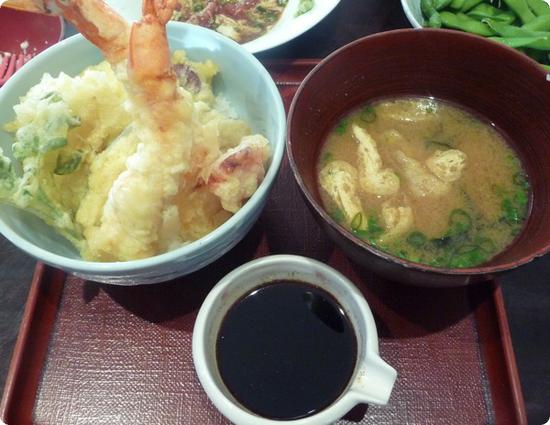 For our first night, we visited Matsugen, a small soba noodle restaurant just around the corner from our hotel. Soba noodles are one of our standby foods. Everest gets them in his lunchbox about once a week. They're quick and easy, and I like that they're made from whole grains. Still, the dried soba noodles I boil and then dress in soy sauce and vinegar taste nothing like Matsugen's handmade noodles. It's like the difference between wonderbread and a proper french baguette.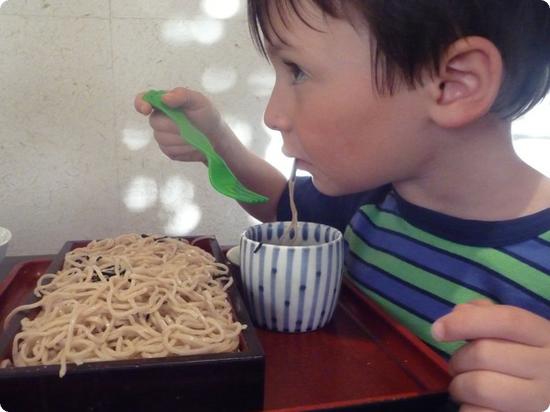 These noodles are so soft they almost melt in your mouth, and the flavor is more refined than the noodles we get in the store. Not only were the noodles great, but since everyone around us was Japanese, I thought this was the perfect opportunity to teach the kids how to noisily slurp up their noodles the way the Japanese do when they think something tastes extra yummy. Noisy, slurpy noodles are better than a coloring page and crayons, and when they were gone, Everest slurped up the richly flavored dipping sauce too.
That night, the baby was having a hard time settling down, so I put him in the sling and went out for a walk. That gave me one final opportunity to explore Waikiki before turning in myself. Waikiki takes on an entirely different life at night. The wide sidewalks along Kalakaua Ave (the main drag) are lined with street performers, and the crowd is an odd mix of young partiers and elegant Japanese families who seem to be loaded down with shopping bags from Coach, Louis Vuitton, Hermes and the other high end shops that line the street. Many of the stores are open until 11pm, after all it's five hours later here than it is in Tokyo. I duck in to a few stores to window shop, and I almost wish my big-kids weren't asleep. Their Japanese peers are here playing quietly while dad watches them and mom shops. Wouldn't it be fun to join in, I think?
But we'll be up early in the morning, hitting the buffet at our hotel and then off to explore more of the city and the beach. As Eilan finally falls asleep I find myself ready to crash too, no blogging for me tonight - it's time for bed.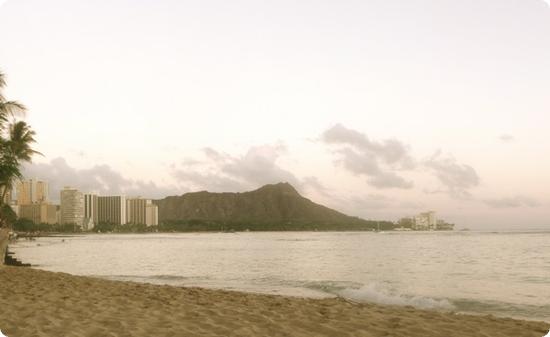 Related Links
City Guide: Honolulu, Oahu with Kids
2 comments | Posted on September 22, 2010 |

Save to del.icio.us



Subscribe to our feed