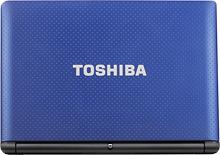 It has been a while since I've done a giveaway, so I'm excited to announce that through a partnership with Intel, I'm giving away a Toshiba NB505-N508BL 10.1-Inch Netbook. It's easy to enter, just leave a comment telling me about a family friendly hotel, restaurant or attraction. It can be in your hometown, or someplace you have visited.
As a blogger, it seems like I lug my laptop everywhere. After the kids are asleep for the night, I find myself cuddled up in a comfy chair or huddled up in an alcove typing away on the next day's blog post. I'm glad for something to do on those early nights, but I sure wish my laptop could morph into something lighter and less bulky when I'm loading it into my backpack on flight days.
This Toshiba Mini Netbook looks like it could fit the bill! It weighs just 2.9 pounds and at 10.3 x 7.5 x 1.4 inches it would fit in my backpack well.
Here's what Intel Wants You to Know
Intel AppUp is Intel's hub for finding NetBook Apps (Disclosure: I haven't tried it since I don't currently use a PC). Real human beings check each app to make sure it meets Intel's guidelines, and is virus free. If you download Intel AppUp you can enter to win a $25,000 custom vacation for your family or for you and three friends. Just share a favorite travel photo and fill out the entry form before August 14. Plus, you'll automatically be entered to win a netbook to make sharing travel experiences from the road that much easier. There are smaller challenges too – the first 25 people who get a friend to download Intel AppUp win a $25 gift card. Or just head over to Intel AppUp and join the community of other travelers swapping tips on travel and technology.
Thank you to Intel who generously sponsored this giveaway
How To Enter
One lucky reader can win. If you would like a chance to win, leave a comment telling me about a family friendly restaurant, attraction or hotel before 11:59PM PST on Monday July 11, 2011 and tell about a kid friendly attraction, restaurant or hotel. Please fill in the email field of the comment form (your email isn't shared with anyone, and I will not send you email unless you win).
How to Earn More Chances to Win
There are several ways you can get additional entries in this contest. Each takes only a few minutes!
For Five Additional Entries: Signup for the DeliciousBaby mailing list to get family travel tips and access to special offers and giveaways. I promise never to share your email address or personal information. I get automatic notification when you sign up, so there's no need to come back here and let me know.

For Five Additional Entries: Recommend a kid-friendly attraction, restaurant or hotel in our city guides. It takes only a few minutes, and it is a great way to share your favorite places with other parents. To make a recommendation, just Click Here. You may recommend as many places as you like, and you will get 5 additional entries for each one. You do not need to leave a comment here - I will be notified of your entries automatically.
"Like" DeliciousBaby on Facebook, and come back here to tell me that you did. I use my Facebook page to share exclusive giveaways, discount codes and other opportunities.
Subscribe to my RSS feed (either by reader or email) using the buttons on the top left-hand side of the page. Leave another comment telling me you did.

Subscribe via RSS