"The airport is now closed, you'll need to proceed through immigration, gather your bags, and leave the airport." Those are just about the last words we expected to hear as we landed in London's Heathrow airport for a four-hour layover before heading home to Seattle. Our trip was done, we'd enjoyed a lovely 10 days in Istanbul and with spring break over we were already to get back to our usual routine.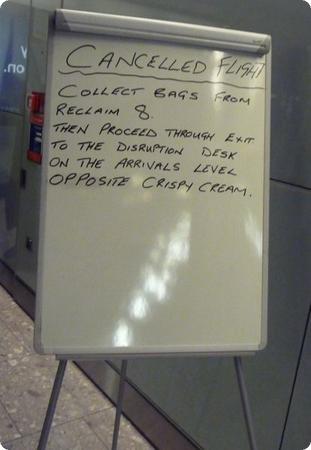 And yet there we were. Stranded. With three kids age 5 and under. At times like the the kids really feed off your attitude, and in some ways that's good. On my own, I'm sure I'd be grumbling about the inequity of it all, but with the kids, I turned it into a grand adventure. Guess what guys, I announced, we're going to get to ride on Double Decker buses on this trip! You're gonna love it!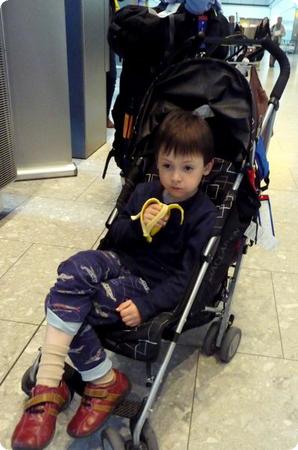 Meanwhile, our heads were reeling - the lines through immigration seemed to stretch on for a mile, there are no snacks on this side of immigration, and HELLO what are we going to do about a hotel? They must be filling up quick!
Somehow we pulled it together. A caring immigration official (yes, they do exist) ushered us over to the "diplomatic" line, and we cleared immigration in record time. Once we hit the baggage claim area, things got easier. True, with every flight in the area offloading at once, it was jam packed and it took hours to get our bags, but the kids just didn't mind. After the confined airplane, spreading out their toys and playing on the airport floor seemed like a luxury. I'd normally never permit it, but extreme circumstances require extreme measures, and nobody actually seemed to mind.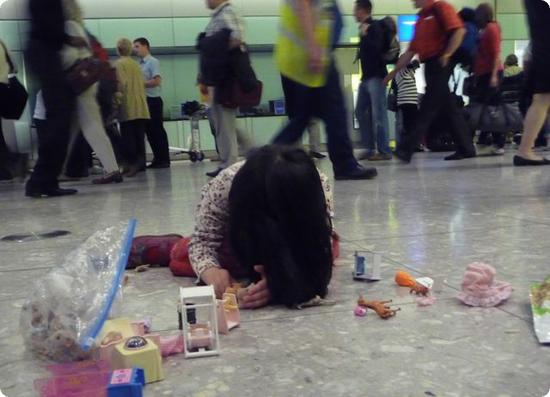 My husband sweated all the details while I watched our three tired kids. Luckily we'd spotted a SIM card vending machine (a local SIM card gives you a local phone call and lets you make calls at the local rate) in the baggage claim area, so we nabbed a card quick. With it, we were able to call our family, let them know where we were, and get the phone numbers for a few hotels. A room for five isn't an easy thing to find in London, so we were lucky to remember the names of places we had stayed on past trips. Somehow, we hit the jackpot, the Parkcity hotel is well located, reasonably priced and has two penthouse rooms big enough to accommodate a king bed, two twin rollaways, and a crib. One of them was free for the night, and with that, we had everything we needed to head into town.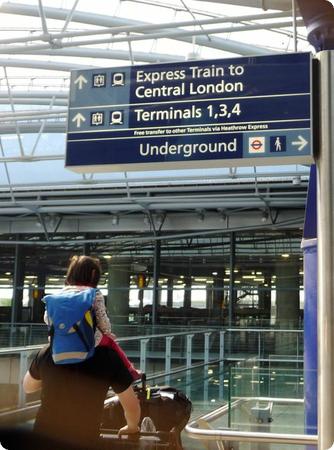 We ended up staying in London for 10 days (doubling our original vacation). The kids rode London busses, they figured out the TUBE map, they explored the British Museum, they climbed every climbing structure in London's fabulous playgrounds, and they ate food that was seemingly from every corner of the earth.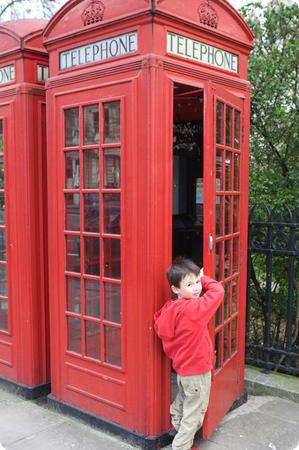 As exhausted and discombobulated as we were, I'm glad we decided to have a good attitude about our surprise landing. That attitude carried us through the entire trip, and I really do have wonderful memories of our time in London. Frankly, the only downsides were the missed work days and the expense. A year later, we're still waiting for the reimbursement (or even an acknowledgment) required by British Airways under EU law!
Reader Question: Have You Ever Been Stranded?
Related Links:
What to do in London With Kids
6 comments | Posted on May 24, 2011 |

Save to del.icio.us



Subscribe to our feed