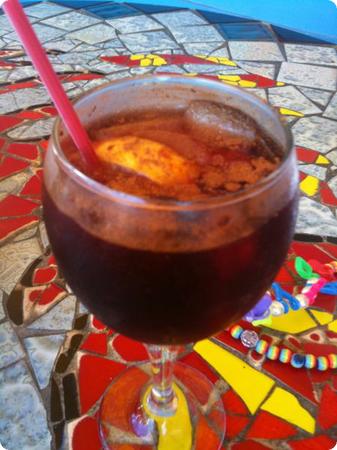 I'm kind of a sucker for Sangria on a menu. Perhaps it brings back memories of our trip to Spain with the Kids a few years ago, or maybe it's just because it's so delicious on a warm day. It feels like I've ordered Sangria in restaurants around the world, and I've seen lots and lots of creative variations. Still, I was surprised to see this glass show up sprinkled with Cinnamon (it was delicious). I'm wondering whether this is a regional idea in Florida? Or just something cooked up by the chefs at Frency's Beach Cafe? Has anyone else ever had Sangria with Cinnamon on top?
Related Links
Clearwater Beach with Kids (City Guide)
What is Photo Friday?
Post a travel photo on your site. It can be about any topic, as long as it is G-rated.
The focus of the post should be on your photo.
You don't need to be a professional photographer (I'm not), but do showcase your best work, and make it big enough to see well!
It's nice to include a few sentences about the photo, but it is not required.
Link back here so that your readers can see all the other great Photo Friday posts.