Florida is a long haul from Seattle, in fact, it's impossible to take a longer flight from Seattle and remain in the continental US, so while all my East Coast friends seem to regard a trip to Florida as an annual entitlement, I haven't visited the state since I spoke at a conference in Orlando in the 1990's! Still, the promise of sunshine and a new area to explore piqued my interest when the Sandpearl Resort at Clearwater Beach invited Darya and I out for a visit earlier this summer.
Every resort has a character, and I'd say that the Sandpearl Resort is a calming retreat especially well suited to families with very young children. Sure, we saw teens hanging out, trying to look cool, and retired folks sunning themselves by the pool, but we also saw oodles and oodles of babies, and after a few days at the resort, I understood why.
Overall Layout
First of all, there's the resort layout. With just 253 guest rooms, you won't feel like you're walking a mile to the pool. From our tower room, we could take an elevator to the lobby level, or directly down to to the pool.
Pool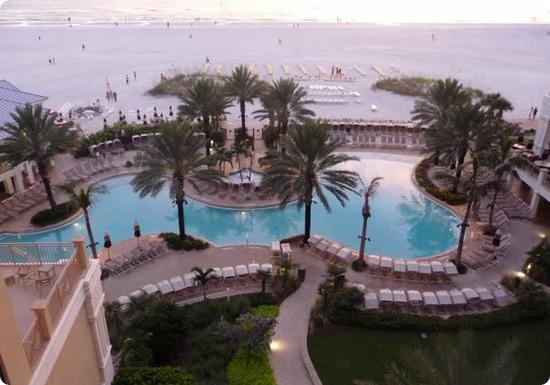 While the pool wasn't the sprawling, water-sliding, lazy-river-riding affair you might find in Phoenix or Hawaii, it was plenty big for the number of guests at the Sandpearl. During our stay, the pool never felt overcrowded, and the design, with some shallower and some deeper areas created enough "conversation areas" that each region felt cozy.
For a parent with a child who doesn't yet swim, the fact that there was no spot in the pool where I couldn't stand was particularly reassuring.
There were also in-pool ledge-seats where Darya could rest between her efforts to swim towards me.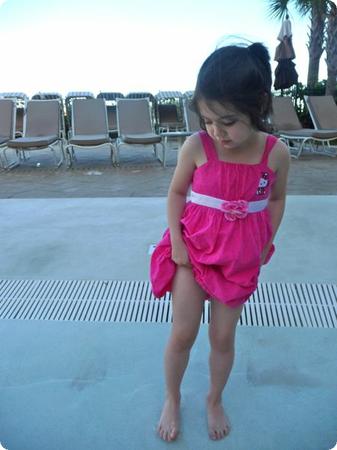 Another preschooler favorite was the zero entry (also called beach entry) area of the pool. It's ideal for very young babies, and works great even for kids who are sitting, but not yet crawling. Older kids, like Darya, loved having a wide open area where they could stand up and play with water toys or experiment with blowing bubbles without actually getting in over their heads.
Many of the loungechairs had sunshades, a thoughtful detail in the bright sun, and I saw several parents laying a young baby down to nap under their protection while they watched an older child in the pool. When Darya and I curled up together to read a book by the pool, we appreciated that shade too.
Pool Cabanas
If you're traveling with extended family, one of the Sandpearl Resort's poolside cabanas would be a great option to keep everyone together. Set back from the pool a bit, they provide both shade and plenty of seating. There's even a curtain so that a sleeping baby could rest or older kids can change clothes right in the cabana. I'm not one to watch TV when there's sun and a pool to enjoy, but if a football game by the pool is what brings your family together, the cabanas have a TV too. There's even a small safe and a refrigerator. Cabanas are rented by the day, and rates vary seasonally.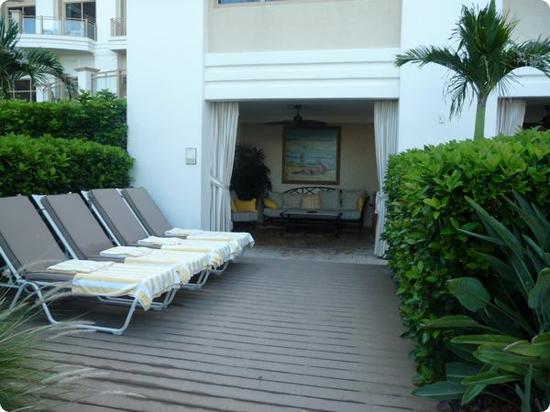 Our hosts generously included a cabana stocked with snacks and drinks, and we loved being able to meet up with our group here, take a break from the sun, and order meals to the cabana. Poor Darya loved it so much, that she will be miffed that we don't get a cabana on *every* holiday from now on. Sometimes it can be harder when you know what you're missing.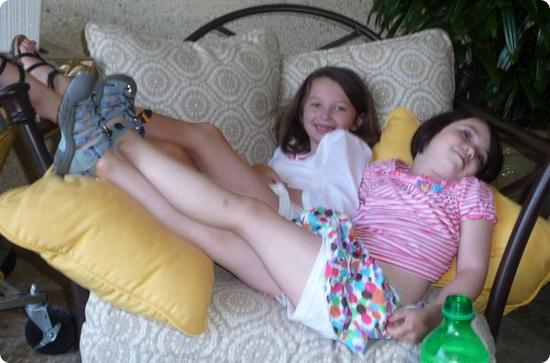 Rooms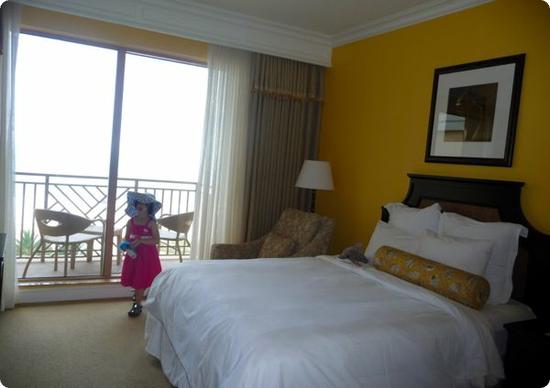 Our double queen room had a large bathroom, a comfortable reading chair and extra-cozy beds. I loved the relaxed, sunny feel of the rooms. There was a desk (and free wifi) but no dining table.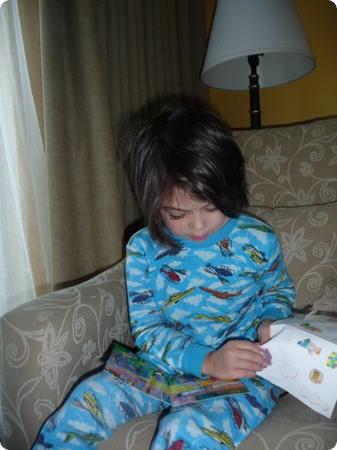 High counters in bathroom were tricky for Darya & I had to lift her up each time.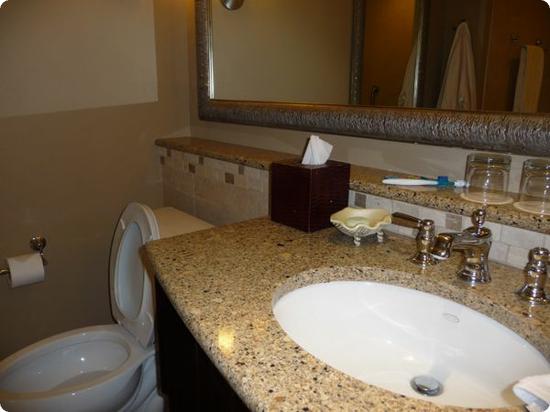 Dining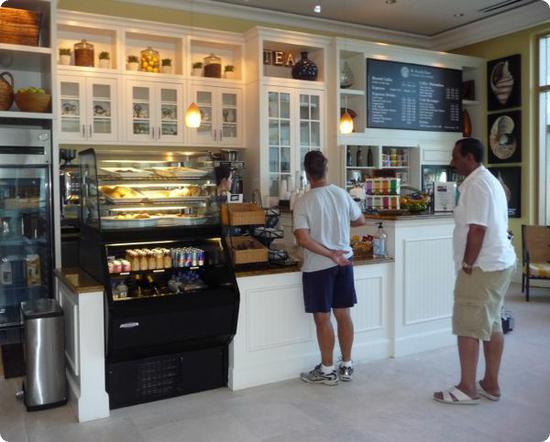 The in-hotel coffeeshop is my favorite recent hotel trend for families with young kids, and the Sandpearl really went all out with theirs. In addition to Starbucks coffee and a selection of pastries, there were a few grocery items like milk cartons and fresh fruit.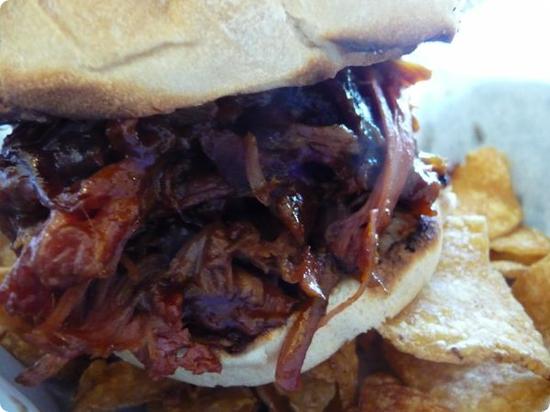 We ordered poolside lunches almost every day. There was plenty of staff to notice when we needed something, a great menu packed with fresh sandwiches, local seafood, and salads from the Tate Island Grill, and best of all we could swim while we waited for our meal. Ask careful questions before ordering kids menu items though. Some are fresh, but Darya's peanut butter and jelly sandwich was a pre-made Smucker's Uncrustable.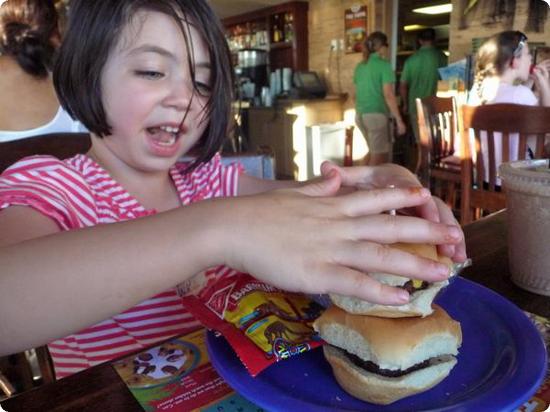 At dinnertime, we sat in the Tate Grill itself instead of ordering poolside. The restaurant is casual, with a TV over the bar, and the best thing here was that after the kids ate, we lifted them over a glass divider right onto the beach. They played happily while the grownups finished their meals and enjoyed a relaxed conversation.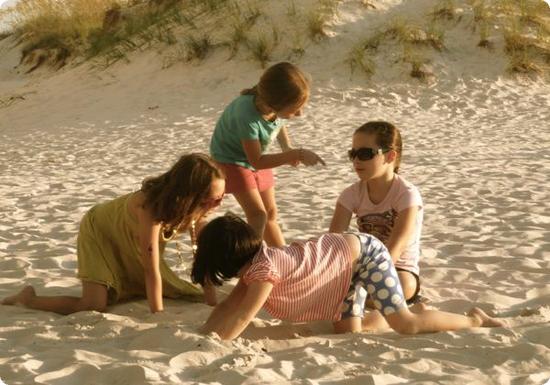 For a formal dinner without kids, the Caretta on the Gulf would be a nice choice and patio tables could make this more formal restaurant work well even with kids in tow. We chose to dine here for breakfast instead. There's a full buffet including eggs cooked to order, fresh fruit, and everything else you might expect.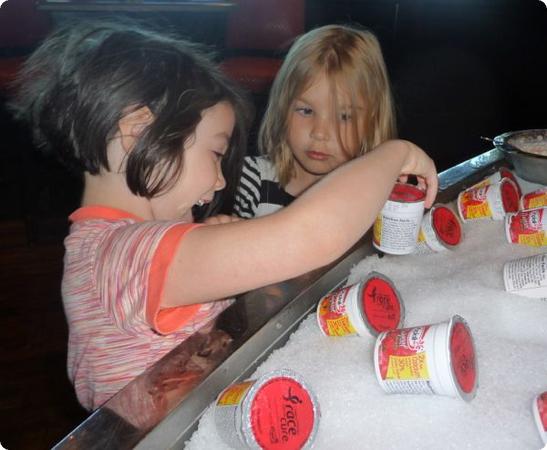 Room service was provided from a limited version of the Caretta on the Gulf menu, and our food was great every time. The staff was super-friendly, but we did have a few mixups with late delivery on breakfast or items missing, and I heard from other guests that they sometimes had trouble too.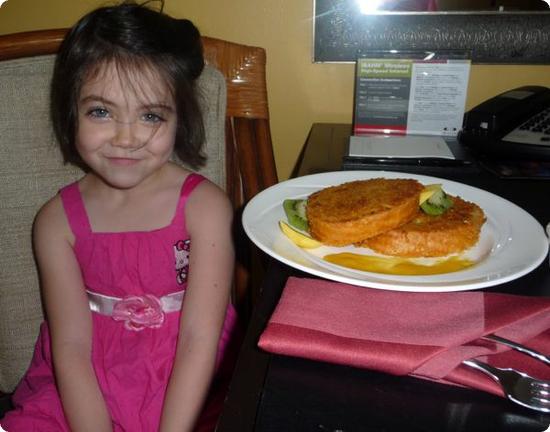 Location and Local Area
The Sandpearl resort is walking distance some of the area's most popular restaurants, a drugstore, and a sleepy main drag populated with beach-gear shops, gelato, and real-estate offices. There's an open air trolly that runs about every 30 minutes to destinations that are further afield, like the Clearwater Marine Aquarium.
Beach
The Sandpearl Resort is right on the beach. The sand is so white that it's actually a bit to glarey at midday, but it's just lovely in the evening.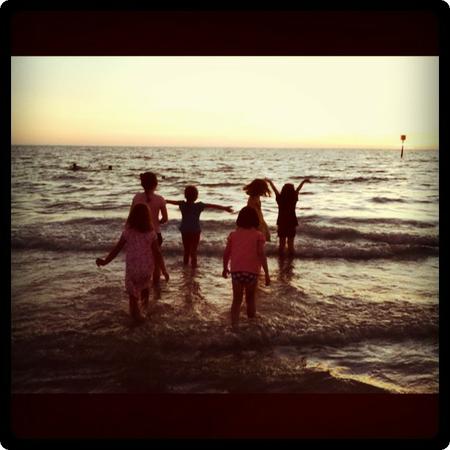 Not only does the sand cool down at night, but the Sandpearl Resort staff lights a fire pit, making a great gathering place for parents while kids play in the sand. Smores kits, available at the activities desk (extra charge) were icing on the cake as far as Darya was concerned.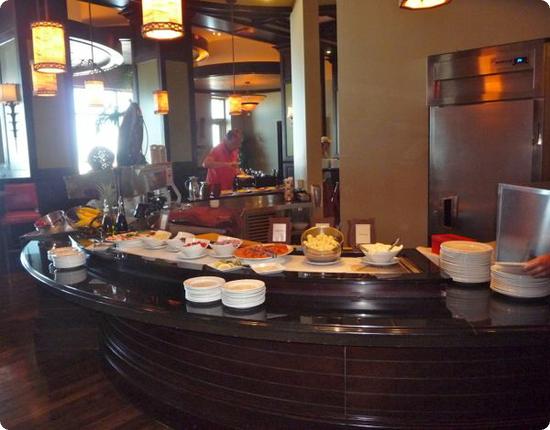 Camp Ridley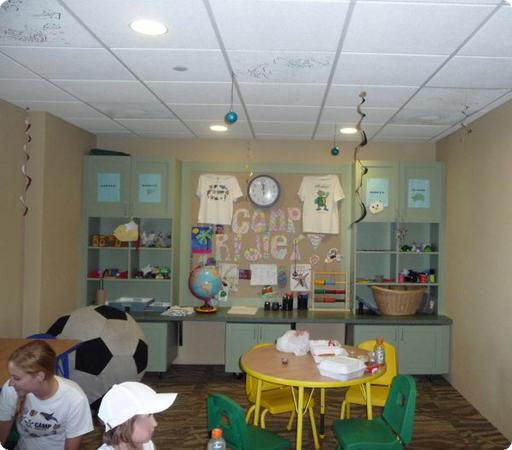 Camp Ridley, the Sandpearl Resort's Kids Camp, is located near the pool, but in a separately gated area.
The room has big windows to let in light, and there are a variety of crafts and activities for kids.
Darya just loved it, and since it was nice to have other kids to play with, she asked to go back!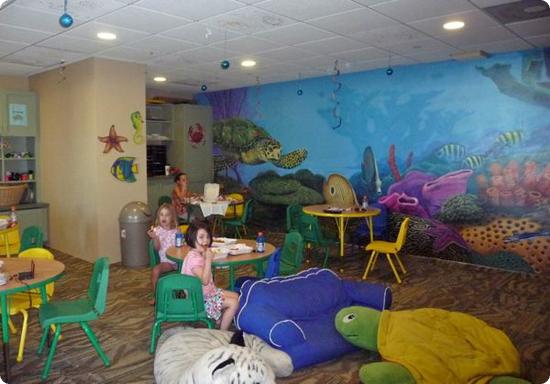 The staff was endlessly patient about doing activities and though there is a TV, it doesn't seem to be overused. Half day or evening options are available, and a meal is provided. The Camp Ridley staff even took the kids out to the beach to build a sandcastle.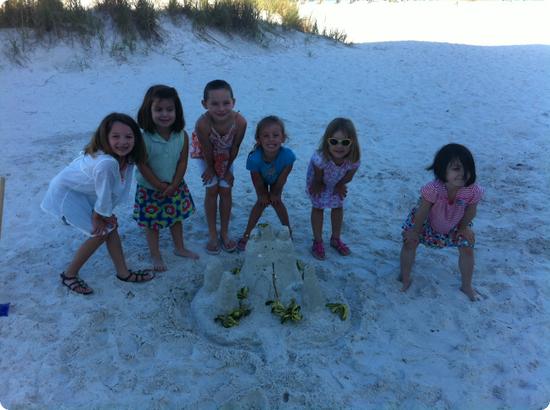 Spa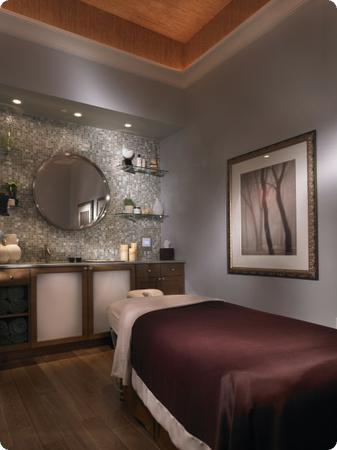 Sometimes hotel spas can feel like they were added on as an afterthought in an unused space. In contrast, the Sandpearl Spa has an entrance overlooking the pool and the gulf and a beautifully designed waiting area and changing room. Spa guests are not allowed to use the hotel pool, however there is a co-ed Jacuzzi available to all spa guests (bring a swimsuit!).
Spa staff were well trained and friendly. When my treatment room felt too cold for my tastes, my massage therapist was quick to break out warm stones, giving my my first warm stone massage - just the therapy I needed after a too-cold Seattle summer!
We were invited guests of the Sandpearl Resort at Clearwater Beach on this trip. The resort paid for our airfare, hotel stay, activities and many of our meals. The hotel did not require that I express a particular point of view, and I always strive to present a fair and balanced review regardless of who is paying the bill.
Related Links
Clearwater Beach with Kids (City Guide)
0 comments | Posted on September 6, 2011 |

Save to del.icio.us



Subscribe to our feed