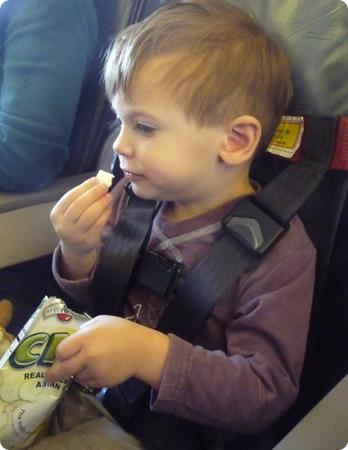 Eilan is two years old now, and a few weeks ago he flew in his own, purchased seat for the first time! As with the other kids, we buckled him in using a lightweight CARES Child Aviation Restraint System
. It was a great reminder for me about how much we've used and appreciated this product, so when I returned home, I contacted CARES to see whether they would let me give one away to one of my readers. I'm excited to say that they agreed! It's easy to enter, just leave a comment telling me about a family friendly hotel, restaurant or attraction. It can be in your hometown, or someplace you have visited.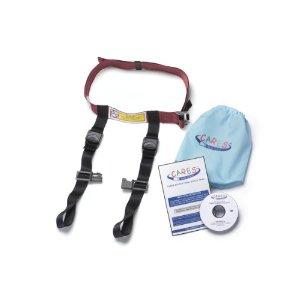 Here's more about the CARES Child Aviation Restraint System
Car Seat Accessories)
. CARES is a special harness designed just for airplane seats. Instead of lugging along your child's carseat, you bring this small, lightweight belt system that slips around the airplane seat. It's FAA approved, and it doesn't interfere with the way the seat operates in any way. Plus it fits in a purse or a backpack pocket. But just between you and me, the thing I'm most grateful for in-flight is that the kids sit back in the seat far enough that they cannot kick the seat head of them. We have two CARES that we purchased at our own expense for Everest, Darya, and now Eilan. We've also lent them to friends, and they're still in great shape 4 years later. They've been worth every penny.
Thank you to CARES
who generously sponsored this giveaway
How To Enter
One lucky reader can win. If you would like a chance to win, leave a comment telling me about a family friendly restaurant, attraction or hotel before 11:59PM PST on Wed Sept 14, 2011 and tell about a kid friendly attraction, restaurant or hotel. Please fill in the email field of the comment form (your email isn't shared with anyone, and I will not send you email unless you win).
How to Earn More Chances to Win
There are several ways you can get additional entries in this contest. Each takes only a few minutes!
For Five Entries: Signup for the DeliciousBaby mailing list to get family travel tips and access to special offers and giveaways. I promise never to share your email address or personal information. I get automatic notification when you sign up, so there's no need to come back here and let me know.

For Five Entries: Recommend a kid-friendly attraction, restaurant or hotel in our city guides. It takes only a few minutes, and it is a great way to share your favorite places with other parents. To make a recommendation, just Click Here. You may recommend as many places as you like, and you will get 5 entries for each one. You do not need to leave a comment here - I will be notified of your entries automatically.
"Like" DeliciousBaby on Facebook, and come back here to tell me that you did. I use my Facebook page to share exclusive giveaways, discount codes and other opportunities.
Subscribe to my RSS feed (either by reader or email) using the buttons on the top left-hand side of the page. Leave another comment telling me you did.

Subscribe via RSS