With higher than average temperatures in much of the country, and kids headed off to spring break, it may seem like a strange time to be writing about skiing. If you're ready for some warmth, just file this away for next year, but if you're hoping to get in one last run read on (and know that there has been so much snow in Whistler this year that the ski season has been extended until May 28)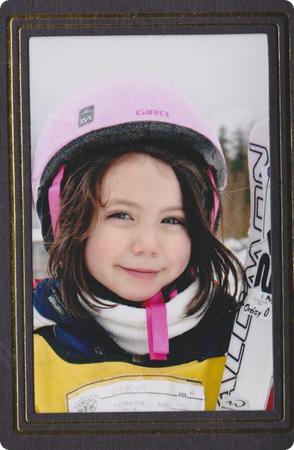 Last year, my kids took their first ski lessons at Whistler. Those lessons were successful enough that we decided to make the leap and enroll them in weekly ski lessons at Powderpigs, about one hour east of Seattle. It was a big investment - both financially and in terms of our time (lessons last a full day on Saturday or Sunday for 8 weeks).
We started the ski season worried that the kids might beg out after a few weeks, and thinking that those lessons would be enough skiing for everyone, but after a few weeks, both kids had their ski legs and were waking up early on Saturday mornings, ready to hit the slopes!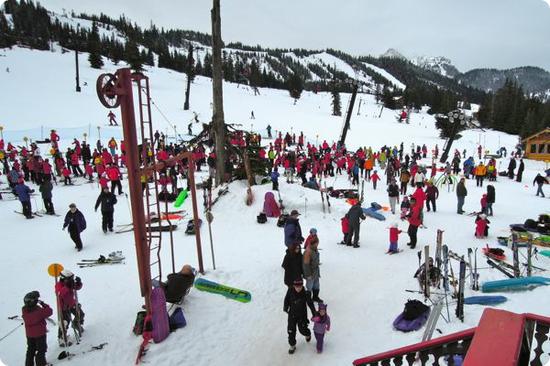 Wouldn't it be fun, we thought, to take the kids back to Whistler mountain and let them revisit the place where they had their very first ski experience? For once, we'd be the perfect parents, taking the kids exactly where they want to go instead of interspersing playgrounds with museums and other "brain food!"
NNOOOOOOOOOOO. Was the resounding answer from the kids! "The lifts are too big," "The ski runs are too long," "The mountain is too cold" Those first ski experiences and their impressions at the time, had grown out of proportion with reality and their new skills. We pressed on, of course - sometimes you need to conquer your fears over and over again in the process of learning a new skill.
We arrived under cover of darkness, and the kids, remembering just a little, had tons of questions. "Can we ski with Daddy," (yes) "How many lifts are there" (20 on Whistler, 17 on Blackcomb), "Are there other kids to play with" (yes, it seemed half of Seattle was in Whistler that week). Finally "How long is the drive to the ski slopes?" asked Darya, not knowing that our hotel, the Westin Whistler was just steps away from the Whistler Mountain Gondola and Whistler Kids ski school. With that much anticipating, morning was like an unveiling, and boy were the kids suprised to wake up and see that we were right in the middle of the action!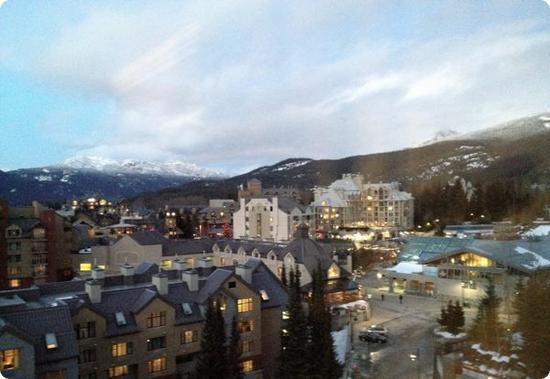 The mountain still looked huge, but suddenly those lifts weren't so intimidating. The kids threw on their ski gear and practically ran out the door and down to ski lessons. Despite all the layers, it was possibly the fastest I've ever seen the kids get dressed.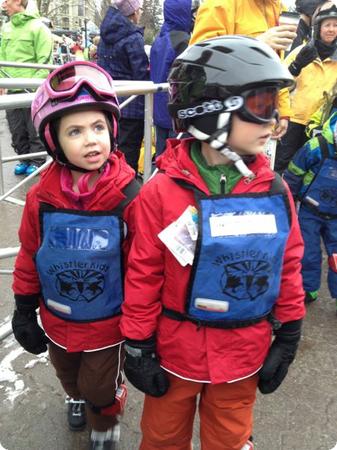 And they returned at the end of the day exhausted, and happy, and proud beyond belief. They had conquered the mountain that had loomed so large in their imagination.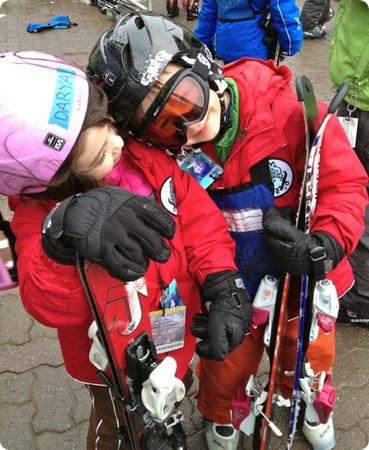 Mission Accomplished!
Related Links
What to do in Whistler with Kids - City Guide
This trip was sponsored by the Tourism Whistler who generously covered our lift tickets and my ski rentals. Whistler Tourism did not request that I express a particular point of view, and my writing always reflects my own opinion and experiences. We paid for our own hotel room at the Westin Resort and Spa, Whistler and all of our meals.
3 comments | Posted on April 10, 2012 |

Save to del.icio.us



Subscribe to our feed