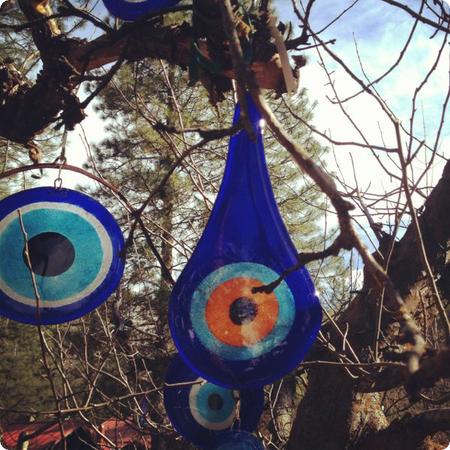 I'm heading down to San Francisco today for my dad's memorial service (my parents lived in the Bay Area since 1978 and had moved up to Seattle for my father's cancer treatment just recently, so it makes sense to celebrate his life with his close friends and co-workers nearer to their home). This is going to be an emotional trip for sure, so I thought I'd steel myself by sharing a picture of happier times.
Here's a shot from the last trip we took with the whole family (my parents, my family, and my brother's family). A tree at the resort we visited was strung with Turkish amulets against the evil eye. It was beautiful and slightly magical feeling. A wonderful discovery as we explored the territory. Looking at this picture now helps bring back the calm and ease I felt during that trip.
Do you ever return to your travel pictures to cheer you up in difficult times?
What is Photo Friday?
Post a travel photo on your site. It can be about any topic, as long as it is G-rated.
The focus of the post should be on your photo.
You don't need to be a professional photographer (I'm not), but do showcase your best work, and make it big enough to see well!
It's nice to include a few sentences about the photo, but it is not required.
Link back here so that your readers can see all the other great Photo Friday posts.