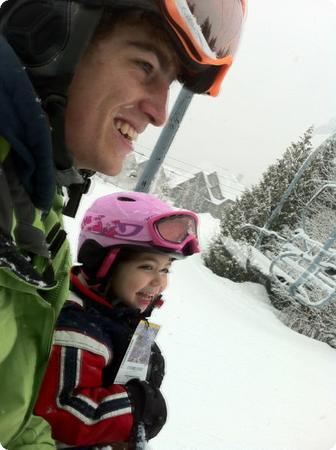 We're headed up to Whistler soon for a repeat visit. Our trip last year was the kids' first experience skiing. Darya started day two with uncertainty, she hadn't really gotten the hang of things, and being in the snow is a lot of work.
We promised to pick her up a bit early, but when we arrived she was in the middle of her first Green run! My husband and I couldn't have been more surprised, but we were thrilled to be there for the exuberant finish to that first run. She spotted us, waved from afar, and headed right back to the gondola, ready for another thrilling run. My little baby girl, the one who never fell in love with dancing, or gymnastics or soccer had found her sport.
Related Links:
Whistler With Kids
What is Photo Friday?
Post a travel photo on your site. It can be about any topic, as long as it is G-rated.
The focus of the post should be on your photo.
You don't need to be a professional photographer (I'm not), but do showcase your best work, and make it big enough to see well!
It's nice to include a few sentences about the photo, but it is not required.
Link back here so that your readers can see all the other great Photo Friday posts.