I don't think I play favorites, but I'll admit that I just can't get enough of Darya right now. At five, she's astoundingly capable, but still adorably naive. She smells sweetly sweaty when she sleeps, and for her there's still magic in the world. Most wonderfully of all, she thinks I'm the most glamorous person in the world, even at the end of a long day.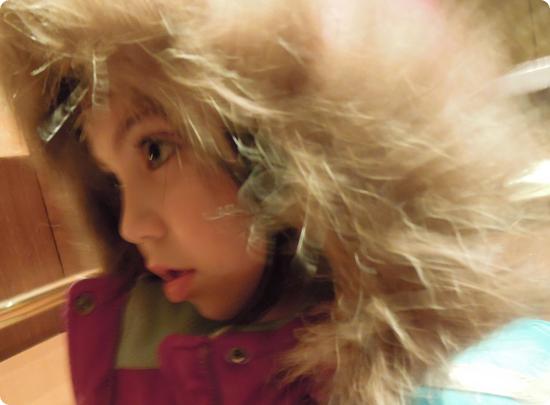 Still, in the daily grind of getting everyone up, off to school, pickup, making dinner, and the ride home she's the classic middle child. Too old to need help getting ready, and not old enough to impress me by being the first child to multiply two numbers together. When I can, I try to offset that tendency to get lost by celebrating some of the things that set Darya apart from her two brothers. She hasn't fallen into all the girly stereotypes, but certainly Darya is the only person in our home with an American Girl Doll fixation.
The Grand Hyatt Hotel here in Seattle is offering an American Girl Doll Package, that seemed like a perfect opportunity to grab a girls-only getaway without disrupting our home routine too much. (The hotel very graciously offered to host Darya and I so that we could try it out.) The kids would do their usual Saturday morning ski run with daddy before Darya and I headed out for our slumber party. We'd be back by lunchtime the next day, but I hoped that with almost zero drive-time we'd squeeze in lots of fun.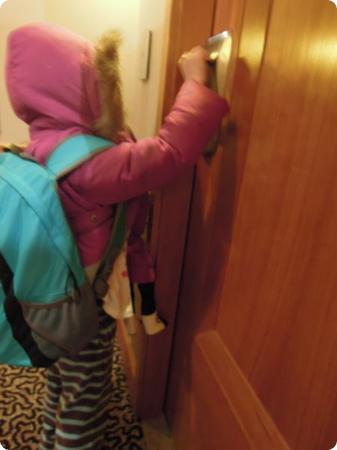 Darya had very little idea what was planned, just that I'd requested she pack "Rebecca." Every toy has a story, and Darya's American Girl doll was given to her by her grandparents for Hanukkah this year. Rebecca is the Jewish American Girl doll, and a likely choice for a girl whose great-great grandparents immigrated from Russia at the same time as Rebecca's family. Darya has already learned a lot about the immigrant experience and Lower-East Side New York through books like All-Of-A-Kind Family
and The Castle on Hester Street
, but we've been gradually working our way through the Rebecca books too, and both kids have been fascinated to see how kids used to live. "Grab Rebecca" I reminded her as we headed to the car. Darya was curious, but totally unaware of what she should expect.
Imagine her surprise when she opened the hotel room door. What is that on the bed?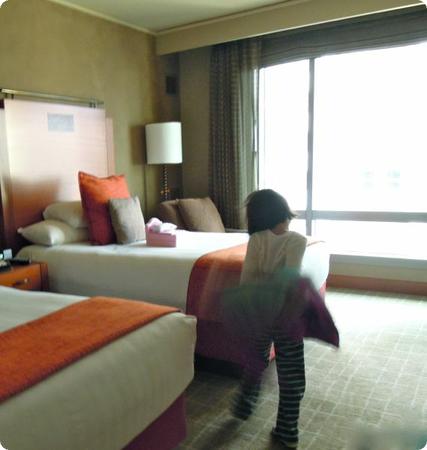 A cozy bed, blanket and pillow for Rebecca - pink and perfect, and Darya's to bring home with her. What a rush - Darya couldn't drop her backpack and jacket quickly enough to dash over and check it out. She cautiously unwrapped it and tested the bed out before checking out the milk and cookies that were also included in our package.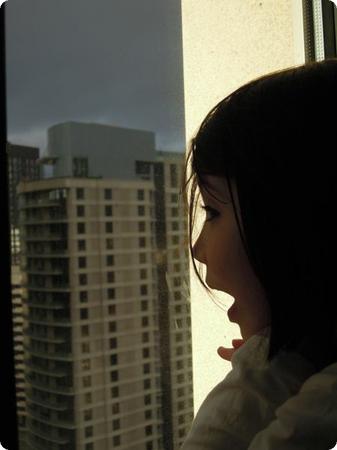 "It's too early to put Rebecca to bed, mom, what are we doing next?" A fancy dinner, far out of town, I promised. Put your best clothes on. Normally I'd object as Darya selected striped sweat pants and her sparkiest shoes for an upscale restaurant, but somehow that seemed like just the thing for our real destination... the Bistro at the American Girl Doll Store at the Alderwood Mall in Lynnwood (about 25 minutes drive from downtown).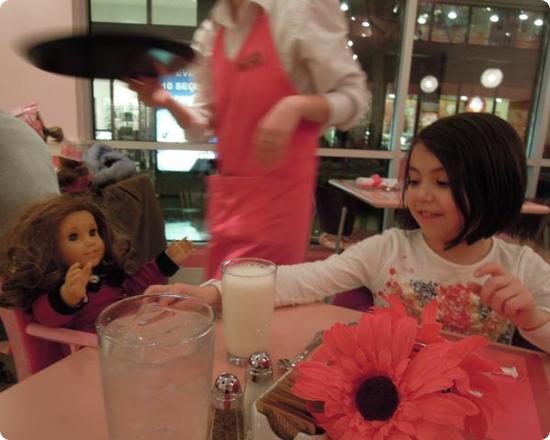 We've cautiously kept the American Girl Doll store a secret. The catalogs too, Darya has no idea they exist. It's a slippery slope, and there's no turning back once your child finds out about all those outfits and accessories. So you can imagine Darya's surprise when she spotted the American Girl logo as we walked through the mall. "MOM, Look at THAT!!!" Oh, I responded casually, did you want to stop in for a minute or two before our dinner reservation?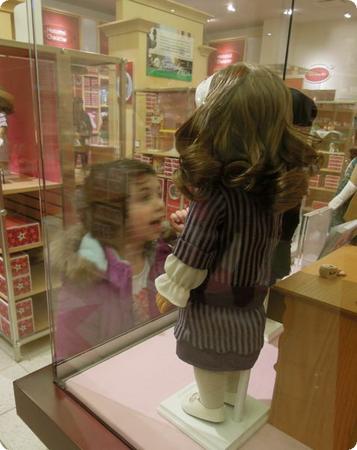 It's wonderful! A full case of Rebecca dolls, outfits and accessories were stationed by the front door, and Darya had to check out every detail. As hungry as she was (it was already well past our normal dinnertime) I practically had to drag Darya across the room to the 1950's styled perfectly pink American Girl Bistro (she'd been totally oblivious to it on the way in).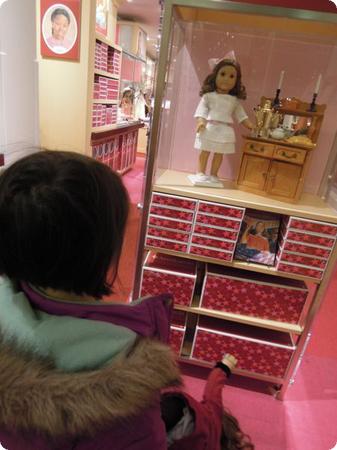 Rebecca joined us in a seat of her own, and a cup of tea (or perhaps it was hot chocolate) was set down in front of her.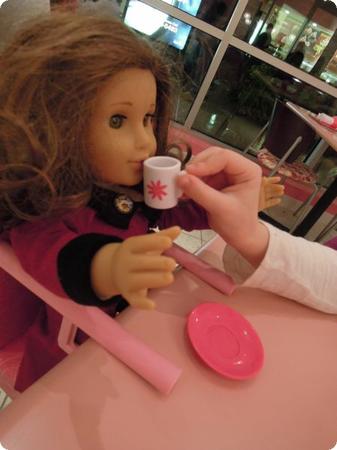 We ordered our own food - not cheap, but reasonably priced. Mac and cheese decorated for a bread star and a fruit skewer ($7.50) for Darya, and salmon with vegetables ($14.95) for me. And did I mention the entertainment? It seemed like every table other than ours was celebrating a birthday, and Darya's eyes seemed to open wider with each rendition of "Happy Birthday." By the time we left, she was bubbling over with plans about how she'd convince Everest (his birthday is next in our family) to celebrate at the American Girl Doll store. Knowing her, she'll make it happen - she's a force to be reckoned with!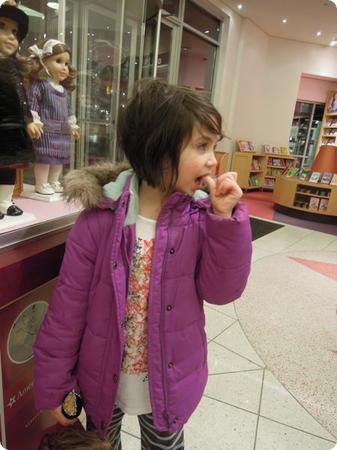 After dinner we got the full tour of the store - it's small compared to the stores in Chicago or New York, but Darya must have spent an hour pouring over the outfits. In need of a little TLC herself, Rebecca stopped in at the salon where got a lesson in how to brush and re-curl her hair.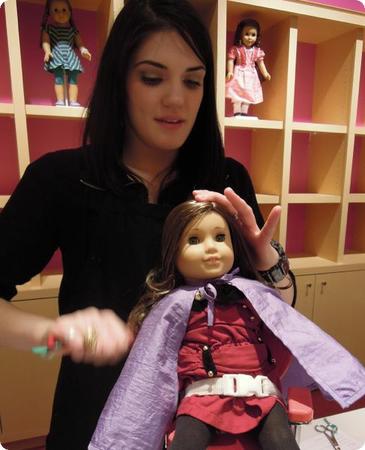 Exhausted, and totally on mental overload with all the American Girl doll outfit and accessory options, Darya and I headed back to the hotel where we cuddled up for bedtime in one of the two queen beds. ("The other one is for JUMPING," Darya had announced upon our arrival). I'm normally up long after the kids are asleep, but on this night I just let sleep take me. Between the blackout curtains, Darya's steady breathing and the quiet room, neither one of us woke until 9am, a welcome break for a busy momma.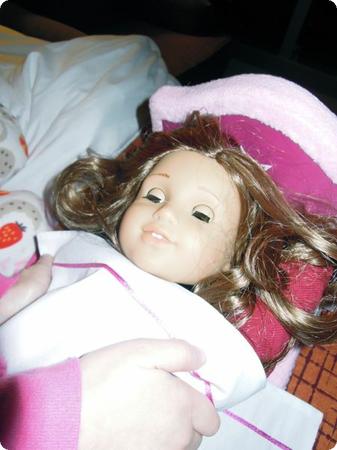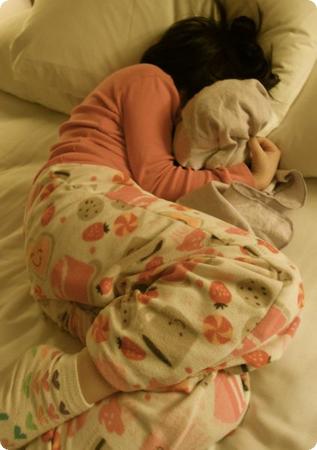 And how did the boys fare? We've been talking for weeks about moving Eilan into Everest's room, but have been hesitant to take the plunge. With me out of the way, Peyman took the opportunity to kick things off right with an all-boys slumber party of their own.
We were guests of the Grand Hyatt Seattle on this trip. The hotel gave us all the elements of their American Girl Doll Package including a doll bed, milk and cookies, and a $25 gift certificate to use at the American Girl Doll Store. The hotel did not require that I express a particular point of view, and I always strive to present a fair and balanced review regardless of who is paying the bill.
Related Links
Seattle With Kids
Rebecca Boxed Set (American Girl)
(Amazon)
American Girl Doll Package at the Grand Hyatt Hotel in Seattle
1 comment | Posted on February 27, 2012 |

Save to del.icio.us



Subscribe to our feed