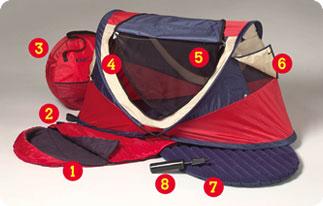 I have long recommended the PeaPod Portable Travel Crib for parents who would like a portable sleep environment for their children when they travel. So today, when I heard from a reader that an infant had died of suffocation on a PeaPod bed, I felt a responsibility to help spread the word. My recommendation would be that if you own this product, you discontinue using it until we get more information about its safety. If you are considering buying it, please don't (I have also removed my recommendations for the PeaPod from my product guide.)
I confirmed the report today with the mother, Christine Whelan Moyers who had put her 5 month old son Daniel to sleep in a PeaPod Portable Travel Crib. Heartbreakingly, he suffocated in the crib's non-breathable lower siding. Christine has just received word from the doctor conducting the autopsy that Daniel died of suffocation, not SIDS. While the official autopsy won't be available for a few more weeks, she asked that parents spread the word about what happened, first posting the news on Amazon.com and Twiniversity.
Christine, my heart goes out to you and to your family.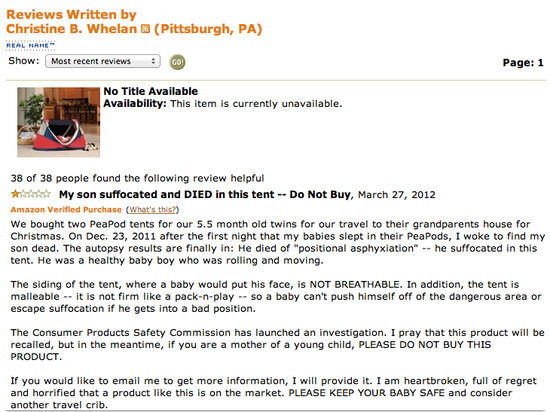 I have not yet received a reply to my request for more information from KidCo, and I will update this post when I do.
If you own a PeaPod please discontinue using it until we have more information about the safety of this product. If you are considering buying one, please think again.
0 comments | Posted on March 27, 2012 |

Save to del.icio.us



Subscribe to our feed