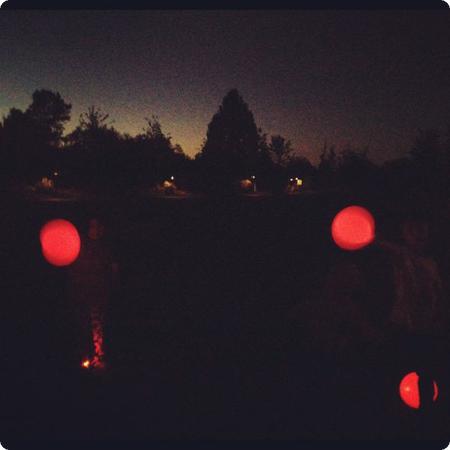 Have you ever noticed how some images bring back a moment in time, a feeling of being in that place, and even a memory of the smells and sounds? This image, as grainy as it is, does that for me. The kids and I spent last week in Sunriver, Oregon and one night, after a very active day, we stayed up way past bedtime to roast marshmallows. After the campfire, I pulled these fun LED balloons I had secreted away almost a year ago waiting for the exact right moment to run, toss and chase balloons on a grassy expanse after dark. Looking at the picture, I can almost hear the kids' shouts and exclamations in the background.
P.S.
If you want to be the coolest mom in town, here's a link to buy the exact balloons we had:
Pink 9 Inch Illoom Balloons - Pack of 5
What is Photo Friday?
Post a travel photo on your site. It can be about any topic, as long as it is G-rated.
The focus of the post should be on your photo.
You don't need to be a professional photographer (I'm not), but do showcase your best work, and make it big enough to see well!
It's nice to include a few sentences about the photo, but it is not required.
Link back here so that your readers can see all the other great Photo Friday posts.