My kids are delirious, and not in a good way. Our long haul flight from Newark to Edinburgh landed at 8am. They had done their best to sleep on the plane, making me jealous of the way their tiny foldable bodies snuggle into an airline seat. They successfully navigated customs and immigration and popped themselves into a taxicab. They even resisted the draw of the cozy beds when we checked in at our apartment.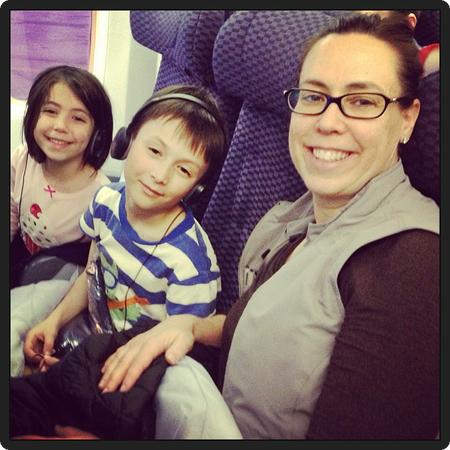 We set out to explore the city. In my mind, walking outside is one of the best ways to help reset the body's internal clock. I promised myself we would stay out until dusk, so my mom and I cajoled and bargained ourselves over to a lovely all-day breakfast spot that the kids just loved. I fooled myself into believing that a hearty bowl full of oatmeal porridge with honey qualified as sampling the local cuisine. Fortified, I figured, we'd explore for another hour or so before popping into a local cafe for fresh baked scones and tea.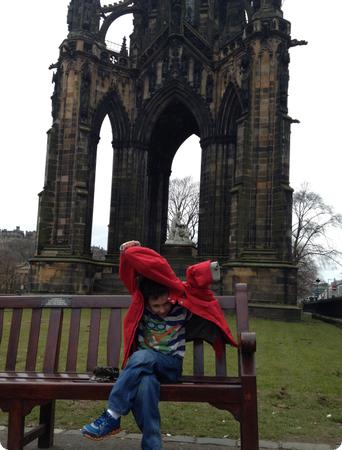 Kids have a way of bringing you back to the real world. We walked about two blocks before Darya started to lose it. I sat down on some church steps, not far from a woman with her arms out begging, waiting with my own arms open wide to collect Darya once she calmed down enough for a cuddle. A quick trip inside the church, were we caught a few moments of mass calmed her further and we headed off again.
Maybe a museum, I thought? Many are free here, and a few moments cuddling on a quiet bench might be restorative for everyone. The kids had other ideas - the comforts of our Seattle standby, Starbucks, beckoned a few blocks later. My defenses as worn down by those blocks, I agreed to a round of hot chocolate, a cuddle, and a chapter from the book we're reading. Lovely, until I found myself beginning to nod off, and then we were on the move again.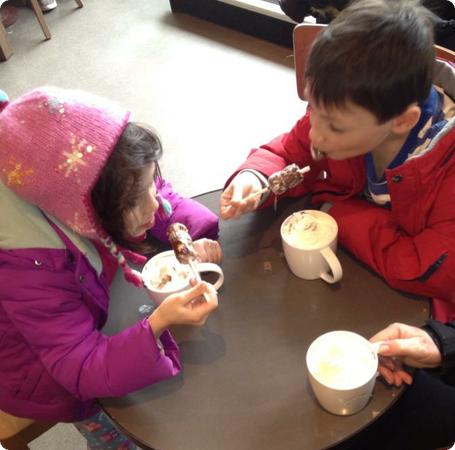 We haven't covered much ground, but I'm beginning to understand why people fall in love with Edinburgh. You never know what might be around the next corner. It could be a new streetcar line, an ancient bridge, or a steep green hill. I'm glad we're not paying close attention to the map, because the element of surprise is what's keeping me going.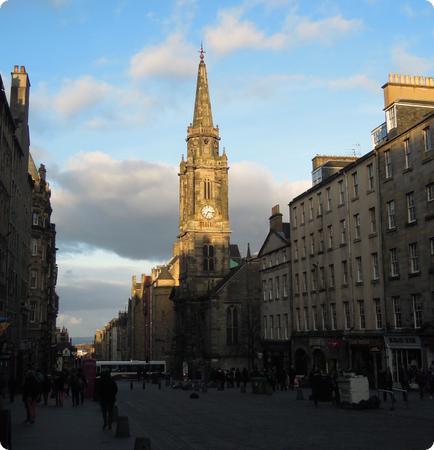 Related Links
Children's Books and Toys for a trip to Scotland
Adventures by Disney is hosting my family, as their guest, for a mini version of their newest tour Scotland: A Brave Adventure. As always, my opinions are my own.
4 comments | Posted on April 15, 2013 |

Save to del.icio.us



Subscribe to our feed