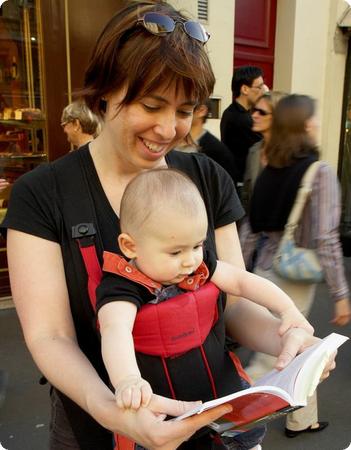 This is a favorite photo of mine. It was taken when Everest was just 6 months old, and just getting out of the house with one kid was a daunting task. We had decided to spend my husband's Paternity leave in Paris, hoping that the time away from home would help us bond as a family instead of being sucked into household tasks.
I bought the tickets shortly after Everest was born (and only waited that long because I couldn't buy an international ticket without a birthdate! It was a carefully considered trip, but in retrospect I remember us being completely terrified and deciding to go with it anyway.
I'm so glad we did it, because this trip gave us the bravery to do all future trips with our very young children, and the memories we have from those trips are just priceless.
Related Links
Paris with Kids
What is Photo Friday?
Post a travel photo on your site. It can be about any topic, as long as it is G-rated.
The focus of the post should be on your photo.
You don't need to be a professional photographer (I'm not), but do showcase your best work, and make it big enough to see well!
It's nice to include a few sentences about the photo, but it is not required.
Link back here so that your readers can see all the other great Photo Friday posts.