This is part of a series about my trip to Scotland courtesy of Adventures by Disney
On a full-length tour of Scotland, we would spend some time in Edinburgh before heading up into the Highlands, but on our condensed tour we headed out of Edinburgh right away. It didn't matter, after our days of exploration, the kids woke up raring to go and full of curiosity about the days ahead.
Other then getting them out of the room on time, there were few logistics for me to manage, and we began what became a routine - breakfast at an (included) buffet, grabbing our daypacks, and piling onto the bus. When we moved hotels, we simply put our bags outside the room in the morning, and they were collected, loaded, and then unloaded into our rooms at the destination.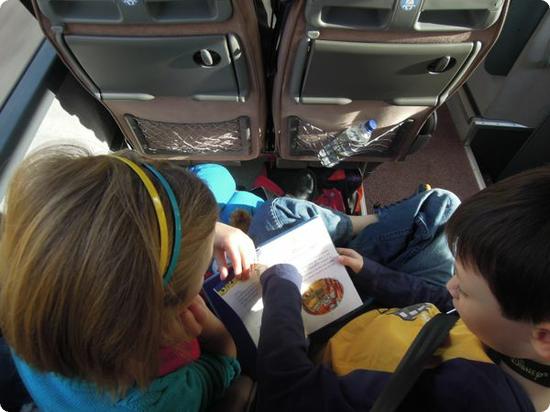 The bus. You'd think it would be noisy and chaotic with so many kids. In the family car, I'm certain my kids would have complained of boredom and made 1000 pitstops, but there's something about being with a group of other kids and families that keeps them pointed in the right direction. Remember how you could never believe that your toddler would willingly lay down for a nap in preschool? It's like that, only with bigger kids and miles of road. Our adventure guides talked some, played a few games, provided snacks, and showed a short video each day. On our two longest rides, they showed a full featured Disney movie. I found myself with the unprecedented luxury of time to gaze out the window and even read a book.
Off the bus, our time in the Highlands was adventure-packed. Except at mealtimes, we were split into two groups for each activity, so our busload of 40 was reduced to a more manageable 20 (about 5 families) when we were out and about. First up, Glamis Castle!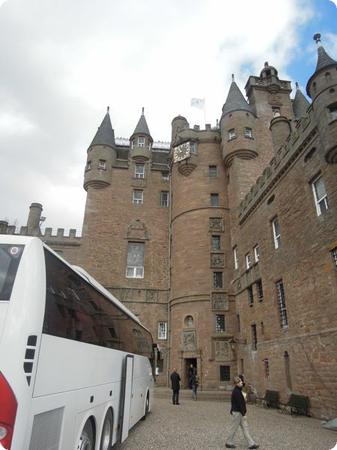 Whoa, that's our tour bus pulled right up to Glamis Castle. It is the home to the 18th Earl of Strathmore and Kinghorne, and was the childhood home of the Queen Mother. The castle, which was the setting for the Shakespeares Macbeth seems to have played a role in every aspect of Scottish history, even Mary Queen of Scots visited Glamis in 1562.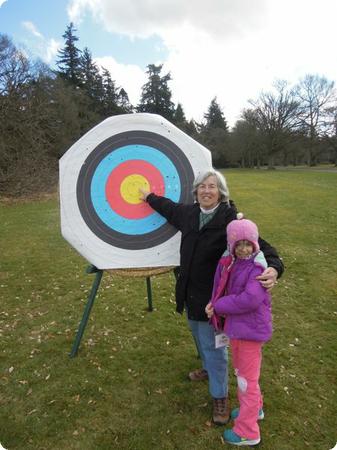 But for me, the precious part was watching my kids and mom try their hand at Archery. Guess what, it's harder than they though. Guess what again? It turns out, my mom is a natural! She got a bullseye on her first shot!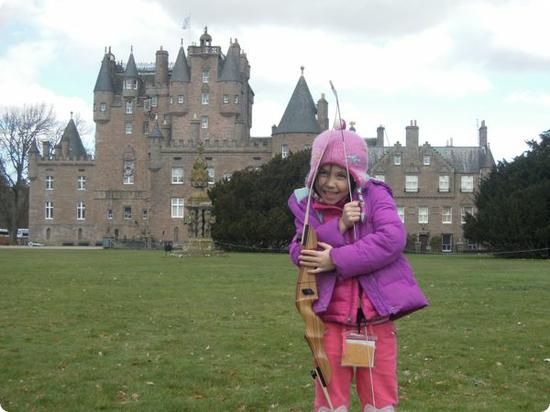 And Darya just soaked it all in. What better way to learn about history than to enter it by doing what those historical figures did? Can you imagine how wide her eyes opened later on when we realized that the current queen of England has walked where she walked? It was fun to imagine that Mary Queen of Scots could have practiced archery here too.
When a friend, seeing my pictures on Facebook said "I'll be in Scotland for spring break, how do we set that up?" I had to tell him... you can't... archery on the lawn is an Adventures by Disney perk not available to independent travelers. And that was one of the surprises for me, a veteran traveling parent... I had no idea how much we'd enjoy those opportunities to step up our sense of place by stepping into those activities. It's something that will change the way we travel, even independently, in the future. The fact that all the details were pre-arranged was a nice bonus too.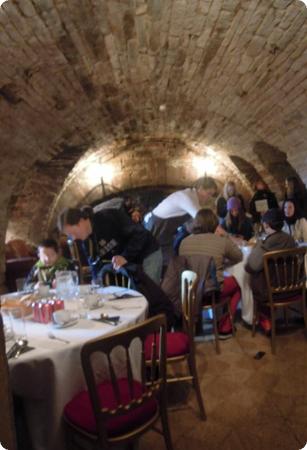 Our lunch inside the castle was a chance to take that imagination one step wider. What would these rooms have been like without electric light? Without any heating? Never mind that the residents wouldn't have been eating penne pasta and cupcakes with sparkly frosting like my kids were.
After the fun on the bus and the fun of being outside, would the kids consider the actual tour of Glamis to be an extended commercial break? I imagined them hanging on me and whining as we moved through the castle at the pace set by our guide while I desperately tried to keep them interested.
I couldn't have been more wrong. The adventure outside and the atmospheric lunch seemed to have the opposite effect. They kids, all of them, were primed to learn more about the castle.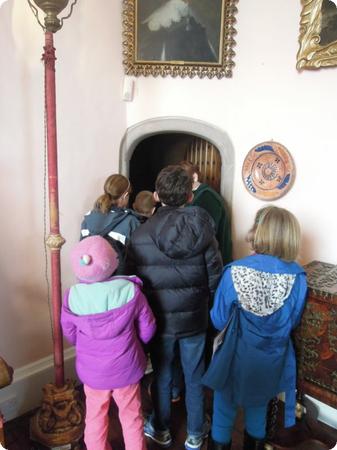 And our castle guide (an employee of Glamis, not Disney) was right there with the info they needed - stories about the children who had lived in the castle, interesting facts, a willingness to open closed doors and a slew of ghost stories. She had a way of dropping the kids something interesting to think about and then following it up with the sort of facts that the adults in the crowd would dial into. True, it wasn't as information heavy as an adult's only tour, but that was a small price to pay for the fact that my kids stayed interested the whole time, and I still learned quite a bit.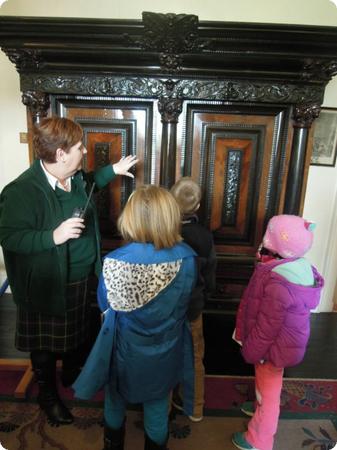 We left the castle with two treats from the Glamis castle guide - a pin (one of just a few identifiably "Disney" elements of our day) and a comic about the castle that Darya was excited to read aloud on the bus.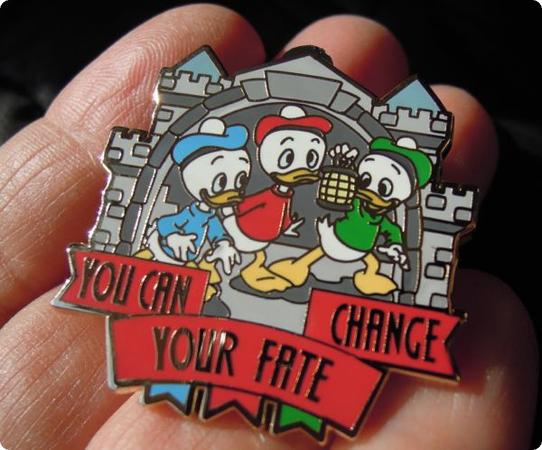 Not bad for a history lesson, right?
Got Questions: Feel free to ask in comments, I want to paint as detailed a picture as possible of what this experience was like and I'll be happy to answer!
Disclosure: Adventures by Disney hosted my family on a media tour of Scotland so that we could see what the tour is like and write about it. Except for its shorter length the trip was just like a real tour. I always give my true opinion on DeliciousBaby regardless of who foots the bill.
Related Links
Children's Books and Toys for a trip to Scotland
Travel Guide: Edinburgh with Kids
More stories about Scotland with Kids
7 comments | Posted on May 1, 2013 |

Save to del.icio.us



Subscribe to our feed