Today, the Environmental Working Group releases its annual report on safe sunscreens. The report is well worth checking out, both for advice on using sunscreen properly and to find products that don't contain harmful chemicals but do provide adequate sun protection. You might be surprised to learn that some big brands, even in their "kids" formulations aren't as great as you assumed.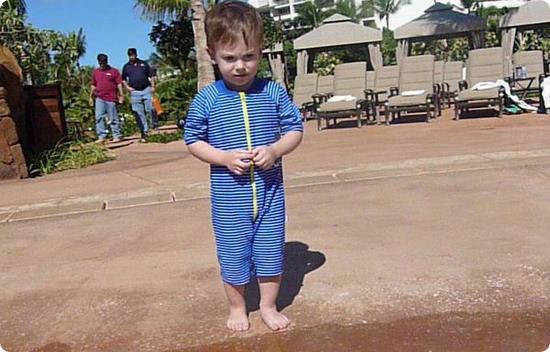 Here are a few tips I've learned over the years

Sunscreens expire, and many have an expiration date stamped on the bottom. I write the year on each tube when I get it so that I can toss it if it isn't used up within three years. (Sharpie works well, and you'll want to add your name too)
You need lots! For an adult, 1 ounce (think shot-glass-size) would cover all exposed parts of the body. For kids, half that much would be about right.
Sunscreen should be reapplied every two hours and every time you get out of the water, don't count on high SPF or "waterproof" formulas to give you extra protection... they don't.
Spray and Powder sunscreens are touted for kids because they're so easy to apply, but there are serious concerns about their safety for young lungs. I like the goopy white stuff for the body and a stick sunscreen for face.
Cold sunscreen on a warm body sends my kids running. I squeeze out some lotion, rub it in my hands to warm it, and then slater it on.
It's hard to get kids to sit still for lotion while everyone else is running in the sun. One trick is to hand over a stick of chewing gum. By the time the flavor is gone, you'll be done rubbing in sunscreen. And ideally, you would apply the sunscreen about 30 minutes before you head outdoors.
The best way to avoid sun damage is to avoid the sun. Peak hours for UV rays are between 10am and 3pm. Did you know that you can check expected UV levels in advance? Check out this handy website from the Environmental Protection Agency.
Product Recommendations

General Purpose
Vanicream Sunscreen
. This has been my go-to sun protection for years. It works well on my kids' sensitive skin and is easy to rub in with no white residue or staining.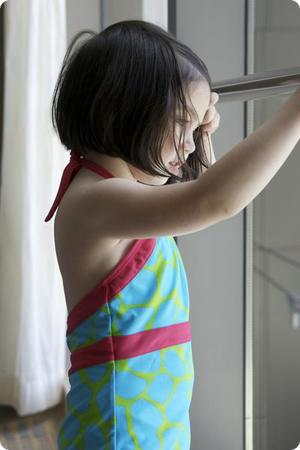 Face
Faces are tricky, and I like to use a stick since it's less likely to end up in my kids' eyes. All Terrain KidSport SPF28 Natural Sunscreen Face Stick
is a cheaper, but still great alternative to the Aveeno Sun Natural Protection Baby SPF 50 Stick
I recommended last year. Both provides good quality sun protection, though they do leave some whiteness. The small size makes these sticks to keep in my purse or pocket every day.
Lips
I like the not-too-goopy Kiss My Face Organic Vanilla Honey Lip Balm, SPF 15
and my kids like the scent. Since this is for lips, I buy one tube per kid and label it with a sharpie.
Eyes
Nope, there's no magic sunscreen for the eyes. Instead you'll need to buy good quality, sturdy sunglasses with polycarbonate lenses - preferably ones that wrap around to block light from the side.
Low quality glasses that don't have 100% UV protection can do more harm than good, so any sunglasses you received as a party favor should be disposed of before summer begins. I also avoid sunglasses available at children's clothing stores since quality varies and you may not be sure about UV protection (not everything stamped 100% UV passes the test).
If you're an optometrist and have recommendations based on an independent review, I'd love to hear them in comments! The brands I'm aware of that use a high quality lens and frame are Real Kids Shades
, Julbo
and BabyBanz
/ KidzBanz
.
One note: It's worth letting your kids choose their own sunglasses since they're more likely to wear something they like.
Natural Supplements
There is some evidence that the vitamins in your diet can help prevent or even heal sun damage. While I wouldn't recommend adding supplements beyond the daily vitamin your doctor recommends, I do think it's worth making sure your child's diet includes good quality sources of Vitamin C and A (both of which can be found in summertime favorites like Cantaloupe and Apricot).
Related Links
Sunscreen is only one part of sun protection for more recommendations, from clothing to sunshades, check out my post on sun protection for your child

Beach Safety with Kids
Disclosure: I have not received free samples or been paid to recommend any of the products in this post and all of the products I recommend are the ones I purchase for my own kids. If you buy a product through one of my Amazon links, I do receive a small commission, and that income helps me keep this site going.
4 comments | Posted on May 20, 2013 |

Save to del.icio.us



Subscribe to our feed