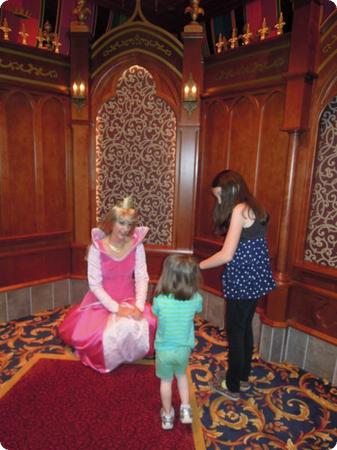 There's no doubt that Disneyland can be magical for its youngest visitors, but the large scale can sometimes be overwhelming too. That's why we always try to seek out a few spots where the kids can feel like they're having an experience that's all their own.
The new Fantasy Faire at Disneyland was the perfect spot for my two year old niece. Kids line up outside the Royal Hall and are escorted (along with their families) to meet each of the princesses who are in attendance. During our visit, she got time with Ariel, Aurora and Cinderella. Like the Mikey meet and greet in Toon Town, our visit was completely unrushed and since she was a little nervous, she had time to get comfortable and talk with each princess before I swooped in with cameras to try to get the perfect shot.
Related Links
Orange County, CA with Kids
Contrarian advice for visiting Disneyland
All posts about Disney
What is Photo Friday?
Post a travel photo on your site. It can be about any topic, as long as it is G-rated.
The focus of the post should be on your photo.
You don't need to be a professional photographer (I'm not), but do showcase your best work, and make it big enough to see well!
It's nice to include a few sentences about the photo, but it is not required.
Link back here so that your readers can see all the other great Photo Friday posts.