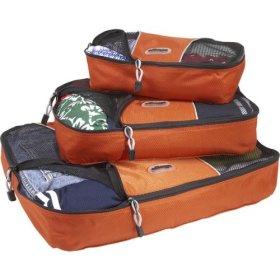 We're headed to San Diego and LA next week, and with little D down for her nap and E off at preschool, I'm busy packing today. We try to pack as light as possible, each extra ounce seems to weigh a ton when we're dragging it across the airport, and the last thing I need on top of two kids under the age of three is an extra bag to carry.
Each time we travel I get a little better at streamlining. When we took our month long trip to Paris in 2005 (with just E as D wasn't born yet) I had two large rolling bags, a duffel, and a car seat. I just couldn't bear to leave anything behind. For our three week trip to Spain (with both kids) I fit everything I needed for both kids and myself in one rolling bag, and I had one carryon for the kids and a separate carryon for my laptop and essentials.
Everest is getting to the age where he wants to have his own carryon. Great for him! We're one step closer to the "if you pack it you carry it" rule. I know that he'll eventually tire of carrying his bag, though, so we choose something that can fit inside my carryon or be clipped to the outside.
Pack Early and Edit, Edit, Edit Mark Twain famously said "I didn't have time to write a short letter, so I wrote a long one instead." The same goes for packing. If you pack early, you'll not only be less likely to forget important items, but you'll have time to edit what you're bringing and remove anything that isn't essential.
Choose the right carryon
Choose something large enough to contain all your essentials so that you don't have loose items in the stroller basket or hanging off the handles of the stroller. We like this Baby Sherpa Diaper Backpack because it has lots of compartments, including a special compartment for a sippy or bottle and an insulated compartment for food.
Contain Yourself (or at least your stuff)
I segment different types of items into different bags within my suitcase. I use Eagle Creek Pack-It Cubes (Pictured) because they're sturdy and not bulky. I use one bag for myself, one for each of the children, one for toys, and a half cube for my accessories. I also have waterproof bag for cosmetics (which I wrap in a ziplock for extra safety). Separating everyone's items makes it easier to set limits, easier to find what I'm looking for, tons easier to pack and repack as we move from destination to destination.
Use a packing list
Make it less likely that you'll forget something important. Cross of the things you didn't use so that you don't bring them the next time, add anything you forgot. Start with one of our Packing Guides for Travel With Kids
Buy what you need on arrival
Don't fall into the trap of bringing everything you need for an entire vacation. They have babies where you're going, I promise, and those babies need diapers, wipes and snacks too. You might need different brands or the price might be slightly more, but you won't be lugging it through the airport. I usually bring a two day supply so that I don't need to run to the store right away.
Rent or Borrow what you need on arrival
If you're off to visit family, they may know someone with an extra pack-and-play, high chair, or some extra toys. If not, local rental services like Baby's Away or Tiny Tots Travel can be hugely helpful. Most have everything you need, like high-chairs, baby gyms, strollers and car seats. Some will also deliver diapers and baby food to your destination. Many car rental companies will install rent you a car seat with your rental car for an additional fee.
Send things ahead Lots of gifts to carry? Just can't do without that baby bathtub? Send it ahead to your hotel or relative's house. You can also order diapers, wipes and other essentials from services like Amazon
Choose Toys Wisely Choose toys that are small with lots of play value. Now is the time for plastic, not wood, and you get bonus points for toys like play-dough and coloring books because they can be disposed of when your child is done with them. If your kids are old enough, you can give them a bag to fill and tell them that's their limit. Check out our travel toys recommendations
Final Tip: Take a digital picture of what you've brought (especially toys) to help you re-pack everything before you return home.
Related Links:
Packing Guides for Travel With Kids
Travel Toys and Airplane Busy Bags
3 comments | Posted on December 14, 2007 |

Save to del.icio.us



Subscribe to our feed