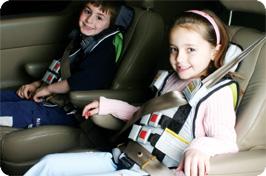 I recently received this question from Janice who is worried about keeping her 22 month old safe when riding in Taxis and other land transportation on a cruise.
Hello!

My extended family will be heading to Rome for a few days before boarding a cruise ship for 12 days. Very exciting for sure, but we have a 22 month old and I was wondering if you had any tips for driving safety while we are in ports. We will mostly be in taxis and minivans. I can't imagine lugging a car seat around and yet I'm horrified at the thought of not bringing it? Any suggestions would be greatly appreciated!

Janice
Here is my response:
Janice,
You are officially in between a rock and a hard place. It would be tough to lug a car seat through every site you want to see, but it is also scary to ride in a car with a young toddler who is not properly belted, especially when you're not sure of the driver's safety record.
My first recommendation (and what we do when we travel without a car seat) is to use public transportation as much as possible. You can research where your ship will be docking ahead of time and find out what options are available to you.
When it isn't possible to use public transportation, there are two products that may be helpful to you. The Sit 'n' Stroll
is a car seat with a built in handle and wheels so that you can also use it as a stroller. With the Sit 'n' Stroll, you would be able to use the car seat feature in Taxis and shuttles, and then use it as a stroller while touring each city. Note that the stroller is not designed for rougher terrain, and might not give a comfortable ride on Rome's famously rough cobblestone streets. The Sit 'n' Stroll is also approved for use on airplanes.
Your daughter is probably a little too small for the RideSafer Travel Vest
. The RideSafer is a unique car "seat" for booster seat aged kids (it fits kids approx 3-9 years old). Instead of a heavy seat, kids wear a supportive vest which then gets buckled into the car. The vest is lightweight and compact (perfect for stowing in a suitcase) and works with both latch and shoulder harness seatbelts. The vest is not approved for use on airplanes.
With either option, you could purchase the product locally, or check into renting it from a local baby gear rental company before you leave on your trip.
Have a question? Send email to debbie at deliciousbaby dot com
0 comments | Posted on April 12, 2008 |

Save to del.icio.us



Subscribe to our feed