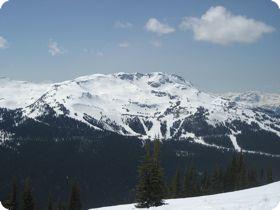 Our main (and only) trick for making roadtrips go smoothly is to drive when the kids are supposed to be asleep, so last night after a quick pizza dinner, we loaded everyone in the car and headed north. We arrived at around Midnight at Whistler
I rarely rave about hotel rooms, but our room at the Westin could hardly be set up better for kids. We have a separate bedroom and living area, a kitchenette, and a huge soaking tub. There's plenty of space for the kids to play during the day, and it's nice to know that in a pinch I can cook up a warm snack or meal for the kids. Everyone was super considerate about getting us checked in and up to our room quickly so that we could get the kids into bed.
In the morning, P headed off to the slopes while the kids and I ate breakfast. The gondola ride up Blackcomb mountain is free for non-skiers, so I pulled rainpants over the kids clothes and we rode up to the top of the mountain to play in the snow. The kids loved the ride, and E and I chatted happily about his last gondola ride in Barcelona . Little D is pretty steady on her feet on solid ground, but the slippery snow was a little too difficult for her. The gloves I brought, too, were a failure... the kids simply couldn't enjoy the show without the use of their fingers. Luckily I had thought to bring along the kids shovels and pails and the kids happily sat in the snow, scooped snow into their pails and built "snow castles."
Another gondola ride took us back down the mountain to sunny (today) Whistler Village where E had a snack in the stroller D drifted off to sleep in the sling as I walked. With D safely asleep, E and I decided to explore Whistler Village. We checked out the music, crazy activities, and found Whistler Core climbing and fitness. While Core specializes in rock climbing, they also have a fun indoor playground (ages 3 and up) where kids can climb and slide (parents pay a fixed hourly rate and for an additional charge, parents can leave while kids are supervised). Kids ages five and up can also climb on kid friendly climbing routes.
We spent the afternoon together as a family exploring the village, taking a dip in the hotel pool, and finally heading to dinner at the hotel's Japanese restaurant. P and I reflected on how nice it was to have a day where neither of us thought about work, the cares of home, or even a particular travel agenda. We're pretty sure the kids thought so too, and little D ended her day by looking out our hotel window at the gondola and screaming "gonga, go-gola, gongola, gongola."
Related Links:
Napping In The Stroller
Finding Kids Activities on a Family Vacation
0 comments | Posted on April 17, 2008 |

Save to del.icio.us



Subscribe to our feed