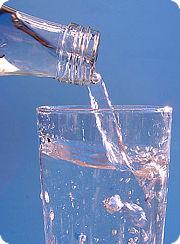 According to the Washington Post, The federal government is asking airlines to upgrade the quality of drinking water on planes after EPA tests found 15 percent of the aircraft they tested carried water that tested positive for coliform bacteria. Coliforms can signal the presence of dangerous bacteria like E. Coli.
While there is no proof that airline drinking water has made anyone sick, the EPA Cautions:
Passengers with suppressed immune systems or others concerned should request bottled or canned beverages while on the aircraft and refrain from drinking tea or coffee that does not use bottled water. While boiling water for one minute will remove pathogens from drinking water, the water used to prepare coffee and tea aboard a plane is not generally brought to a sufficiently high temperature to guarantee that pathogens are killed.
What does all this mean for parents traveling with babies, toddlers and small children? Babies and young children are more susceptible to bacteria like E. Coli than adults. Typical symptoms would include nausea, stomach cramps and diarrhea. Young children are also at greater risk than adults for developing severe symptoms like kidney failure (Mayo Clinic). Parents should take care to avoid using tap water on airplanes to fill or clean bottles and sippy cups.
Bring bottled water for your child to drink (or to mix with formula) on the flight. If you run out, make sure the flight attendant gives you bottled water... even if they are serving tap water in coach there is often some bottled water in first class.
Bring enough baby bottles for your flight (to avoid washing them on the plane). For older kids, use take-and-toss sippy cups. They nest inside eachother, saving space in your carryon bag.
If you must wash a bottle on an airplane, try to use bottled water. If that's not available, choose the hot water from the tea service over the tap water from a bathroom.
Nothing beats soap and water for hand washing after a diaper change, but consider using antibacterial gel as a final step after washing hands in an airplane bathroom.
Note that the new standards will impact only US based carriers, so even after they are fully instituted, parents with young children should continue to use caution.
Related Links:
EPA: Airline Water
Washington Post: When it Rains, It Pours
Mayo Clinic: E. Coli
2 comments | Posted on April 27, 2008 |

Save to del.icio.us



Subscribe to our feed