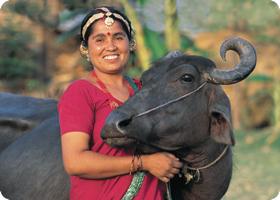 I want to thank everyone who has donated to Passports With Purpose or helped spread the word. Our first week was exhilarating, and it seemed like every one of my favorite travel-related blogs posted about the effort! After just one week, we have raised 2,155.00 for Heifer International, a healthy start towards our goal.
If you haven't donated yet, I hope you'll read my guest post at Get Rich Slowly about why charitable giving is even more important in an economic downturn will inspire you. This is truly a time when every dollar counts for a family in need, and if you choose not to donate to Heifer I hope you will make an effort to do a bit more for the charity of your choice this year.
Why I Care
All family members need proper nutrition and parents are better able to provide for their family when they are properly nourished. By giving families the means to provide their own food, Heifer helps address the impacts of poverty at their roots by feeding everyone and providing the means for the family to support itself. When the family can support itself children can go to school instead of heading to the fields to do backbreaking work.
This is not a small problem. In 2006, around the world, 9.7 million children died, many of them needlessly. It is, however, a problem where even a small amount of money helps. $20, the cost lunch in a restaurant can provide a flock of chicks that will produce both eggs and income to sustain a family that lives in poverty. This economic downturn is global, one way to offset the impact job loss is to give people without an income the means to support themselves.
Fabulous Prizes
If you haven't had a chance to check out the full prize list you should. There are some really impressive and generous prizes. Several new prizes have come in since we launched last Monday. Some of my favorites include hotel stays, camera gear, autographed books, a cooking class from a New York Chef, and even spa products and visits. In addition thought I'd share a few of the giveaways that might be particularly appealing to families with young children:
What Else Can You Do To Help
Please help us spread the world about Passports With Purpose. One easy way is to click the "ShareThis" button at the bottom of this post and email it to a friend or share it using your favorite social media website. If you have a blog, I'd be happy to send you Passports With Purpose badges you can use, and every post, even on a very small blog, helps bring in new donations. You can also become a fan of Passports With Purpose on Facebook.
4 comments | Posted on December 7, 2008 |

Save to del.icio.us



Subscribe to our feed