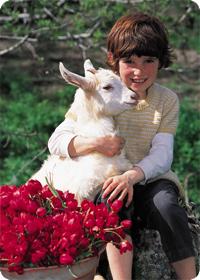 I'm excited to announce that we have raised over $3300 for Heifer International through Passports With Purpose! We're not done yet, though, and if you have not yet made a donation, this is your last full week to do so before you head off for the holidays. I'm posting the full list of prizes and instructions below. Odds off winning are still very good, and there are even a few prizes that don't yet have any entries. I thought I'd share that list so that you can rush over to FirstGiving and make your donation (just leave the code number for the prize you want in the comments). For more details, click on the link with each of the prizes below.
C03 Merino Wool Long Underwear from Jones Wear ($120) from
Nerds Eye View
C06 Clothing items (one outfit) by Earth Creations from
Travel With Purpose
C07 His and Her Shirts by ExOfficio from
Wanderlust and Lipstick
K05 $100 Gift Certificate with Babies Travel Lite (sponsored by Babies Travel Lite), signed copy of Travels With Baby($122) from
Travels With Baby
E04 Tour Pack from Mountainsmith ($70) from
GoGreenTravel
B03 Five Books from Lonely Planet ($94) from
Ever The Nomad
B04 A selection of books from
Lia Hadle
B07 2 items: Travel with Kids: The Definitive Guide to Family Holidays Worldwide AND A Magnetic Travel Art Kit for Children ($40) from
LizAndTobi
B08 Where to Go When: The Americas, DK Brazil, DK Peru, DK Argentina ($120) from
Wandermom
B09 Signed copy of Sacred Places of a Lifetime ($40 plus signature value from
National Geographic
B12 Travel Guide Bonanza from
Wandering Educators
B14 A Set of CDs ($102) from
The Blend Magazine
Here is the full list of prizes. Remember that each donation makes a huge difference in the life of a family struggling to keep food on the table.
Prize ID
Description
Blogger
Destinations
D01
3 Nights at the Wyland Waikiki in Hawaii ($400+)
NerdsEyeView
D02
Harlem Food and Cultural Tour ($190)
FarSightedTravelGirl
D03
Seattle TourSaver and Alaska TourSaver ($180)
AlaskaTravelGram
D04
$100 Gift Card for any hotel in the Mr. and Mrs. Smith Hotel Collection ($100)
Mr & Mrs Smith Luxury Hotels
D05
Two night stay for a family of four at The Wildflower Inn in Lyndonville, VT ($400)
TwoAndAHalfTravelers
D06
$100 gift certificate towards any Ciao Bambino property ($100)
Ciao Bambino
D07
2 night stay at B&B in CA($495)
TheBlendMagazine
D08
Cooking class and dinner for 4 in NYC ($600)
Collazo Projects
D09
Culinary Tour of Greenwich Village led by Addie Tomei ($240)
Things You Should Do
D010
PhotoWalks walking tour of Boston for 4 ($120)
Things You Should Do
D011
Horseback riding on the beach in Bradenton, FL ($120)
Things You Should Do
D012
Fairmont Hotel Package, One night in a suite, parking, dinner ($299)
Fairmont Hotel
Photography
P01
Flip Video Camera ($150)
MotherOfAllTrips
P02
$150 Gift Card to B&H Photo (valid online and in store) ($150)
EscapeFromNY
P03
Eye-Fi Wireless Camera Memory Card ($130)
WeJustGotBack
Clothing
C01
$200 shopping spree with ExOfficio & $100 lunch ($300)
WanderlustAndLipstick
C02
1 set of ExOfficio his/her shirts ($148)
Around the Bloc
C03
Merino Wool Long Underwear from Jones Wear ($120)
Nerd's Eye View
C04
Mountain Hardwear Women's Mynx Jacket (medium, dark adobe), Eagle Creek Messenger Bag ($265)
Away.com
C05
Merino Wool Long Underwear from Ibex ($120)
Nerd's Eye View
C06
Clothing items (one outfit) from Earth Creations
Travel With Purpose
C07
His and Her Shirts from ExOfficio ($170)
Wanderlust and Lipstick
Gadgets
G01
Casio Wave Ceptr WR10 Bar World Time Watch ($100)
MomMostTraveled
G02
Solio Charger - portable solar charger ($170)
Trusty Pony
G03
WordPress Premium Theme ($90)
Coming Soon from TravelRants!
Kids
K01
Medela Swing Single Electric Breastpump ($149)
JetWithKids
K02
Maclaren Techno XLR ($350)
JetWithKids
K03
Britax Boulevard Car Seat ($330)
JetWithKids
K04
CARES Flight Safety Harness (sponsored by Kids Fly Safe), signed copy of Travels With Baby ($97)
TravelsWithBaby
K05
$100 Gift Certificate with Babies Travel Lite (sponsored by Babies Travel Lite), signed copy of Travels With Baby($122)
TravelsWithBaby
K06
Sit-n-Stroll convertible car seat and stroller (sponsored by Lilly Gold), signed copy of Travels With Baby ($272)
TravelsWithBaby
K07
Ergo Hands Free Baby Carrier and iPod Shuffle ($213)
DeliciousBaby
K08
Peg Perego Primo Viaggio Infant Car Seat ($290)
Cookie Magazine and Going Places blog
Gift Bags and Baskets
GB01
Grab Bag of fun travel-related gifts including the Funkey Finder, hair products from Tassi, a Carson Lens Pen, luggage tags from BonjourFleurette.com and an Eastport Natural Collection Duffle Bag. ($155)
TravelingMamas
GB02
Grab bag of travel-related gifts from the Moms who participate in GNO
Coming Soon from GNO!
GB03
2 Indonesian sarongs, 2 matching Indonesian pillowcases, 1 Indonesian pillow cover, 1 Chinese bottle cover ($120)
HammockInParadise
GB04
Gift bag of travel goodies
Matador Travel
GB05
Gift basket from SkinStore ($200)
Just Go!
GB06
Makeup and Beauty Package from Erwin Gomez Salon and Spa ($300)
Things You Should Do
GB07
Original Oil Pastel Painting by Lola Akinmade ($250)
Geotraveler's Niche
GB08
TravelMuse Travel Journal, "Inspire Me" T-shirt and $100 Shutterfly gift certificate ($135)
TravelMuse
GB09
$100 gift card from American Express ($100)
Uptake.com
Equipment
E01
Eagle Creek ORV Duffel and Eagle Creek Messenger bags ($210)
Away.com
E02
REI Vagabond Travel Pack and PackTowl UltraLite Towel (XL) from Viking River Cruises ($130)
AlmostFearless
E03
Carry-on luggage from LuggageGuru.com
Go Galavanting
E04
Tour Pack from Mountainsmith ($70)
Go Green Travel Green
Tickets
T01
2009 Tampa Buccaneers home game tickets! ($170)
What Boundaries!
Books and Music
B01

Spain: A Culinary Road Trip by Mario Batali w/Gwyneth Paltrow
1,000 Places to See Before You Die-by Patricia Schultz
Immersion Travel USA-by Sheryl Kayne, Diners
Drive-Ins and Dives-by Guy Fieri
Frommer's 500 Places to See Before They Disappear-by Holly Hughes

($100)
MidWestGuest
B02
Gift pack of Barefoot Books ($100+)
BackpackToBuggy
B03
5 books from Lonely Planet

The Travel Book
Best in Travel 2009
The Big Trip
Lonely Planet 2009 Wall Calendar
Travel Journal

($94)
EverTheNomad
B04

Lonely Planet Travel Book
5 Time Out city guides of the winner's choice
2 Alastair Sawdays Guides
1 Pocket Comm Communications tool
2 Paperblanks 2009 diaries

HeatherOnHerTravels
B05
5 sets of Moo postcards by collage artist Lia Hadle
Lia Hadley
B06
$100 Gift Certificate for Amazon.com ($100)
MVOnTheSpot
B07
2 books: Travel with Kids: The Definitive Guide to Family Holidays Worldwide AND A Magnetic Travel Art Kit for Children ($40)
LizAndTobi
B08
Where to Go When: The Americas, DK Brazil, DK Peru, DK Argentina ($120)
WanderMom
B09
Signed copy of Sacred Places of a Lifetime ($40 plus signature value :-)
National Geo Intelligent Travel Blog
B10
Lonely Planet Guide of YOUR choice and copies of The Travel Book ($100)
RoamingTales
B11
A Journey into the Transcendentalists' New England A Journey into Ireland's Literary Revival Walking Boston. ($45)
OpenPage-OpenRoad!
B12
Travel guide bonanza:

Lonely Planet's Syria & Lebanon
Frommer's 500 Places to See Before They Disappear
Frommer's NYC Free & Dirt Cheap
Frommer's Cancun and the Yucatan
A Mindful Christmas

($100+)
WanderingEducators
B13
$100 worth of Creative Memories Scrapbooking Supplies ($100)
TwoKidsAndAMap
B14

Set of 3 CDs from award winning Native American flutist, Evren Ozan
1 CD from cowboy poet, Mike Moutoux
1 CD from Americana musicians Steve Smith & Hard Road
1 CD from Nashville singer/songwriter Jon Roniger
1 CD from from Phoenix-based Michael & Spider

($102)
The Blend Magazine
B15

Putumayo World Music CD's
Women of Africa
Asian Groove
Samba Bossa Nova
Turkish Groove
World Hits

($75)
Wanderlust and Lipstick
B16
Signed copies of Getting Lost and Globejotting: How to Write Extraordinary Travel Journals AND a one-hour writing consultation with Dave Fox ($100)
Dave Fox
0 comments | Posted on December 14, 2008 |

Save to del.icio.us



Subscribe to our feed