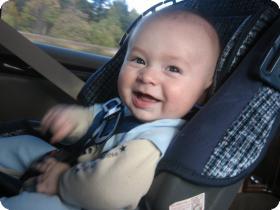 If you need a car seat at your destination, there are several alternatives. Here are some helpful tips for ensuring that you have a safe, clean, car seat when you need it.
Bring your own car seat. Not only do you know that it's safe, but you also know how to install and use it. Next week, I'll have a roundup of different products designed to make traveling with a child safety seat easier.
Carry your seat onboard the plane if possible. This avoids having it damaged or lost in checked baggage.
Consider keeping a car seat in locations you visit often (like grandma's house). It's cheaper than a rental, and you'll know exactly what you have.
Rent from a baby gear rental company instead of the car rental agency. Their business is built on providing safe, clean rentals. Many will meet you at the airport with a car seat.
If you rent a car seat: