Update 28 July 2008: Despite their promises Advantage Rent A Car continues to rent unsafe car seats please click the link to read what happened to mom Barbara and her 6 month old infant when they visited the Los Angles location
original story follows
You might remember that when we arrived in San Diego and picked up our rental car from Advantage Rent-A-Car, my husband was led into a storage room where a scrapheap of car seats awaited him. A lineup of a few pictured above. Most were disgustingly dirty, with dark stains on them, cracker remains, etc.
Some close-ups: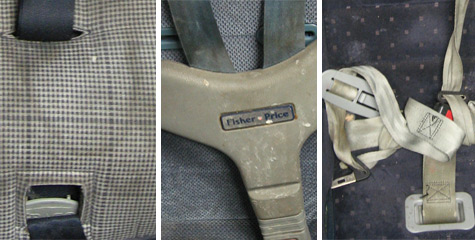 Several were missing parts and didn't function properly. With few other alternatives after our evening flight, he selected the two newest, healthiest looking car seats, and we brought them out to the car. After installing one, we noticed that the straps didn't tighten enough to secure our toddler. He returned it and brought out another, which turned out to be missing the clip that goes across the chest. Finally, he selected a third (and dirtier) car seat that seemed to be functional and we were on our way. Obviously, we gave the seats a good once-over the next morning (as well as a good cleaning.
More close-ups: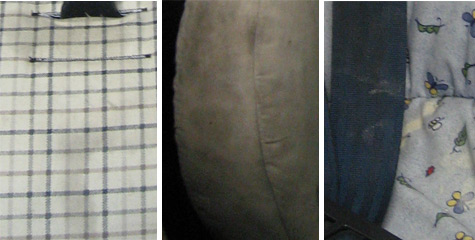 When we returned the cars, we brought the seats inside and staff directed us to put them back into the storage room (without cleaning).
I asked the manager what their policy was regarding car seats. He claimed that Advantage buys new car seats every two months and that the car seats are cleaned thoroughly after each use. I explained that we had to install two car seats for my son before finding a working one, and while he apologized that they "might have missed something" he maintained his claim that the car seats are cleaned and inspected after each use. I then lead him into the storage room and started pointing out car seats that were obviously filthy and car seats that were obviously unsafe. He retreated quickly, offering to refund our car seat rental fee, but pointing to a few newer car seats that had not been available when we rented the car and maintaining that the company rents only safe, clean car seats.
And here is the California State Law regarding car seat rentals:
(b) Every car rental agency in California shall have available for, and shall, upon request, provide for rental to, adults traveling with children under six years of age, child passenger restraint systems that are certified by the manufacturer to meet applicable federal motor vehicle safety standards for use by children weighing 60 pounds or less, are in good and safe condition, with no missing original parts, and are not older than five years.
The fine for non-compliance is negligible, so it's not surprising that an agency wouldn't be too worried about being caught renting unsafe car seats.
(c) A violation of this section is an infraction punishable by a fine of one hundred dollars ($100).
Our recommendation: Thoroughly inspect any car seat and installation before leaving a rental car agency. If you're on site at the airport, it is easy to walk to another agency and ask whether they'll honor the rate for your reservation (if they have extra cars they're likely to). If you're off site, it's harder to walk away, but never take the risk of putting your child in a car without a properly functioning car seat.
We've never had any issues when renting from Avis or Hertz (including our international rentals).
Update Jan 3 2008
I have more information on the Fisher Price car seat shown in the pictures above. After receiving reader tip saying that her 15 year old son had used a similar car seat, I did some more research on that model. The Fisher Price 9100 & 9101 T-Shield convertible seats were manufactured between 1985 and 1995 (meaning that the car seat pictured is between 12 years and 22 years old!) Wow! No wonder it looks so worn out.
Most manufacturers suggest replacing a seat 5 to 8 years after the date of manufacture, because current safety seats may have better safety features than older seats, but in no case should a car seat be used after 10 years.
Furthermore, this car seat model has been subject to a eight different recalls (though the one pictured might have missed all of them) Do you think anyone at advantage has taken the time to check the car seats for recalls when they didn't take the time to clean them after use or remove damaged seats?
Now that I've learned more, I'd like to update our recommendations to parents:
Call ahead to the specific office you will be renting a car seat from and verify that they have new, well maintained car seats available for your date of travel.
Make sure that the seat is installed snugly and that the latch or seatbelt is threaded through the proper channels
Find the individual "birth date" of the seat. It should be on a computer printed label stuck to the side or back of the seat. Don't use a seat that is older than 5 years.
Check the seat carefully for evidence of cracking, twisting, worn harness webbing or broken buckles. Once you have latched the buckles, pull hard to make sure that they do not detach. If there is any visible damage, do not use the seat
If you are on site at the airport, it is easy to walk to another agency and ask them whether they'll honor the rate for your reservation (if they have extra cars, they are likely to). If you're off site, it's harder to walk away, but never take the risk of putting your child in a car without a properly functioning car seat.
Update Sun Feb 3, 2008
Local ABC news affiliates in San Diego and Seattle have picked up the story. They did their own "under cover" investigations, and are airing the story this week!
A reporter even came out to the house to interview me and take video of the kids. I've held off on blogging about how the story unfolded until it airs, so watch the report at 10News or KOMO and check back here next week for the behind-the-scenes story.
Schedule
3 Feb 10 News in San Diego breaks the story at 11pm PST
4 Feb Komo News in Seattle airs the story at 11pm PST
5 Feb Komo News in Seattle airs the story at 6pm PST

Here are a couple teasers from the San Diego affiliate:
Video Teaser: "Bad Car Seats"
"Behind the Scenes" Investigation Blog
Here's the teaser from the Seattle affiliate:
KOMO News: Dirty and Dangerous
Update Feb 8 2008
A lot has happened in the past few weeks, so here is a brief update.
In late January I received a very nice letter from the director of customer experience at Advantage apologizing for the experience I had. As a result of this story and the news investigations, Advantage has performed a company-wide inspection of all their car seats and destroyed any that did not meet the appropriate standards for safe operation. They've also institued a new corporate policy regarding child safety seats, including a requirement that seats be removed from service after two years of use and that parents be given a manual with each seat. Way to go Advantage!
10News aired the story based on their undercover investigation as their lead story on Superbowl Sunday. Here's a link: Video: Bad Car Seats

References and Related Links:
Update 28 July 2008: Advantage Rent A Car continues to rent unsafe car seats
CarSeat.org
Car Seat.org's listing of T-Shield car seats
Listing of Eight Recalls for the Fisher Price 9100 Car Seat
Advantage Rent-A-Car: Link
California Car Seat Law: Link
DeliciousBaby: Reserving Rental Cars, Flights, and More
DeliciousBaby: Watching Myself on the News
DeliciousBaby: Car Seats and Air Travel
Safety Tips for Renting a Carseat

[where: 3443 India St, San Diego, CA 92103]
30 comments | Posted on December 22, 2007 |

Save to del.icio.us



Subscribe to our feed