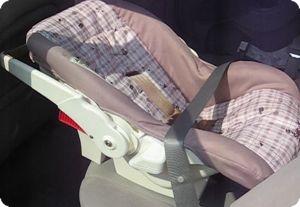 Safety is important to Barbara, so when she flew to Los Angeles with her 6 month old, she reserved a car at an agency that had made strong promises about their infant car seats. Exhausted after a long flight, she struggled for two hours to find a seat that could be installed safely in her rental car and finally drove away with what she thought was the best of the bunch... a dilapidated car seat so old that the manufacturer and California State Law both recommend that it be destroyed.
Child seats can save lives and prevent injuries. They have proven so effective that Californians are required to use them in their own cars and rental car agencies are required to provide seats in good working order to customers who request them. Most agencies charge $10 per day for the service, a hefty profit when you consider that seats can be purchased at retail for under $60 and can be used for up to five years by-law.
Even after agreeing to pay the daily rental fee, Barbara could not get the information or parts she needed to install a seat safely from Advantage Rent A Car. She repeatedly asked employees and managers for the missing parts and manuals, but the rental agency just didn't care. The on-site manager ignored her complaints, saying that liability prevented him from offering any help. Advantage Rent A Car's corporate office never responded to her letter of complaint.
This isn't the first time parents with young children were trapped at Advantage with no safe way to get to their destination. My regular readers will remember that we were confronted with a stack of dilapidated and unsafe car seats at Advantage Rental Car's San Diego location back in December. After ABC ran a story about our experience, Advantage promised that they had "performed a company-wide inspection of all ... car seats available for rental" and that "...only carseats that meet or exceed state guidelines are now available for rental". They also said that they had instituted tough new standards that would ensure it never happened again. We felt good about these changes and blogged about it. The irony is that Barbara read this story and chose to rent from Advantage because of their new safety policy. After a terrible experience and failing to get a response from Advantage, she contacted me.
Shocked to hear another story of blatant disregard for basic safety and California State Law, I flew down to Los Angeles to see for myself. Los Angeles International Airport is one of the world's busiest airports, and when I arrived, the agency was crowded with customers. Many were families with young children headed to Disneyland or Los Angeles beaches. Curious about the condition of the car seats, I asked to rent both an infant seat and a toddler seat. What I found was shocking and upsetting, especially after the company's strong promises about cleanliness and safety.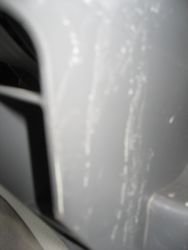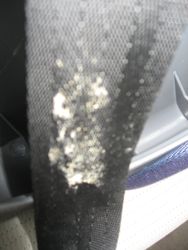 The first toddler seat I was given had been bagged as if it had been cleaned, but it was visibly soiled and covered in crumbs. I returned it to the agent, who agreed that it was filthy, and handed me another (bagged) car seat. When I opened the bag, I smelled a strong stench of vomit. The pictures I took show that the seat was visibly soiled too. Neither toddler seat had a manual or the "locking clip" that would be needed to install it in some cars.
Like Barbara, I found that none of the infant car seats had the base that is included with car seats sold in retail stores. Like many parents, Barbara had never installed a car seat without the base. Without written instructions, she followed the pictures printed on the side of the seat and installed it using the car's seatbelt. Each time she tried it, the car seat was impossible to keep level and slid around on the seat.
When Barbara did finally locate a seat with a base, it was so old that it did not even have a 5-point harness (standard on every car-seat sold by Babies R Us and other retail stores), but at least she could install it snugly in the car. She was shocked to find out later that it had been manufactured in 2000. California law mandates that it should have been retired in 2005.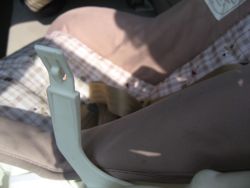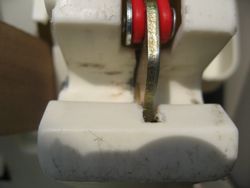 The infant car seat I rented was newer. Only two years old, it was nonetheless filthy and missing original parts. A bracket stuck out where a sun canopy used to be attached. Though the car seat had clearly been used with a base (which would have included the latch belt recommended by most safety experts) the base was nowhere to be found. The manual and locking clip were missing too, and though I sincerely tried to install the car seat safely with what was available at Advantage, I ultimately failed. Like Barbara, I asked repeatedly for manuals and was told that they were not available (most car seat manufacturers make manuals available on their websites, and Advantage's internal guidelines tell employees to print a new manual for the customer if the original is lost). A quick search through the other car seats available showed that most were in similar condition, though I was able to find two that still had their manuals.
I finally told two different employees that I would put my daughter in the loosely installed seat, drive to the store to buy a new one, and return the car seat for a refund. Not only were they not upset that their equipment would put my daughter at risk, they gave me directions to a nearby store!
When I returned the car, I spoke to the assistant manager. She told me that I must not be installing the seat correctly and insisted that it could be installed securely without the missing base. When I asked her for information on how to do it, she walked away saying that my money would be refunded. I'm glad that I didn't have a tired infant with me like Barbara did, after two hours of failed attempts to safely install a car seat, a callous response like that would have left us both in tears.
Last week, I contacted the Head of Customer Service at Advantage Rent A Car and told her what I found. She sincerely apologized, saying that she thought they had addressed the problem and was as dismayed as I was to hear otherwise. She stated that she would follow up with the managers responsible for the Los Angeles location.
Please Spread The Word
I don't want any more parents to show up at a rental car location and feel trapped with no safe way to get where they are going. This is truly a topic where the network of parents can use the Internet and social media to spread the word faster and better than ever before. Help me get the word out to parents who don't know about the risk of renting a car seat. Tell your friends about it, and if you have a blog of your own, please share this story with your readers. During the coming weeks, I will follow-up with a few more stories on this... from my visits to other rental car agencies to stories from other parents. If you would like an interview or guest article on this subject, let me know and I will do my best to fill every request.
Related Links
Our December 2007 story on Advantage Rent-A-Car's Unsafe Car Seats
California State Law for Child Restraint Systems at Rental Car Agencies
Carseat.org information for parents and practitioners
DeliciousBaby: Safety Tips for Renting a Carseat
DeliciousBaby: Tips for Flying With Car Seats and Renting Car Seats
40 comments | Posted on July 27, 2008 |

Save to del.icio.us



Subscribe to our feed