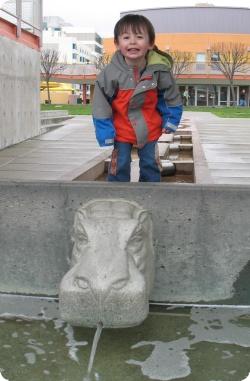 Little D and I woke up early after our first night in San Francisco. I think we were both excited to explore the city. Starbucks always provides a low-key and easy to find breakfast when we are visiting a new city, so we sneaked out for some banana bread, cheerios, and milk before the boys woke up. Armed with breakfast, D was delighted to hang out in the stroller while I did some window shopping and we wandered the streets, watching the city wake up, checking out the cable cars, and dreaming about all the beautiful clothing in Union Square's shop windows. Even though D was mostly fascinated with the pigeons and cable cars, I consider this to be a precursor to the lunch and shopping trips I plan to have with her when she's older.
A tradition for P and I is to eat Dim Sum for breakfast whenever we're in San Francisco. It's fun with the kids too… they can sample (or turn their nose up at) lots of different things, it's speedy, and the carts are fun to watch. Yank Sing has long been a favorite of ours, and we were excited to check out their new location near the Ferry Building. We weren't disappointed, the food was better than ever. We loved the delicate dumplings (including their new soup dumplings), the excellent Peking Duck (served by the slice), and the tasty Chinese donuts. The kids feasted on steamed rice, noodles, and fresh fruit as well as bites of the dumplings. Best of all, the new location features seating in an indoor courtyard. There is a huge indoor fountain which drips recycled water from the ceiling into a pool in the ground floor. With other kids enjoying the fountain and courtyard (video below) as a break from the rainy weather outside, we didn't feel shy about letting our own kids wander around, enjoy the fountain, and enjoy the space. After lunch, we checked out the historic post office (attached to the center) with its cool WPA murals.
With a good meal under our belt, we decided to check out Yerba Buena Gardens Yerba Buena is a 19 block section south of Market street that was redeveloped in the 1990's as an urban garden and playground in the heart of the city. Surrounded by museums and attractions like SFMOMA and Moscone Center it is a welcome oasis for locals and tourists alike. As if the grass, cool sculpture, and fountains weren't enough, the Yerba Buena playground is one of the best urban playgrounds in the country. E loved the huge tube slides and D was thrilled with the sand area (complete with running water) and all the birds. There's also a reasonably priced carousel and a cool museum called 'Zeum dedicated to teaching kids about multimedia arts. E even got to try his hand at bowling!
The highlight of our day, though, was the Exploratorium. I have vivid memories of childhood visits to this hands-on science museum, so it was great to see that the exhibits that had made the greatest impression on me were still around to share with my kids. Both kids were thrilled to be able to touch and explore everything, and even at 15 months and 2 1/2 found plenty to do. D's favorite was a huge pottery wheel spinning inside a sand box. We piled on sand and watched it spin, stuck our fingers in it (wow, it makes a line) and experimented. E was thrilled with a huge magnet covered with hundreds of washers and loved piling the washers on and discovering how thick he could pile on the washers, and which structures would hold or fail. As I write the final draft of this article, almost a month after our return home, E still reminds me almost daily that he did not want to leave the Exploratorium and needs to go back the next time we're in San Francisco. He seems to take some small comfort in the fact that I never wanted to leave as a kid either, and that his "granny and papa" used to tell me "you have to." Don't worry E, mom and dad had a great time too (in fact we had so much fun, we'd visit the Exploratorium even without the kids) and we'll plan a return trip sooner rather than later.
Near the Exploratorium is one of San Francisco's most highly rated pizza and pasta restaurants. A 16 is a grown up place with traditional Italian wood fired pizza and house-made pasta. The wait-staff was extra accommodating with the kids (and even had high-chairs on hand), and it was great to enjoy a delicious meal while the kids feasted on cheese pizza, pasta, and fresh mozzarella.
After such an exciting and satisfying day, it took us a little while to wind the kids down for bed. Luckily they slept well (though E did wake up around midnight to yell "Excuse me, could you please get out of the way" at me when he felt that I was hogging too much of the bed! I wasn't sure whether to be offended at the yelling, or delighted to hear a please even in his sleep!
Related Links
DeliciousBaby Guide: San Francisco With Kids
0 comments | Posted on February 11, 2008 |

Save to del.icio.us



Subscribe to our feed