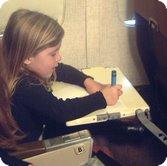 This is a guest article from Scotty Kober of GoodLittleTraveler, creator of the Shae By Air DVD Toolkit™. Scotty sent me a copy of the DVD Toolkit to review, and I have to say that I was impressed. We aren't in the habit of watching a lot of DVDs in our home, but I liked the video's straightforward approach. It seemed like a great way to help young children understand exactly what they will experience at the airport. E enjoyed it too, and was fascinated by the segment about young Shae going through airport security.
Scotty's article includes a good reminder to prep kids every time you plan to take a trip. Things change! E is a seasoned flyer, but we started a week before our most recent trip explaining and reiterating to our proud "no diapers during the day" son that he would need to put on a diaper for takeoff and landing.
In situations with traveling infants, parents really only have themselves to prepare. But with toddlers, preschoolers, kindergartners - this is not the case. There is more to flying with toddlers than keeping them entertained and hoping for good behavior on the plane: there are long lines at busy airports, security checkpoint(s), boarding the plane, sitting in confined space that shakes and makes noise (not to mention puts sometimes incredible pressure on little ones' ears) and travel etiquette issues like not kicking the seats in front...
Ideally parents would prepare their child for these things and in this way instead of being carried/strolled/dragged around blindly, the child will know what's to come and what his or her part is, making the journey as exciting as the destination!
But how can a traveling parent prepare a little one to fly?
Small children are very capable of grasping new concepts and understanding boundaries, and most kiddos are pretty adaptable if they know what to expect and what is expected of them. It is of paramount importance that in planning for the trip, the kiddos are included both in the pre-trip process and the journey itself.
I recommend:
If possible, go to the airport before your trip with your 3-year-old son who has never been on a plane. Watch the planes take off, notice people queuing up for security - tell him why these things are happening and how soon it will be his turn to stand in the line and board the plane, and take off into the sky. Let him get excited! and then ...
Let your child help pack: if you're headed to the beach, ask your 2-year-old what she might want to wear at the ocean. She will answer bathing suit, and she can help you put it in the suitcase.
Let children pull their own carry-on bag. It gives you a separate space to pack your child's extra pull-ups, change of clothes, etc. (that doesn't constitute an extra bag since your youngster has his or her own seat) and gives your kiddo a responsibility during the pre-flight process. For most children, having a "job" is a treat and a privilege (just ask a preschool or kindergarten teacher). A toddler who knows he has to get his bag to the airplane will be a little more focused than one whose only responsibility is to follow meekly along behind his parents (boring!).
Buy one of the few books/media available that SHOW children what goes on at the airport. Give kids something to relate to. The security checkpoint alone was a source of major fear for my daughter when she was almost two years old. The loud metal doorway with beeping lights and the expectation by serious people in uniforms that she walk through said doorway alone was enough on one trip to reduce her to tears. Couple that with wanding or the air puff room ... if a child doesn't know this is coming, and hasn't been prepared for it such that she isn't scared, parents are setting themselves up for trouble. As Caroline in Dayton, OH, writes at WeJustGotBack.com: "Before our last vacation, my sister, a flight attendant, suggested that I prepare my 3-year-old son for the airport security line. So while we were waiting, I told him that he would have to put his backpack, his stuffed monkey, and his Buzz Lightyear and Woody action figures in a box so that the airport police could take a picture of them. Then he would have to walk through a special magic doorway and he would get everything back right away. Talking about it beforehand really helped to ward off a meltdown when it was time to let go of his most beloved stuff!" Another great idea (this from the moderator at the DisBoards): practice going through the security checkpoint by having your child put his lovey onto the conveyor belt at the grocery store. That would be very similar to the conveyor belt at the airport.
Keep talking to your kiddos throughout every step of the journey! As Debbie here at DeliciousBaby words it: be mindful of things that might be scary for kiddos. Also, it is worth noting that my little one had been flying since infancy, but as children grow and change, things that were once unnoticed can suddenly become very important. So even if your child is flying for the 30th time, it is always worth a mention before and at the airport and on the plane what he or she can expect. That goes for the literal (long lines, delays) and the behavioral: ie, those seatback tray tables (only a parent should open and close them), and the feet (not on the seat in front) as well.
May the skies be clear and the lines be short!
Related Links:
GoodLittleTraveler Blog: What To Do in the Airport with Toddlers When Your Flight is Delayed
DeliciousBaby.com: Breeze Through Airport Security With Kids
WeJustGotBack: Family Travel Tip Sheet: Flying With Kids - Taking care of the air necessities
DisBoards: TSA - how to prepare my son
1 comment | Posted on July 3, 2008 |

Save to del.icio.us



Subscribe to our feed