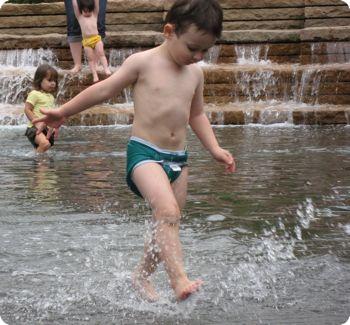 Last week, I was interviewed for an article about last minute getaways with kids for TravelMuse. The article isn't published yet, but just talking about a getaway made me antsy to get out of town for the long Fourth of July weekend!
Friday morning breakfast was a little disorganized as I called around for last minute deals at Portland hotels. I eventually ended up at the Hotel deLuxe. If you are a money-saving junkie when it comes to travel, you'll be interested to know that while my rate was the same as the rate quoted online (sometimes it is possible to arrange a lower rate) I was able to negotiate a bigger room and free parking!
The deLuxe hotel is located at the edge of downtown, about three or four blocks more removed from the "action" than I would have liked, but everything else about the hotel was a "love." The deLuxe is in an older building that was renovated in 2006. The designers chose an "old world hollywood" theme. I'm not usually a big fan of themes, but I have to say that the rooms and the entrance were all very pretty and comfortable.
Parents of stroller age kids (like me) should know that their is a long stairway between the front entrance of the hotel and the lobby. Each time we arrived, whoever was sitting in the stroller got out and walked up. When I arrived one evening with E asleep, we used the handicapped elevator. That was a bit of a hassle, but here's what I loved... the staff was extra helpful each time I arrived. We normally think of our kids and their gear as our responsibility, but there always seemed to be someone right there asking to help with the stroller or our bags. That level of service extended to everything else we needed for the kids... milk late at night, information about where to see the fireworks, a child-friendly restaurant reservation, plates and silverware for a takeout-dinner, etc. We have stayed at some very fancy places and some very inexpensive places in our travels, but the staff at the deLuxe was among the best we've experienced when it came to simple, honestly helpful service.
I'll also add that because this is an older building, the rooms vary a lot in size. Our double-queen room was quite large, but had a small bathroom. Some of the other rooms were much smaller. Having enough space with kids can be important, so call the hotel directly to make sure you get a room that will work for you.
Our best roadtrip tactic is to drive when the kids are sleepy, so my husband and I made a rough plan to head to Portland around bedtime. Late in the afternoon, before I was fully packed, I realized that the kids were tired enough to take afternoon naps, and we made a quick adjustment, throwing things in suitcases and heading out the door. We were right! The kids napped all the way to Portland, waking up at around 7pm as we pulled up to the hotel!
I couldn't have picked a better day to have the kids so badly off of their normal schedule (dinner is usually at 6 and bedtime around 7:30 or 8). Fireworks in the Pacific Northwest start after 10pm, and I had accepted that my kids would go another year without seeing them, so I was super excited to realize that they would probably make it to show-time!
With all my restaurant ideas closed for the 4th of July, we had the hotel book us a table at Andina Restaraunt. The restaurant was a bit fancier than we would have normally attempted with the kids up so late at night, but with few other options, we decided to go for it. It was at that moment, the my husband and I realized something that has been true for a long time. We would rather try to have a really great meal and risk having to take our food to-go than to eat mediocre food every night Once we were seated, I realized something that made my heart drop... hurrying to get out of the house, I had forgotten the bag of travel toys we keep packed and ready to go. We were lucky that the kids were so delighted to be on a trip that they occupied themselves quietly with some ballpoint pens and a stack of bandaids I had in my purse! Towards the end of the meal, I took D to the bar where a live band was playing, and she loved watching the musicians in action.
Dinner ended none too soon though, and we rushed back to the hotel as the first fireworks started exploding The kids were thrilled, and we stopped on the way to watch the beginning of the show before continuing to the hotel. E couldn't resist telling everyone we passed on the way "It's a special day for fireworks." We spent the rest of the evening cuddled up on one of the hotel room beds, watching the fireworks and drinking room-service milk. The kids have chattered on about the fireworks every day since the 4th, and I'm glad that we got to experience that "first" together this year instead of next.
Related Links
Hotel deLuxe
Andina Restaraunt
Portland With Kids
0 comments | Posted on July 10, 2008 |

Save to del.icio.us



Subscribe to our feed