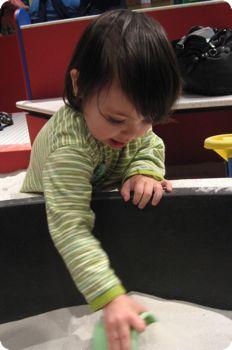 One of our tricks for getting good restaurant behavior from the kids is to avoid bringing them to too many restaurants in a single day. Hoping to have both kids still in a good mood by dinnertime, we started the day with bagels and cream cheese in the stroller instead of french toast and hot chocolate at a restaraunt.
Next stop, the streetcar. One of the things we love about visiting Portland is that we can park our car once we arrive at the hotel and never drive it again until we leave town. The kids think the streetcar is a tourist attraction in itself, and the longer the ride, the better.
We took the streetcar to the Hawthorne bridge and then walked across the bridge and to the Oregon Museum of Science and Industry (OMSI). With one child in a stroller and the other in the Ergo, the walk was real work for us. The kids, on the other hand, had never "walked" across a big bridge before and were fascinated with the boats and geese down below. E loved seeing the breaks for the drawbridge up close and had tons of questions to ask. D, who has been obsessed with flags lately, screeched every time she saw a new one on a passing boat. She couldn't get enough of the geese either, asking me over and over where they were all going.
I have resisted going to OMSI until now because I thought the kids were too young, and because I was worried that it would be yet another high budget science museum where more money than thought (or science) went into the exhibits. I shouldn't have worried. We were absolutely blown away by the number and quality of the exhibits.
What I love about a really good science museum is that it can be as much fun for the grown ups as it is for the kids. When an exhibit is hands-on, open-ended and engaging, everyone from a nine-month old to an adult can enjoy the the same experiment and learn something new. Trying to explain it all to an inquisitive three-year-old in language he can understand only adds to the fun, especialy for tech-geeks like my husband and I.
Instead of sitting and watching the kids play (like we might at an amusement park), we were as engaged and interested as they were. We helped them cut paper cups and put them over an updraft to see which shapes would float in the wind best. We controlled robot arms by remote control. We built lego towers and put them through simulated earthquakes to see how they would hold up. Just like our experience at the Exporatorium in San Francisco, the kids were overjoyed to find so many interesting things to play with and touch (and to realize that nothing was off limits). We were thrilled to help them learn a bit more about how our world works.
After a quick lunch in the cafeteria (wow, they had healthy food choices, not just junk!) we headed upstairs to an enclosed tot playground. The huge room was divided into separate areas, each separated by low walls, and each with a different activity. There were bugs to see, sand to play in, water to splash in, building blocks, crafts and more. Everything was at a lower height than in the main museum and the kids were delighted to be able to play with a little less help and supervision. By then, we were ready to take a break and just watch while they played. I was impressed with how well the space was set up, with a separate snack area, a breast-feeding room, and family restrooms.
After a long, fun day we started the drive back to Seattle. The kids, wound up and excited from so much fun, had a difficult time falling asleep in the car, but eventually sleep overtook them. I always enjoy driving with both kids asleep, with no laptop to use, no dishes to do, and no work to finish, my husband and I talked quietly and soaked in the peaceful quiet of the car.
After being away for a few days, the kids are always thrilled to be home and play with their own toys again. Throughout the next day I watched and listened as the kids played "Going to Portland." E and D wore my shoes and pushed toy strollers and shopping carts between spots that E told us were, the "hotel," the "wading pool," "fireworks," and "OMSI." What a sweet way to ease back into the structure and routines of home.
0 comments | Posted on July 13, 2008 |

Save to del.icio.us



Subscribe to our feed