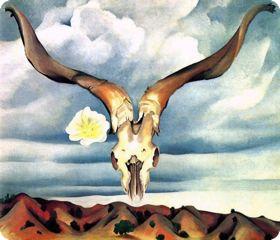 Here in Seattle, our local art museum makes a fun outing for the kids. There's an amazing installation in the lobby that my kids love, and a sunny and fun kids play area inside the permanent collection. We visit those two things, and if the kids are in the mood, we view a few sculptures or paintings on our way. My hope is that long term, the kids interest in the art they pass on the way to the toys will grow (and to some extent it has).
It's easy for me to be patient when we're at home, I have lots of time to work my way through the collection, and I can always make a quick trip to the museum when the babysitter is here. When we travel, it's a different story. My husband and I are more intent on seeing what we came to see, but we need to balance that against what the kids need, and our desire not to burn them out on art. That's when we really need good strategies for helping the kids enjoy the museum.
In Barcelona's Miro Museum we challenged E to tell us the names of the imaginary animals Miro had painted. That kept him busy for a while, but with our upcoming trip to New Mexico, we need some new ideas!
What have you tried? How well did it work out? Please tell me in Comments.
7 comments | Posted on July 25, 2008 |

Save to del.icio.us



Subscribe to our feed