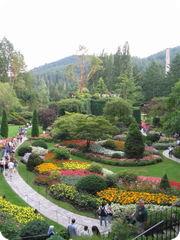 A few weeks ago, we began answering a reader question from Lumi in Germany who will be visiting the Pacific Northwest with her husband and kids in May. After a few more email exchanges, we've narrowed down her itinerary. Lumi has decided to head from Seattle up to Vancouver Island and then Vancouver. She can either fly home from Vancouver, or return to Seattle to complete her trip. This post is about the time she'll spend on Vancouver Island with kids.
Traveling Seattle to Victoria
Not every rental car agency allows their cars to be taken into Canada, and in some cases you'll be on your own if your rental breaks down while you're out of the US. Since Victoria is best explored by foot, it makes sense to travel into Canada by water or air and rent a car just for the portion of the trip when you'll need it.
Without a car, there are two options for getting from Seattle to Victoria. The Victoria Clipper Passenger Ferry leaves from the Seattle Waterfront and takes just under three hours. The cost is $60 per person, and during the summer months there are special rates for families traveling together. A seaplane ride is a faster, and would be fun for the kids. Kenmore Air flies from Seattle to Victoria in one hour and costs $142 per adult and $109 per child. Internet fares are sometimes available. Note that baggage limits are lower than for commercial international flights.
Family Friendly Hotels in Victoria
The Royal Scot Suite Hotel is within walking distance of Victoria's downtown and has family friendly features like an indoor swimming pool. Suites have separate bedrooms and kitchenettes.
The Magnolia Hotel and Spa is a great place to stay if you want to be pampered for a few days before heading north along the coast. The hotel also is well located.
The Swans Suites Hotel is a suites hotel with loft style rooms complete with separate bedrooms (from studio to two bedroom) and kitchens.
What to Do In Victoria With Kids
Victoria is a charming city, best seen on foot. I would allow a full day to explore the town,
Beacon Hill Park
(which includes a wading pool, picnic areas, and playgrounds and a
Beacon Hill Children's Farm
complete with baby animals). Your kids might also enjoy the
Victoria Bug Zoo
Exploring Vancouver Island with Kids
To explore more of the island, you'll probably want to rent a car once you arrive in Victoria. Hertz, Avis, Enterprise and Dollar all rent cars in Victoria, and you can arrange to drop the car off in Vancouver when you are done with it.
Butchart Gardens makes a great day trip from Victoria. The drive takes about 30 minutes by car, and it is easy to arrange a bus tour from Victoria to the gardens (or to take public bus #75 from Victoria). You can avoid lines by buying advance tickets online. While there aren't any kid specific activities at the gardens, they are kid friendly, and most kids enjoy the chance to run outside.
The Butterfly Gardens are on the way to Butchart Gardens, and kids will love the enclosed tropical environment with its butterflies, birds, and orchids.
Vancouver Island's Beaches and are beautiful, and there are many nice spots close to Victoria. We particularly like China Beach. The terrain gets more rugged, and less developed as you head North. Pack a picnic lunch, and hop in the car. It's virtually impossible to get lost and it's fun to follow the map and stop when you feel like exploring.
Fairburn Farms Culinary Retreat and Guesthouse is about 45 minutes north of Victoria, and makes a great base to explore this beautiful area. The private cottage, complete with two bedrooms and a kitchen, will give you plenty of space and privacy as well as place to cook up what you buy at local farms. The owners of this guesthouse host cooking classes for adults (and are leaders in the Slow Food movement in Canada). They are happy to have kids help with some of the day-to-day activities on the farm (for example gathering eggs) so that they can learn where food comes from. Breakfast is served daily and dinner is served three times per week.
Traveling from Victoria to Vancouver
There are frequent Ferries from Vancouver Island to Vancouver, and you are able to take a bus from the city centers to the ferry or to bring your rental car on the ferry.
Harbour Air Seaplanes has many flights each day from Victoria to Vancouver, and the flight takes just over 30 minutes. The flight costs $130 CAD per adult and $65 per child 11 and under. Note that baggage limits are lower than for international carriers.
Related Links:
Reader Questions: Pacific Northwest With Kids Part I
Creating An Itinerary for Family Travel
Reserving Planes, Trains, and Cars for Family Travel
Choosing a Family Friendly Hotel or Vacation Rental
2 comments | Posted on March 14, 2008 |

Save to del.icio.us



Subscribe to our feed