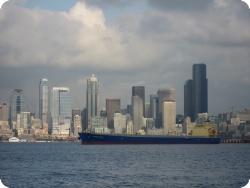 Lumi, a reader from Germany wrote to ask about how to spend two weeks in the Pacific Northwest with her 4 year old and 7 year old. This post covers what to do for the week she'll spend in Seattle while her husband attends a conference.
Dear Debbie,

I am Lumi, I'm coming from Romania and I leave for 10 years now in Erlangen, Germany. As my husband is going to travel for a conference to Seattle (5/15 to 5/18), and I never was in the USA, we are considering to join him and extend the stay to a little holiday. While searching for information about Seattle on the net, I found your excellent website.

We could spend 2-3 Weeks in the area. Our two Kids are 7 and 4 years old (they don't speak, nor do they understand English). Your website gave me courage, but I don't know where to start. How long shall we stay in Seattle? Shall we plan an "itinerary" to explore the region? I will be very glad for every suggestion from you!
Lumi,
I'm glad you're taking the plunge! Here's some help with planning your trip. Since there is a lot to cover, I'm breaking it into multiple posts.
Where to Stay
First of all, in separate email, you asked for my opinion about, This Wallingford Apartment. Wallingford is north of downtown, and is a fun family friendly neighborhood with lots of restaurants. Note that you will be staying in a separate apartment, not the whole house. The style of this home is a very typical historical style for Seattle. I have no direct experience with SeaToSky, but their rental terms look reasonable and they have some good reviews on TripAdvisor. If I were looking for a vacation rental, I would feel comfortable renting with them. Their Harbor Steps and Belltown locations are closer to downtown, but they are big modern apartment buildings, which might not be what you are looking for.
Getting Around
Seattle's public transit system probably isn't as good as what you're used to in Germany. You should be able to get everywhere you need to on the bus, but you'll probably need to transfer downtown. Taxis are not readily available and need to be called in advance. Renting a car would give you the freedom to explore neighborhoods like Ballard and Freemont without spending a lot of time on the bus, and to go further afield to Mount Rainier or Snoqualmie Falls. If you do rent a car, be aware that Washington's Car Seat Law requires both of your children to use a booster seat or other child restraint and sit in the back seat.
Itinerary
With two weeks in the northwest, you could spend a week in Seattle (while your husband attends his conference) and a week split between Portland and a beach destination. I would recommend staying in no more than three different places as moving frequently can be stressful for little kids (and parents).
Here are some ideas for your time in Seattle
What's On In May?
You're fortunate to be visiting during the week of the Seattle International Children's Festival (May 12-17). Once that's over, you can find out about other kid friendly events and activities at Parent Map
Check back for Part II of this post where we'll cover visiting Portland with Kids. If you are interested in having me answer your family travel question, send me email at: debbie at deliciousbaby dot com.
Related Links:
Choosing A Child Friendly Hotel or Vacation Rental
Seattle With Kids Guide
Itineraries:
Downtown Seattle
,
Seattle Center
and
Ballard
Planning a Day on Your Family Vacation
6 comments | Posted on February 20, 2008 |

Save to del.icio.us



Subscribe to our feed