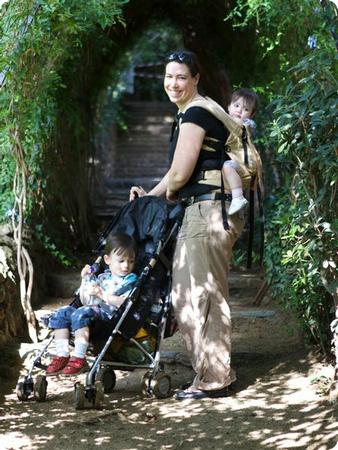 I get lots of reader questions about the best travel gear for young kids. My kids are still young enough (1 and 2 1/2 in this picture) that it is important to let them both rest when we're exploring a new town.
I find a double stroller difficult to use in most cities, and it seems like a double would be especially difficult to haul up and down stairs in old buildings or subways. Instead, we use a sturdy single stroller. Our Maclaren Techno
took some serious abuse and kept going until British Airways finally lost it on our flight to Barcelona. We have a new one now, and expect that it will last until everyone in our family has grown out of it.
Little D rides in the Ergo Baby Carrier
when she's not in the stroller. The Ergo lets me carry her on the front (cuddly) or on the back (most ergonomic) and even now, at 19 months, I can walk long distances with her on my back. Best of all, she sleeps well in the carrier, especially when we pull up the little hood that's designed to support her head.
Related Links:
Maclaren Techno
Ergo Baby Carrier
18 comments | Posted on May 21, 2008 |

Save to del.icio.us



Subscribe to our feed