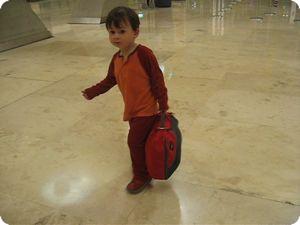 My regular readers know that I am a minimalist when it comes to travel gear. I would rather travel light than have all the latest "must haves," and some products work great at one age, but are not helpful at another.
However we do have a few products that have stood the test of time, and with Holiday Travel around the corner, I thought I'd share my list.
Sit 'n' Stroll Convertible Carseat/Stroller
Among the top questions my readers ask are: a) how to get through the airport with a carseat, and b) how to ride safely in a taxi with a carseat aged child. The Sit 'n' Stroll Convertible Carseat/Stroller is a great answer to both issues. It converts easily from a stroller into a carseat, and back again, making it a good choice for getting through the airport and to your destination. Thanks to the generosity of Tots on-the-go, an online store dedicated to kids travel gear, I am giving a Sit 'n' Stroll away to one lucky reader this week!
CARES Child Aviation Restraint System (or CARES Harness) The CARES Child Aviation Restraint System lets us get through the airport with ease by leaving our bulky car seats behind or checking them. Both kids sleep well in CARES (I prop a rolled up blanket under their necks once they are asleep), and for very squirmy kids a small section of grippy shelf liner will keep them from sliding down in leather airlines seats. Right now, CARES is on sale for $55.95, that's $19 (or 25%) off of the retail price!
Ergo Baby Carrier
The easiest way to get through airport security is with your child in a metal-free sling, and the Ergo Baby Carrier is my personal favorite. With a sling, you just remove everyone's shoes and walk through, and there's no stress about your toddler running off while you collapse the stroller or gather your belongings. At two years old, D is mostly done using the sling and stroller when we're at home, but when we travel she still naps well in the Ergo, making it indispensable when we travel.
Phil and Ted's MeToo Chair
We often eat breakfast in our hotel room to save money, and there's no high-chair at grandma's house, so we bring our Phil and Ted's MeToo Chair with us. It attaches easily to most tables, folds down to just one inch deep, and weighs only 2 pounds. We use this as our home high chair too, so that the kids can sit at the kitchen island with us at mealtime.
Take & Toss Sippy Cups and Serveware Even now that the kids are old enough to use cups well, I bring along a couple of Take and Toss Sippy Cups. Drinking from a sippy cup (or a cup with a straw) is a great way to relieve air pressure during takeoff and landing, and I don't have to worry about spills if there is unexpected turbulence. The cups nest easily, so that I can carry along extras without taking up a lot of space in my carryon. For early eaters, the forks and spoons are a great choice. They're easy to clean and reuse, but you won't break the bank if one gets left behind accidentally. Like the cups, they're also very space efficient. Amazon sells a complete set that is eligible for free super saver shipping The First Years Take & Toss Feeding Variety Pack 28 pc.
Lock & Lock Food Storage Containers Here is something you won't see on most baby-care lists. Lock & Lock food storage containers are air-tight enough to carry infant cereal without spilling, and they make a great serving bowl too. Now that my kids are older, I use them to carry cereal, dried fruit and other small snacks. Unlike ziplock bags, they keep the contents from getting crushed, and they're also waste free. The removable dividers make it easy for me to carry more than one snack in the same container when I want to, and I love the fact that the containers are easy for a toddler to open and close reliably. Lock & Lock containers come in lots of sizes and shapes, but this is my favorite for travel: Lock & Lock 1.3 Cup Rectangular Storage with Removable Trays
Eagle Creek Pack-It Cubes I forgo the tradition of giving the kids their own backpack or suitcase when we travel. Why? I don't want to end up with one more think to carry when they get tired or fall asleep. These Eagle Creek Half Cubes are a nice size for the kid's gear, and when they can't carry them, I can easily slip them in my own carry-on bag or sling them over the stroller handle. I also use the full sized cubes in my suitcase to keep everything organized. With one packing cube for each child and two for myself, I know exactly how much I can pack for each person to fit everything in my rolling bag.
MP3 Player
It's no secret that music is soothing to young kids, and one of our favorite tricks for getting the kids to fall asleep just after takeoff is to play their bedtime music. Sitting still enough to keep earbuds in helps reinforce the idea that they should be relaxing. Even when the kids aren't asleep, books on "tape" are a great way to keep them busy, and an MP3 player is much smaller to carry along than a DVD player.
Reusable Sticker Books
I have written a lot about keeping a toddler busy on a plane without toys and making household items into travel toys, but one thing I always carry with me, even when we go out to dinner here at home, is a couple of reusable sticker books. They're great fun on a plane, and the stickers are easy to peel off if they get stuck on a tray table or window. Best of all, I can use them over and over! For more travel toy ideas, see our list of favorite travel toys
Blue Painter's Tape or Duct Tape
My articles on 10 Reasons to pack Duck Tape when you travel and Babyproofing using blue painter's tape were so unconventional that they got a lot of attention when they were first published. If those don't convince you to pack a small roll of tape, consider the fact that BlueTape is endlessly fascinating for toddlers, and a great way to make a (removable) race car track on your hotel room floor.
11 comments | Posted on November 11, 2008 |

Save to del.icio.us



Subscribe to our feed