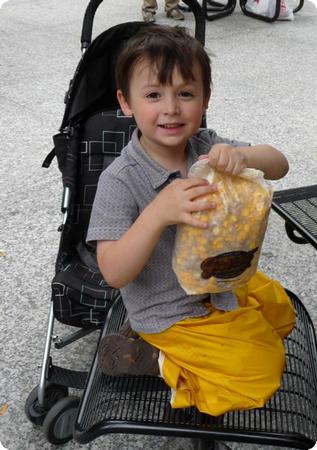 If you are participating in Photo Friday this week, don't forget to link back to this post. Linkbacks help new people find out about Photo Friday keep the carnival growing from week to week, ultimately bringing more traffic back to you!
Whenever we travel, I focus on eating local food, not chain-restaurant food. E is an incredibly picky eater, so that can sometimes be tough. On every trip, though, we discover something so wonderful that it makes up for the stressful points. In Barcelona, it was Churros and Chocolate, in New Mexico we enjoyed shave ice with fresh apple cider instead of syrup. On our recent trip to Chicago E was in awe as we walked into Garrett Popcorn, a store entirely devoted to fresh, delicious popcorn. Look how happy he is with the huge bag of mixed cheese & caramel popcorn!
On a side note, BlogHer will be in Chicago this year on July 24th and 25th. If you'll be attending, let me know!
Related Links
Chicago With Kids
Garrett Popcorn
Photo Friday: Please Share Your Photos Too:
Share a favorite travel photo by adding your link below. First timers, here is more Information about Photo Friday
15 comments | Posted on November 20, 2008 |

Save to del.icio.us



Subscribe to our feed