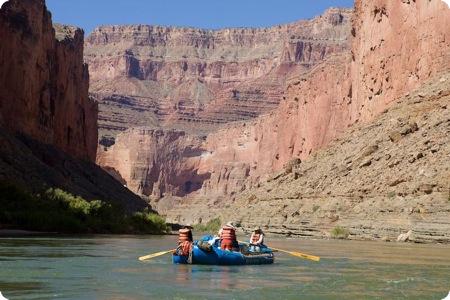 Several people wrote to ask how I held up while my husband went river rafting down the Grand Canyon for two weeks. I'm glad to report that it went better than I hoped! As the kids get older, solo-parenting keeps getting easier.
We're all happy to have "Daddy" home now, and he seems relaxed and refreshed. As you can see from this photo, the river is mostly very calm, and it is rare for a boat to flip or for anyone to fall out. In fact, kids as young as age 12 are allowed to join this trip.
Rafting gave P a much needed break from the world of computers and cell phones. While it was tough for us not to talk to him at all, I'm glad that he got a rare opportunity to unplug, read, hike every day, and sit around in the evenings telling stories with his guy friends.
The trip was luxurious in some ways, and not in others. The guides brought along everything that was needed, including enough ice cubes to last the duration of the trip. I hear that they were pros at cooking chocolate cakes over a campfire, and it sounds like husband ate better than he does at home. The Grand Canyon is a conservation area, and no campfires are allowed. Everything (including human waste) must be packed back out of the Canyon when you leave. There are no facilities, and baths were taken (very quickly) in the cold river water. Thankfully, the men were all given access to a real shower before boarding their plane back to Seattle!
Photo Friday: Please Share Your Photos Too:
Share a favorite travel photo by adding your link below. First timers, here is more Information about Photo Friday
16 comments | Posted on October 9, 2008 |

Save to del.icio.us



Subscribe to our feed