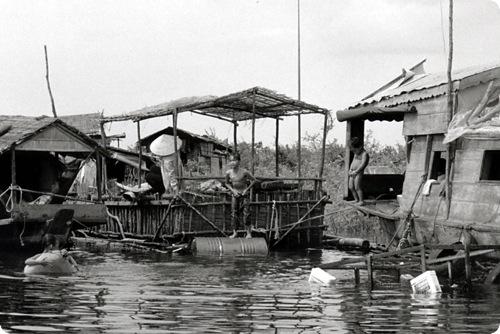 I don't seem to be able to let the week pass without one final post about children in poverty. This is a picture from our trip to Phnom Penh the capitol of Cambodia. By local standards, this family is doing ok. They live on the river. They have a house. They probably catch fish for a living (and that small pen is a floating fish-farm), just off-camera there is another floating pig-pen with four pigs in it. Look at the kids, one is swimming in the water (the same water that the pigs refuse drops into), another is peeing into the water, and a third looks like he's about to jump in. They look like they're having fun.
Still, does anyone think this is a healthy environment to raise kids in? They don't have electricity. If they want clean water, they need to boil it first. Odds are that someone in the family had a debilitating land mine injury, and everyone needs to be careful when they step off the boat, because the area still hasn't been completely cleared of mines.
There's such a spirit of hopefulness in the country, it's hard not to want to help. Cambodians have great entrepreneurial spirit, and small businesses are springing up everywhere. Many NGO efforts that we witnessed were focused around teaching traditional crafts like silk weaving or carving and helping get rural and disabled people set up with their own craft businesses. Through Kiva you can make your own microloan and help a budding entrepreneur lift their family out of poverty.
Photo Friday: Please Share Your Photos Too:
Share a favorite travel photo by adding your link below. First timers, here is more Information about Photo Friday
10 comments | Posted on October 16, 2008 |

Save to del.icio.us



Subscribe to our feed