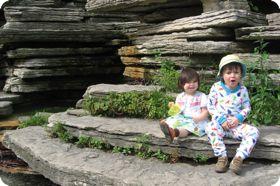 There has been lots of discussion about breastfeeding on Airplanes this week. An article at TravelMuse spurred a lot of discussion about what rights a breastfeeding mom and baby have on a plane and another article gave some great Tips for Breastfeeding on a Plane that make a fantastic complement to my own series on Breastfeeding and Pumping on a Plane. Personally, it saddens me that this issue comes up over and over. Babies need to eat and they need to relieve air pressure during takeoff and landing. Not all of them will take a bottle or agree to be covered up. Is it really better to make a baby scream with pain (or hunger) than to have a discreetly exposed breast somewhere on an airplane? Not in my opinion (clearly).
It's easy to let false assumptions about cost, or a focus on just one aspect of a trip's cost hold us back from visiting our dream destinations (I find myself making this mistake over and over). I loved this post comparing family travel costs for Bali vs. Hawaii because it challenges those assumptions.
Uptake Blog has a great addition to the recent slew of articles about traveling with an autistic child. Check out their tips for Parents and tips for fellow travelers
I enjoyed this article about a topic I have yet to cover (or try myself) RV Travel With a Toddler. There are some great pictures and tips, and this seems like a terrific way to travel.
I've long advocated staying in vacation rentals when possible. When you are traveling with kids, the extra space, kitchen and washing machine are far bigger luxuries than any 5-star resort can deliver on a room-service cart. Christopher Elliot adds some great tips for saving money hotel alternatives
Travel Stories
This was a particularly good week for first-hand family travel stories.
If you don't click any other link, please visit beautiful photo of a Stroller in the Lotfollah Mosque in Iran. If that's not inspiring, I don't know what is.
I've enjoyed following the Vogel family on their 2 1/2 year bicycle trip from Alaska to Argentina. This particularly poetic post about waking up to snow gives a nice peek into life on the road.
This story about a trip to Lake Tahoe with two toddlers has some particularly lovely photos.
4 comments | Posted on September 28, 2008 |

Save to del.icio.us



Subscribe to our feed