This is an unpaid review of the Medela Freestyle
breastpump. The product was given to me for review by Medela. My review policy dictates that I never keep samples valued at over $40, and because the Freestyle cannot be reused by another person, I returned this unit to the manufacturer.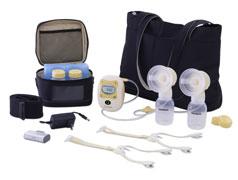 When Everest, my oldest, was born he was physically unable to nurse. It was a problem we never ironed out, and he thrived the milk I pumped using my Medela Pump In Style Advanced
. I lugged the breastpump with me everywhere - on trains, planes, and in automobiles. I'm proud to say that he was exclusively breastmilk fed for the first six months of his life. I'm grateful that I was able to provide for him in that way, and yet I developed a love-hate relationship with the pump itself. Midnight pumping just isn't as cuddly as a midnight feeding, and the pump took up much-needed space in my carry-on bag on every single trip.
When I saw the new Medela Freestyle
breastpump, I was intrigued. Not only does it fit in the palm of my hand, but it claimed to have a more comfortable fit and a memory feature that would mean less fiddling with the machine at each pumping session. My recent trip to Chicago for BlogHer and TBEX was the first time Eilan would be using a bottle, and seemed like the perfect opportunity to try it out. I was delighted that Medela agreed to send me a unit to review.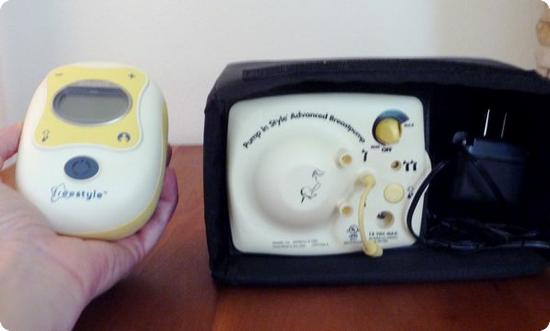 Medela Freestyle vs Medela Pump In Style
Both breast pumps seemed equally powerful, and pumping out a bottle took me about 15 to 20 minutes with each
The Medela Freestyle weighs just under 13 ounces and has an internal battery (meaning that you don't have to carry a power adaptor). Removed from its case, the Pump In Style weighs 2lbs 5oz plus the weight of the whichever power source you choose (car adaptor, battery or electrical adaptor)
The Freestyle Breastpump has a memory feature that lets you set different levels for each of the two phases of pumping. It also remembers how long it took for you to "let down." I still found myself fiddling with the settings during each use, but if I were pumping in a traditional office while I focused on email, I'd probably really appreciate the ability to put the pump on "autopilot"
The Freestyle's new valves and membranes seem more sturdy than the ones that came with the Pump In Style. That's good, because it can be tricky to locate replacements in a strange city.
The Pump In Style breastpump's tubing collected moisture over time, and it was difficult to clean our thoroughly or dry. I steam sterilized it periodically and replaced it once or twice. While I have not used it for very long, the Freestyle does not seem to have this problem, and the manufacturer's instructions say that you do not need to clean the Freestyle Breastpump's tubing.
With the Pump In Style, if you need to grab a glass of water or help a child who needs something, it's easier to stop pumping than to get up and move with the pump. The Freestyle is lighter weight and can be clipped onto a waistband. I wouldn't want to chase after a rambunctious toddler while pumping, but at least I'm not immobilized for 20 minutes.
Medela Freestyle's Updated Pumping Accessories
Several of the Accessories that come with the Medela Freestyle had been upgraded since I bought my Pump In Style back in 2005. These new accessories are also available for separate purchase.
I don't love the updated collection bottles - they're slightly bulkier than the old bottles and the numbers are printed on rather than raised. Luckily the old bottles are interchangeable with the new ones.
The new, more comfortable SoftFit Breastshields would have been really nice back when I was pumping around the clock. The fittings are the same size as the fittings for the Pump in Style breastshield, and this might be a nice upgrade for someone who pumps frequently.
The Freestyle comes with a special purse to carry it in. It is nice quality, but frankly, I've never understood why Medela feels the need to give me a new bag with my pump. I never used the backpack that came with my Pump In Style, instead stripping the pump down to its minimum size and carrying it in my regular carry-on bag.
The Freestyle comes with hands-free bra adapters that let you connect the pumps to your nursing bra. It seems like they've simplified this since I purchased my Pump In Style, but I still find it easiest to slip on a Hands-Free Pumping Bustier instead.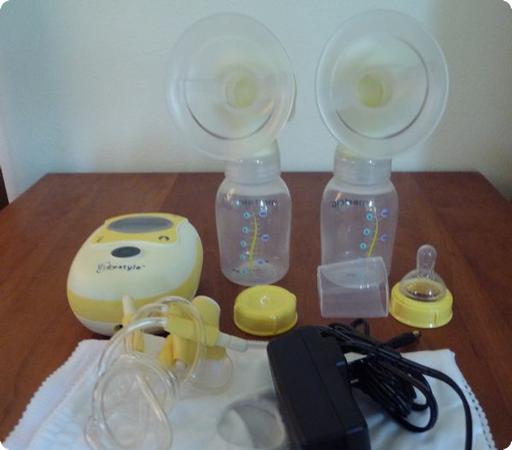 Traveling With the Medela Freestyle
Things have changed a lot since I first started traveling with my breastpump. I no longer need to explain what the breastpump is at the security checkpoint, and the TSA has clarified its rules on traveling with Breastmilk. Furthermore, gel packs or freezer packs are now allowed through security when they are used to keep breastmilk cool.
It was easy to fit the Freestyle Breastpump, along with pumping bottles and everything else I needed in a small bag inside my suitcase. I like the fact that you can use the pumping collection bottles as baby bottles by putting a nipple on top instead of a cap. On trips where you need to pump more than one bottle at a time, you can save space by pumping directly into storage bags
.
I'm perfectly happy cleaning my pumping accessories and bottles in a hotel sink. Most hotels have extremely hot tap water, or a coffee pot that can be used to heat water for cleaning your bottles and accessories. Be careful, though, to put everything away when you leave the room - I've had overzealous housekeepers re-clean the bottles themselves (who knows what strange chemicals they might have used?) or spray clean a mirror without moving my clean baby bottles.
Conclusion
If portability is important, or if you need to watch older kids while pumping (and therefore have a difficult time being stationary for 15-20 minutes) the Freestyle is a good choice. However the $70 lower cost of the Pump In Style makes it a great choice if you will use your pump mostly at home. For frequent pumpers, I wold recommend investing in the SoftFit breastshield regardless of which pump you choose.
Medela has generously given me a brand new Medela Freesytle to give away to one lucky reader in a giveaway that begins on Monday August 10. Check back on Monday to learn how to enter!
Related Links
Our Complete Guide to Breastfeeding and Pumping When You Travel
Amazon:
Medela Freestyle
Amazon:
Medela Pump In Style
Family Travel Gear Guide
17 comments | Posted on August 6, 2009 |

Save to del.icio.us



Subscribe to our feed